Introduction
In today's fast-paced and ever-evolving business landscape, staying competitive and relevant is a constant challenge. The key to unlocking your organization's true potential lies in harnessing the transformative power of digital technology. Welcome to a journey that explores how embracing digital transformation can be the catalyst for unprecedented growth, efficiency, and innovation. In this article, we delve into the strategies, insights, and success stories that will inspire you to embark on a transformative path, one that not only ensures your business's survival but also propels it toward unparalleled success. Join us as we unravel the limitless possibilities of digital transformation and pave the way for a brighter, more prosperous future.
Importance of digital transformation in today's business landscape:
Manual processes, with their reliance on human intervention, are susceptible to errors that can have far-reaching consequences for business operations. These errors can lead to inaccuracies, delays, and increased operational costs. Additionally, manual processes tend to be time-consuming, hindering an organization's ability to respond quickly to market changes or customer needs. Moreover, they often involve multiple stakeholders, which can lead to bottlenecks and inefficiencies, as each step relies on the timely input of various individuals or teams. Consequently, these inefficiencies can result in missed opportunities and decreased competitiveness.
On the other hand, digital transformation offers a powerful solution to these challenges. By automating and streamlining processes, it eliminates the risk of human errors, significantly reduces execution time, and minimizes dependence on multiple stakeholders. Moreover, digital transformation enables businesses to enhance customer experiences by providing swift responses to queries through chatbots or automated customer support systems. Additionally, digital interfaces and platforms allow customers to interact seamlessly with the brand, improving accessibility and engagement. This enhanced customer experience not only fosters loyalty but also positively impacts the bottom line by driving customer retention and attracting new business, ultimately propelling the organization toward greater success.
Challenges/Problems faced while implementing digital transformation:
In the pursuit of digital transformation, identifying the right processes for automation is a critical first step. Priority should be given to processes that are not only time-consuming and error-prone but also have a significant impact on business outcomes. By conducting a thorough process analysis, organizations can pinpoint these areas and prioritize them for automation.
Selecting the right technology is equally crucial. It's imperative to choose technologies that not only address immediate needs but are also scalable to accommodate future growth and evolving business requirements. Scalability ensures that the technology investment remains relevant and cost-effective in the long term.
To implement digital transformation successfully, it's essential to identify the right starting point across teams based on their importance to the organization's overall objectives. Beginning with high-impact departments or processes can yield quick wins and build momentum for broader transformation efforts, while also demonstrating the value of digital initiatives to stakeholders. In this way, organizations can embark on a structured and strategic digital transformation journey that maximizes efficiency, minimizes risks, and fosters sustainable growth.
Benefits of implementing the digital transformation: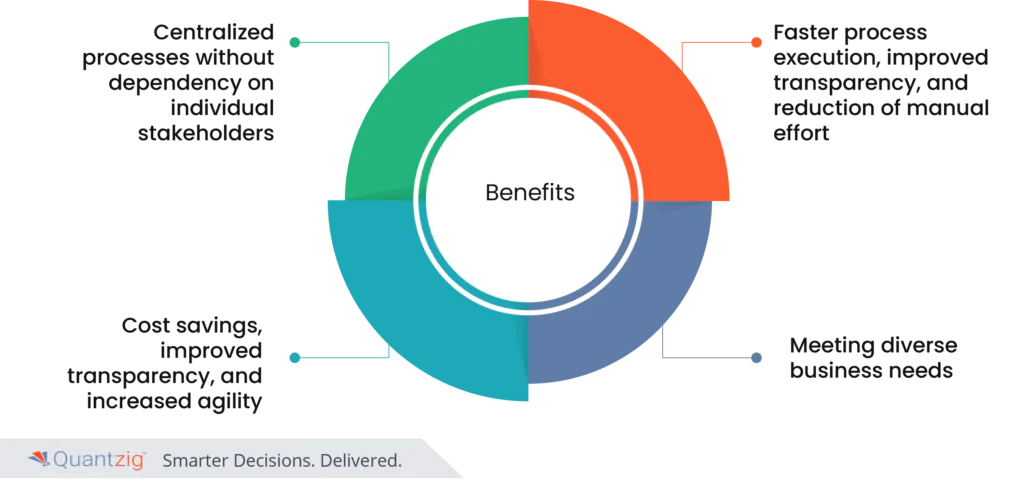 Centralized processes without dependency on individual stakeholders:
Centralization in digital transformation refers to streamlining operations and eliminating overreliance on specific individuals. By automating and digitizing processes, businesses can reduce their dependence on key individuals and ensure continuity even in their absence. This not only mitigates the risks associated with human error or turnover but also enhances operational consistency and reliability.
Faster process execution, improved transparency, and reduction of manual effort:
Digital transformation accelerates process execution by automating tasks that were previously manual, resulting in quicker turnaround times. Additionally, it enhances transparency by providing real-time insights into workflow statuses and data, enabling better decision-making. The reduction of manual effort frees employees to focus on more strategic and value-added activities, increasing overall productivity.
Meeting diverse business needs:
Digital transformation encompasses a wide spectrum of business needs, from ensuring near real-time availability of business-ready data for informed decision-making to automating data capture processes. Furthermore, it involves creating alert mechanisms that enable proactive decision-making by identifying critical events or trends. These capabilities empower organizations to adapt to changing market conditions and customer demands swiftly and effectively.
Competitive advantage and improved efficiency:
Staying ahead of the competition is a paramount objective in today's business landscape. Digital transformation provides the tools and agility needed to remain competitive by optimizing processes, reducing costs, and enhancing efficiency. It enables businesses to pivot quickly in response to market dynamics, delivering products and services that align with evolving customer expectations.
Cost savings, improved transparency, and increased agility:
Digital transformation can yield substantial cost savings by reducing manual labor, streamlining operations, and optimizing resource allocation. Enhanced transparency ensures that decision-makers have access to accurate, real-time data, fostering more informed and agile responses to market shifts. Ultimately, this agility not only helps in addressing customer expectations promptly but also positions the organization for long-term success by efficiently navigating a rapidly changing business landscape.
In summary, digital transformation is a multifaceted process that empowers businesses to centralize processes, enhance efficiency, meet diverse needs, and gain a competitive edge. By leveraging automation, data-driven insights, and agility, organizations can achieve their objectives while aligning with evolving customer expectations and maintaining operational excellence.
Conclusion
In conclusion, the path to sustained success in today's competitive landscape is illuminated by the transformative force of digital evolution. Embracing digital transformation isn't just an option; it's a strategic imperative. It empowers organizations to obliterate inefficiencies, elevate customer experiences, and outpace rivals. By centralizing processes, leveraging cutting-edge technologies, and staying agile, businesses can unlock their full potential. Digital transformation isn't a destination; it's an ongoing journey of adaptation and innovation. As we look to the future, those who dare to innovate, and those who dare to transform, will not only thrive but lead the way in shaping the business landscape of tomorrow.
Success Story
"Unlocking Unprecedented Growth: How Quantzig Catalyzed Digital Transformation for an e-commerce retailer"
Client Details:
An e-commerce retailer located in the USA.
Challenges
Inefficient Manual Processes and Stakeholder Dependencies:
The client was grappling with a multitude of manual processes both within and between teams. These manual workflows were highly error-prone due to their reliance on human intervention. Additionally, they suffered from the intricacies of stakeholder dependencies, which often led to delays in critical processes and decision-making. These issues had a cascading effect on the client's revenue uptake, as operational inefficiencies hampered the organization's ability to respond swiftly to market changes and customer needs. This, in turn, hindered business growth and competitiveness.
Challenges in Initiating Digital Transformation:
While the problems were evident, the client faced challenges in kickstarting their digital transformation journey. Identifying the right starting point was a key hurdle. They needed to determine which processes to prioritize for automation to maximize the impact on efficiency and revenue. Additionally, selecting the appropriate technology was a critical decision. The client needed technological solutions that not only addressed their immediate needs but were also scalable and adaptable to accommodate future growth and evolving business requirements.
Customer Care Query Turnaround Time:
In the consumer-packaged goods (CPG) sector, customer satisfaction is paramount. The client was experiencing extended turnaround times for customer queries about their products. This protracted response time not only frustrated customers but also resulted in a loss of customer traction across different segments. Ultimately, this impacted the client's revenue, as dissatisfied customers were less likely to make repeat purchases or recommend the brand. Addressing this issue through digital transformation was crucial to enhancing customer experience, retaining loyalty, and bolstering revenue streams.
Solutions
Identification of High-Impact Processes and Centralized Platform Implementation:
Quantzig played a pivotal role in the client's digital transformation journey by first identifying high-impact processes that were causing bottlenecks across various departments and teams. Through a meticulous assessment, Quantzig mapped out the stakeholders involved in these processes and delineated their respective responsibilities. Subsequently, they spearheaded the creation of a centralized platform equipped with robust access controls, alerts, and other essential functionalities. This platform served as a unified hub, ensuring that accurate and up-to-date information became readily accessible across teams and processes. By establishing a single source of truth, Quantzig enabled streamlined operations, reduced errors, and facilitated faster decision-making, ultimately alleviating the bottlenecks that had been hindering the client's operational efficiency.
Centralized AI-Based Auto Response Platform for Customer Queries:
Quantzig further revolutionized the client's customer service capabilities by developing a centralized AI-based auto-response platform. This cutting-edge system harnessed the power of natural language processing (NLP) to swiftly decode and understand customer queries. Leveraging a comprehensive backend Q&A repository, the platform provided standardized responses to 95% of the queries in less than 5 seconds, ensuring rapid and consistent interactions with customers. For more complex queries, the system intelligently directed them to customer care executives for personalized assistance. This platform's accessibility across various devices, including laptops, mobiles, and iPads, made it effortless for customers to engage with the brand, significantly enhancing the overall customer experience and bolstering the client's reputation for responsiveness and efficiency.
Impact Delivered: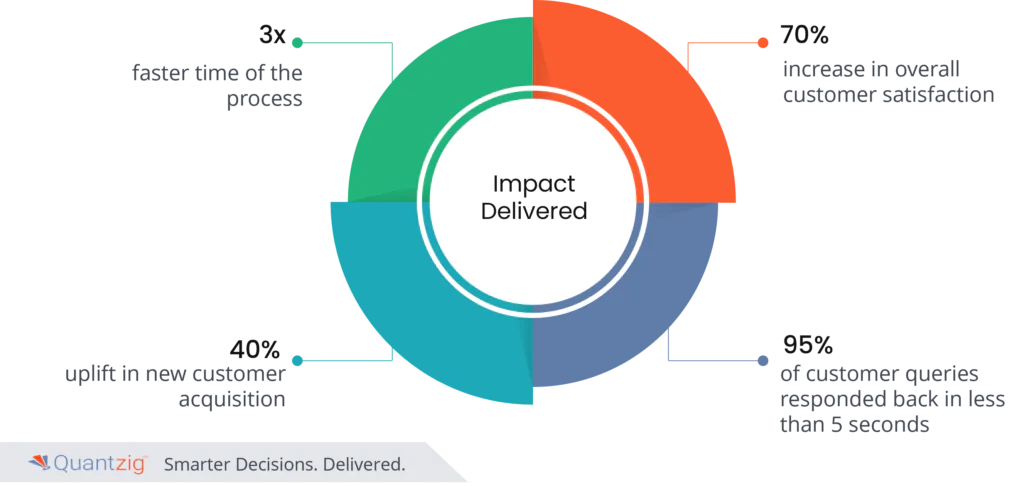 Centralized process; Improved transparency across stakeholders,
3x faster time of the process,
70% increase in overall customer satisfaction,
40% uplift in new customer acquisition,
95% of customer queries responded in less than 5 seconds.
Ready to unleash the power of digital transformation for your business? Contact Quantzig today to embark on your transformative journey toward enhanced efficiency, customer satisfaction, and business growth. Let's amplify your potential!