Introduction
Marketing optimization is the process of adjusting your business marketing efforts based on the accurate data you gather. It involves refining the marketing strategies, processes, and resources to maximize efficiency and effectiveness. Marketers can make these tune-ups utilizing the marketing tactics and tools spelled out in their marketing strategy. That way, they can ensure that their results align with their ambitions. You can measure your marketing performance utilizing different sets of data-some of those data you may have to gather from your marketing service providers and some on your own. The article delves deep into the strategies and principles that underpin effective marketing practices aimed at boosting revenues.
Excellence in marketing encompasses a commitment to delivering consistent, high-quality experiences to customers. It involves understanding customer needs, crafting compelling narratives, and creating memorable interactions. When customers perceive a brand as excellent in its marketing efforts, they are more likely to engage, convert, and become loyal advocates. By exploring the symbolic relationship between optimization and excellence, this article provides valuable insights, actionable tips, and real-world examples to empower businesses in their journey toward revenue enhancement.
Importance of marketing optimization and excellence to improve revenue:
In today's hyper-competitive business environment characterized by low entry barriers and the emergence of new players, managing marketing spend and mix dynamically is paramount. Relying solely on historical data is insufficient because it doesn't account for the evolving landscape. Firstly, dynamic management allows you to pivot swiftly in responding to ever-changing consumer preferences and ensures that your marketing efforts remain aligned with current market realities. Secondly, dynamic spend management lets you allocate resources to counter emerging threats or capitalize on new opportunities as they arise, helping you maintain or gain a competitive edge. You can redirect funds from underperforming channels to those yielding better results, maximizing ROI in real-time.
In this digital era, global brands face a complex challenge in achieving success across diverse markets, categories, and customer segments. To thrive, they need tailored and customized marketing strategies that strike a delicate balance between standardization and customization. At a global level, overarching brand identity and values should remain consistent to maintain brand recognition and trust. However, this global framework must be adapted to the market, category, and product levels to cater to local preferences, regulations, and cultural nuances.
Customer segments demand tailored approaches to resonate effectively. A one-size-fits-all strategy rarely suffices. Hence, brands must invest in detailed market research, customer insights, and category-specific tactics to connect with consumers on a personal level. Moreover, effective execution and control are crucial. Top-down management ensures that global goals are met, but detailed, localized execution guarantees that strategies are implemented effectively in each unique context. Striking this balance allows global brands to navigate the complexities of the global market while fostering meaningful connections with consumers worldwide.
Challenges due to a lack of marketing optimization and excellence:
Scoping for fast changing market shifts and newer consumer behaviors is complex and risk prone with a high chance of failures and brand dilution when the ideas are not properly validated for relevance. The complexity arises from the rapid pace at which marketers transform today. Attempting to keep up without proper validation can indeed be risky, often leading to failure and brand dilution. Failure occurs when strategies fail to align with the shifting dynamics, resulting in wasted resources and missed opportunities. Brand dilution happens when a brand's core identity becomes unclear or inconsistent due to poorly validated ideas, eroding consumer trust. Effective validation and scoping are essential to mitigate these challenges. It involves market research, data analytics, and customer insights to understand emerging trends and consumer behaviors. By validating ideas for relevance, brands can make informed decisions, ensuring that their strategies resonate with the evolving market landscape. This not only reduces the risks of failures, but also safeguards the brand's integrity.
Solutions need to factor bottom-up intelligence and top-down execution streamlined for a truly global marketing operation. Bottom-up intelligence involves gathering insights from local markets and grassroots-level observations, ensuring strategies are relevant and culturally sensitive. Top-down execution maintains global consistency, aligning with the overarching brand vision. This synergy allows for agile adaptation to regional nuances while preserving brand integrity, making the marketing operation truly global. It fosters a dynamic approach that capitalizes on local expertise and aligns it with a unified global strategy, optimizing a brand's global reach and resonance.
Key benefits of a successful marketing optimization and excellence:
It allows CMOs & Marketing leaders to plan their next best spend with near real time information across the calendar year and adjust for seasonal performance and forthcoming execution. It also allows digital marketers to respond to risks & opportunities faster with programmatic channel specific action plans.
What our capability does: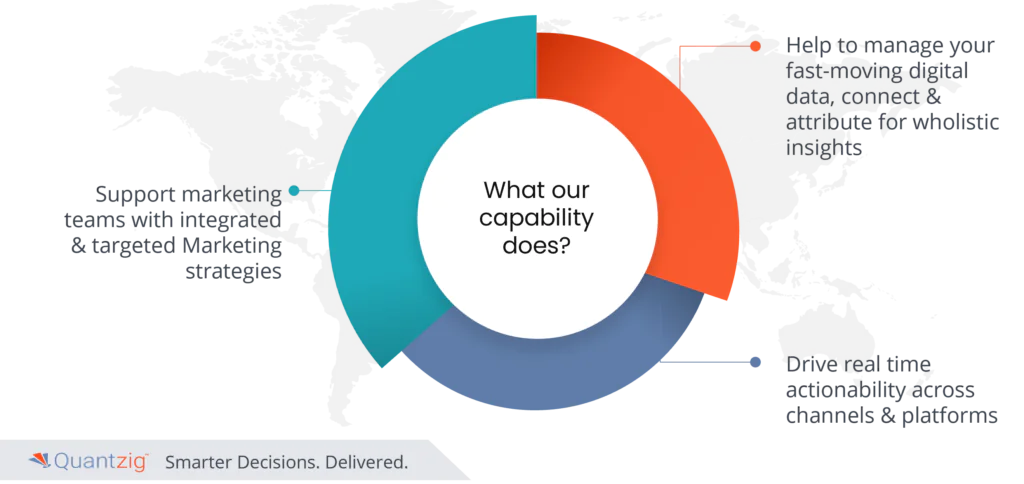 Our marketing optimization solutions supports marketing teams with integrated & targeted Marketing strategies to cater to new age omnichannel customers.
Our one stop solution helps in managing your fast-moving digital data, connect & attribute for wholistic insights and drive real time actionability across channels & platforms to enable for dynamic consumer planning, spend allocation & activation strategies that are customized to the local category, market, brand, and product as well as hyper localized to the consumer personas. Our solution consists of the following 4 marketing optimization modules.
1. Marketing Automation & Performance Reporting
2. Multi Touch Attribution
3. Market Mix Optimization
4. MROI Improvement
Why should a client opt for our offering?
We set up our solutions to factor in dynamic, fast-moving data and allow marketing teams to factor in the continuous flow of information for more informed & quicker decisioning with recency factored.
Our solutions are customized for consumption be it a leadership cockpit dashboard or DIY Work bench for marketing analyst or complete martech integrations with your CRM and marketing systems.