Introduction
Product analytics is a fundamental tool for product managers aiming to comprehend the performance and achievements of their products or services. The collection, examination, and presentation of customer behavior data and usage patterns of features offer a unique glimpse into how well your product is faring in the market. By grasping the subtleties of customer behavior across various platforms or markets, product managers can formulate strategies to enhance user engagement and bolster conversion rates. This data also aids in evaluating the potential risks associated with new features or designs before their launch. Product analytics furnishes valuable insights into customer trends, enabling companies to optimize their product offerings and create superior user experiences. Thanks to these insights, product teams can make informed decisions that ultimately result in enhanced customer satisfaction and greater profitability.
This article delves into the world of Product Analytics and explores its myriad benefits to businesses. Join us as we uncover the invaluable role that Product Analytics plays in shaping the success of businesses in today's competitive market landscape.
Importance of product analytics to businesses:
In the fast-paced tech industry, where disruption is the norm, effective Product Lifecycle Management (PLM) is paramount. Tech products have a relatively short lifespan due to rapidly evolving consumer preferences and technological advancements. To stay ahead of the competition and remain relevant in the market, companies must adapt their product strategies swiftly. PLM enables businesses to do just that by providing a structured framework for managing every phase of a product's life, from inception to retirement. It facilitates continuous monitoring of consumer habits and market trends, allowing for timely adjustments and improvements. This agility ensures that products align with ever-changing demands, fostering innovation and maintaining a competitive edge. Ultimately, in the tech industry, where innovation and adaptability are key, PLM is not merely an option but a strategic imperative.
Product performance management is a multifaceted endeavor that demands a holistic approach to stay relevant in the eyes of consumers. To achieve this, it necessitates the integration of external intelligence, specifically the "voice of the customer" and market insights, into internal knowledge management and innovation tracking processes. The "outside-in" perspective provided by customer feedback and market analysis serves as a vital compass for product development and enhancement. It allows businesses to align their offerings with evolving consumer preferences and emerging market trends. By amalgamating this external intelligence with internal knowledge management and innovation tracking, companies can make informed decisions, refine their products, and ensure that they remain competitive and desirable. In essence, this symbiotic relationship between external and internal perspectives is essential for maintaining relevance and meeting consumer considerations in an ever-changing marketplace.
The challenges businesses can face due to a lack of product analytics:
In a dynamic business landscape characterized by changing consumer behaviors and disruptive trends, the ability to sense these shifts at an early stage is paramount. Companies must develop a streamlined process that enables swift responses to become early movers in their respective spaces. Early-stage sensing involves actively monitoring and interpreting market signals, consumer preferences, and emerging technologies. This proactive approach empowers organizations to anticipate changes and pivot their strategies before competitors, gaining a significant competitive advantage. A streamlined process complements early sensing by ensuring that once these signals are detected, the company can rapidly implement changes, whether in product development, marketing, or operations. By embracing this agile and forward-thinking approach, businesses can position themselves as industry leaders, staying ahead of the curve and effectively navigating the ever-evolving business landscape.
Identifying category-specific niche data sources and effectively managing highly unstructured, non-conventional data formats demands not only technical expertise but also a deep understanding of the specific industry or category. The ability to discern which data sources are most relevant and valuable within a given category relies on domain knowledge and experience. Furthermore, the process involves intricate filtering mechanisms to extract pertinent information from the often chaotic landscape of unstructured data. This intricate task requires a nuanced approach to solution framework design, as each category may present unique challenges and opportunities. By combining technical proficiency with industry-specific insights, organizations can unlock the true potential of data, gaining actionable insights and a competitive edge in their respective fields. Ultimately, success in harnessing niche data sources hinges on the synergy of category expertise and a tailored solution framework.
The key benefits of product analytics in businesses:
Explain the key benefits of Product analytics serves as a critical compass for businesses navigating today's dynamic market landscapes. It enables companies to engage in forward-thinking, advanced planning during the nascent stages of product development. By harnessing this proactive approach, organizations can anticipate challenges, spot opportunities, and design their strategies with precision.
Moreover, product analytics empowers companies to validate their propositions against the backdrop of prevailing market themes and trends. This validation process ensures that ideas are finely tuned to match the evolving needs and preferences of consumers, substantially reducing the likelihood of launching products that miss the mark.
One of its most substantial advantages is the effective mitigation of investment risks. By scrutinizing customer data and market insights, businesses can preemptively address potential pitfalls, preserving resources and safeguarding against costly mistakes.
Additionally, product analytics streamlines the path to action, facilitating a rapid response to market demands. This agility translates into shorter time-to-market for mission-critical concepts, enabling companies to seize opportunities swiftly and maintain a competitive edge in an ever-evolving business landscape.
What our capability does:
Our wide variety of Product analytics solutions can help in decision-making processes across the entire product lifecycle by helping answer key business questions at each stage: helping businesses identify launch opportunities, optimize brand message, analyze performance, thrive longer & grow faster through better understanding of customer and market needs. Our product analytics suite consists of 2 key modules –
1. Outside in Intelligence: 
Outside-in intelligence, as employed by conversational AI solutions, is a powerful tool for businesses seeking to harness the wealth of information available in consumer reviews and innovation insights to drive growth and innovation.
Firstly, by actively monitoring consumer reviews, these solutions can detect emerging category trends and customer sentiments. This data becomes a goldmine for businesses looking to understand market dynamics and consumer preferences, enabling them to fine-tune their product or service offerings accordingly. Secondly, innovation insights extracted from external sources help businesses conceptualize market-driven innovations. It provides a roadmap for aligning product development with the evolving needs of the market.
Perhaps most crucially, outside-in intelligence aids in the validation of innovation pipelines. By comparing internal innovation initiatives with external market trends and consumer feedback, companies can ensure that their resources are dedicated to projects with the highest potential for success. Lastly, this approach significantly accelerates time-to-market. By systematically integrating external intelligence into their processes, businesses can swiftly adapt to changing market conditions, implement innovations that resonate with customers, and maintain a competitive edge in a dynamic marketplace.
2. Inside Out Intelligence:
Inside-out intelligence, as facilitated by analytics and process intelligence within R&D workflows, is an invaluable resource for accelerating time-to-market and enhancing the launch planning and market testing of new propositions. These solution toolkits, such as Knowledge Management, Innovation and PLM (Product Lifecycle Management) cockpits, Testing and Validation, and Launch Planning, empower organizations by harnessing their internal knowledge and processes.
Knowledge Management ensures that the collective wisdom and expertise within the organization are leveraged effectively, preventing duplication of efforts and fostering innovation. Innovation and PLM cockpits provide a structured framework for managing every phase of a product's life, from inception to retirement, streamlining product development, and ensuring alignment with market demands. Testing and Validation tools enable rigorous testing of new propositions, ensuring they meet quality standards and customer expectations. Launch Planning solutions aid in meticulously planning and executing product launches, and optimizing strategies for market entry.
Together, these tools enable businesses to tap into their internal resources, knowledge, and workflows, allowing for more efficient and effective product development, testing, and market entry, ultimately expediting time-to-market and increasing the likelihood of successful product propositions.
Why should a client opt for our offering?
Clients should choose our offering for several compelling reasons: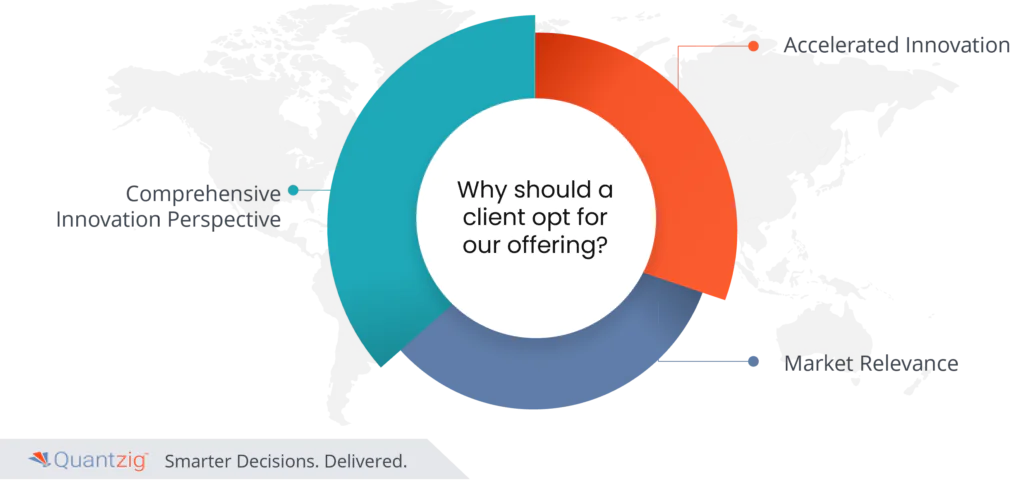 Comprehensive Innovation Perspective: Our one-stop solution offers a holistic view of your innovation needs. By harnessing intelligence from both your internal data signals and vast external big data sources, we provide a complete understanding of the market landscape and emerging trends. This ensures that your innovation efforts are well-informed and aligned with market demands.
Accelerated Innovation: With our tools, innovation becomes faster and more efficient. By simplifying complex processes, we enable business users to access critical insights, take actionable steps, and address challenges with ease. This DIY approach empowers users without the need for technical data expertise, democratizing access to valuable information and accelerating the innovation cycle.
Market Relevance: Our solution validates innovations empirically, reducing the risks associated with unproven concepts. This means your offerings are more likely to resonate with customers and gain a competitive edge in the market.
In summary, our offering combines comprehensive intelligence, user-friendly tools, and empirical validation to drive faster, market-relevant innovations. We empower businesses to make data-driven decisions without technical barriers, ultimately enhancing their innovation capabilities and positioning them for success in today's dynamic business landscape.
Conclusion:
In conclusion, product analytics stands as a pivotal asset in the modern business landscape. Its importance lies in its ability to unlock valuable insights from customer behavior, market trends, and data-driven decision-making. Through product analytics, companies gain the power to optimize user experiences, reduce risks, and expedite time-to-market, all of which directly impact profitability and competitiveness. In an era defined by rapidly changing consumer habits and fierce competition, the benefits of product analytics are undeniable. It empowers organizations to not only survive but thrive, ensuring that their products and services remain not just relevant but exceptional in the eyes of their customers, driving sustained growth and success.