Introduction
In the rapidly evolving landscape of retail, the intersection of commerce and digital advertising has given birth to a powerful and transformative phenomenon known as Retail Media. As businesses adapt to the changing dynamics of consumer behavior and e-commerce, the strategic utilization of Retail Media Analytics emerges as a critical tool for success. This article delves into the fascinating realm of the "Next Generation of Retail Media" and sheds light on the profound impact that Retail Media Analytics is having on the retail sector.
In an era where consumers are inundated with information and choices, retailers are seeking innovative ways to capture and engage their audience. Retail Media, a symbiotic relationship between e-commerce and advertising, has risen as a compelling solution. It enables brands to seamlessly integrate their advertising campaigns within the retail media network, enhancing visibility, relevance, and conversion rates. However, the true power of Retail Media lies in the data it generates. Retail Media Analytics, the crux of this discussion, provides invaluable insights into customer behavior, enabling retailers to fine-tune their strategies, optimize ad spend, and deliver personalized experiences.
Join us on this journey as we explore how Retail Media Analytics is reshaping the retail landscape, propelling businesses toward greater efficiency, relevance, and customer-centricity in an era defined by data-driven decision-making.
Importance of Retail Media Analytics in the Retail Industry:
Improve the ROI from retail media investment:
In the fiercely competitive retail industry, optimizing Return on Investment (ROI) from retail media investment is paramount. This is where Retail Media Analytics steps in as a game-changer. It empowers retailers to dissect customer data with precision and unveil crucial insights into shopping behaviors, preferences, and trends. By leveraging these insights, businesses can curate highly targeted and personalized advertising campaigns, and ensure that every advertising dollar is maximized for impact. Moreover, Retail Media Analytics facilitates the assessment of campaign performance in real time, enabling swift adjustments to strategies, cost-efficiency improvements, and enhanced customer engagement.
In essence, Retail Media Analytics is the compass guiding retailers through the labyrinth of modern commerce, elevating ROI and securing a competitive edge in the ever-evolving retail landscape.
Improved Store operations planning:
Enhanced store operations planning is pivotal for retailers aiming to thrive in today's dynamic marketplace. Retail Media Analytics emerges as a critical component in achieving this objective. By harnessing the power of data-driven insights, retailers can optimize their store operations with unprecedented precision and efficiency.
First and foremost, Retail Media Analytics offers invaluable customer behavior insights. It enables retailers to understand shopper preferences, purchase patterns, and even the influence of advertising on in-store decisions. Armed with this knowledge, retailers can tailor their inventory management, staffing levels, and store layouts to better align with customer demands, reducing waste and boosting sales. Moreover, Retail Media Analytics aids in fine-tuning advertising strategies within physical stores. Retailers can strategically place advertisements, promotions, and displays to maximize their impact on foot traffic and sales conversion. This level of precision ensures that every advertising dollar invested in-store generates a significant return.
Ultimately, Retail Media Analytics represents the bridge between online and offline retail, allowing retailers to seamlessly integrate their digital advertising efforts with in-store operations. By optimizing store operations through data-driven decision-making, retailers can create more engaging and satisfying shopping experiences, which, in turn, drive higher customer loyalty and revenue. It's a potent tool in the arsenal of modern retailers seeking sustainable growth and competitiveness.
Offline and online convergence:
The convergence of offline and online retail media advertising represents a pivotal juncture in the evolution of the retail industry, and Retail Media Analytics stands as a linchpin in this transformation. As consumers seamlessly transition between physical stores and digital platforms, retailers must adapt and optimize their strategies to thrive in this dynamic landscape. Retail Media Analytics plays a paramount role by providing a unified view of customer behavior across both offline and online channels. It enables retailers to track customer journeys, preferences, and purchase patterns holistically, breaking down the barriers between these two domains. This holistic understanding empowers businesses to craft highly personalized and consistent shopping experiences, regardless of the channel.
Furthermore, Retail Media Analytics aids in the strategic allocation of advertising budgets, ensuring that resources are invested where they can yield the greatest impact, be it online or in-store. This convergence allows retailers to create a seamless and immersive shopping environment, fostering customer engagement and loyalty, and ultimately driving revenue growth. In an era where the lines between offline and online retail continue to blur, Retail Media Analytics is indispensable for retailers looking to thrive in this new landscape.
Customer insights at the decision point of purchase:
Customer insights at the decision point of purchase are the Holy Grail for retailers, and Retail Media Analytics serves as the key to unlocking this treasure trove of knowledge. In the critical moments when customers are poised to make buying decisions, Retail Media Analytics provides real-time, data-driven insights that can make all the difference. By harnessing this technology, retailers gain a deep understanding of customer behavior and preferences right at the point of purchase. This empowers them to deliver personalized offers, product recommendations, and promotions that resonate with individual shoppers, increasing the likelihood of conversion and upselling.
Moreover, Retail Media Analytics enables retailers to track the effectiveness of in-store advertising and promotional strategies in real time. This agility allows for immediate adjustments, optimizing the impact of marketing efforts and ensuring that the right message reaches the right customer at the right time.
In a fiercely competitive retail landscape, where consumer expectations are continually evolving, retail media strategy with analytics empowers retailers to stay ahead of the curve by providing the insights needed to enhance customer experiences, boost sales, and foster brand loyalty. It's a game-changer at the point of purchase and beyond.
Key benefits of retail media analytics: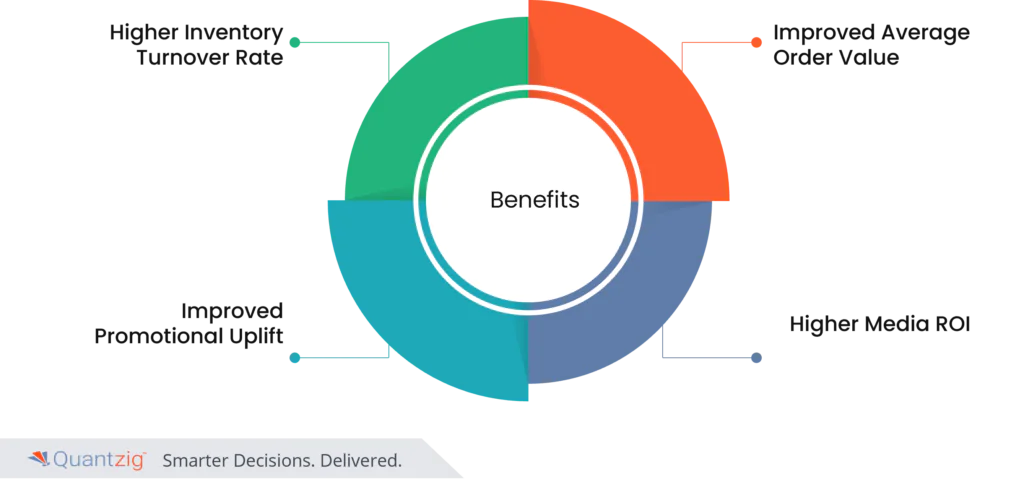 Higher Inventory Turnover Rate:
Retail Media Analytics revolutionizes inventory management by offering precise insights into consumer behavior and demand patterns. Retailers can optimize stock levels, ensuring that popular products are always available while minimizing excess inventory. This not only reduces carrying costs but also minimizes the risk of stockouts, which can lead to lost sales and dissatisfied customers. By aligning inventory with consumer preferences, retailers can achieve a higher inventory turnover rate, enhance cash flow and profitability, and maintain a responsive supply chain.
Improved Promotional Uplift:
Retailers invest significant resources in promotions to attract and retain customers. Retail Media Analytics enables them to analyze the effectiveness of these promotions in real time. By identifying what resonates with consumers and what doesn't, retailers can fine-tune their promotional strategies. This results in improved promotional uplift as marketing efforts become more precise and data-driven, leading to higher conversion rates and increased sales during promotional periods.
Improved Average Order Value:
Retail Media Analytics empowers retailers to influence customer behavior by tailoring product recommendations and incentives. By understanding individual shopper preferences and purchase history, retailers can upsell and cross-sell strategically, and encourage customers to add more items to their carts. This personalization and data-driven approach contributes to an improved average order value and increased revenue without necessarily acquiring more customers.
With Retail Media Analytics, retailers can track and evaluate the performance of their advertising campaigns in real time. This granular insight into the effectiveness of various media channels, content, and placements allows for informed decision-making. Retailers can allocate their media budgets more efficiently and focus on strategies that deliver the highest return on investment. This optimization leads to a higher media ROI, ensuring that every advertising dollar spent generates the maximum impact, whether it's in-store, online, or across various channels.
In summary, Retail Media Analytics empowers retailers to transform their operations and marketing strategies, resulting in leaner inventory management, more effective promotions, increased order values, and a maximized return on their advertising investments. These benefits not only enhance profitability but also position retailers to thrive in the competitive retail landscape.
Conclusion:
In the relentless pursuit of excellence in the retail industry, the evolution of Retail Media Analytics emerges as a beacon of innovation and transformation. This article has unveiled the profound impact of Retail Media Analytics on the next generation of retail media, where data-driven insights shape every aspect of the customer journey.
As retailers strive to navigate the dynamic landscape of offline and online convergence, optimize inventory turnover, and enhance customer experiences, Retail Media Analytics emerges as the indispensable tool that empowers them to thrive. By leveraging the power of data and analytics, retailers can not only survive but also flourish in an era defined by data-driven decisions, personalization, and customer-centricity. The future of retail belongs to those who harness the capabilities of Retail Media Analytics and set a new standard for success in the ever-evolving world of commerce.
Success Story:
Revolutionizing E-commerce Retail with Retail Media Analytics: A Quantzig Case Study
Client Details: A leading e-commerce retailer located in the United States
Challenges: 
High stock on hand but low availability of products in store
The Retail client grappled with the complex task of maintaining an appropriate balance between the stock in their warehouses and ensuring that products are readily available to customers in physical stores. Several factors contributed to this challenge, including inaccurate demand forecasting, supply chain disruptions, and inefficient inventory management systems. Consequently, a surplus of stock in the warehouse coexisted with empty store shelves, resulting in suboptimal customer experiences, missed sales opportunities and elevated carrying costs.
Revenue leaks because of out-of-stock
The retailer was facing the detrimental consequences of out-of-stock situations. When customers visit a store or browse online and find that the desired products are unavailable, it leads to immediate revenue loss. Beyond the financial impact, this can also damage brand reputation and erode customer loyalty. Out-of-stock incidents occurred due to inventory inaccuracies, inefficient restocking processes, and insufficient demand forecasting.
Low media return on investment
In the increasingly competitive retail landscape, the client allocated substantial budgets to digital retail marketing and advertising campaigns across various platforms. However, achieving a favorable return on investment (ROI) on these expenditures proved elusive. Factors such as ineffective targeting, an inability to accurately measure campaign performance and the lack of a clear connection between marketing efforts and sales outcomes resulted in a subpar media ROI.
These challenges underscored the need for the client to adopt advanced technologies, streamline supply chain operations, and embrace data-driven decision-making processes. Addressing these issues not only enhances profitability but also elevates the overall customer experience, fostering brand loyalty and long-term success in the ever-evolving retail industry.
Solutions:
Laddered stage media attribution models
Quantzig implemented laddered stage media attribution models for the retail client, providing a comprehensive view of the impact of their media campaigns across multiple touchpoints. These models enabled the client to track customer interactions with their brand at various stages of the buying journey. By assigning appropriate attribution to each touchpoint, they gained insights into the effectiveness of different media channels and campaign elements. This data-driven approach empowered the retail company to optimize their marketing strategies, allocate budgets more efficiently, and achieve a higher return on investment (ROI) for their media spending.
Unified media impact and demand planning solutions for instore execution planning
We developed unified media impact and demand planning solutions that integrated data from online and offline channels. This allowed the retail client to align their in-store execution planning with the impact of their media campaigns. By synchronizing online retail advertising efforts with in-store promotions and inventory management, they improved product availability, reduced out-of-stock incidents, and enhanced the overall customer experience. This holistic approach to planning helped the company maximize sales opportunities and minimize revenue leaks.
Store compliance analytics solutions
Our store compliance analytics solutions provided the retail client with real-time insights into store-level operations and compliance with corporate standards. By monitoring key performance indicators and compliance metrics, they could identify areas requiring improvement. This proactive approach allowed the client to maintain consistency in brand presentation, optimize store layouts, and enhance customer engagement. As a result, they achieved higher customer satisfaction and increased sales, while also improving operational efficiency and reducing compliance-related issues.
In summary, Quantzig's data-driven solutions empowered the retail client to make informed decisions, optimize their marketing strategies, and enhance in-store execution planning and compliance. These improvements ultimately contributed to increased revenue, improved customer experiences, and a stronger competitive position in the retail industry.
Impact Delivered: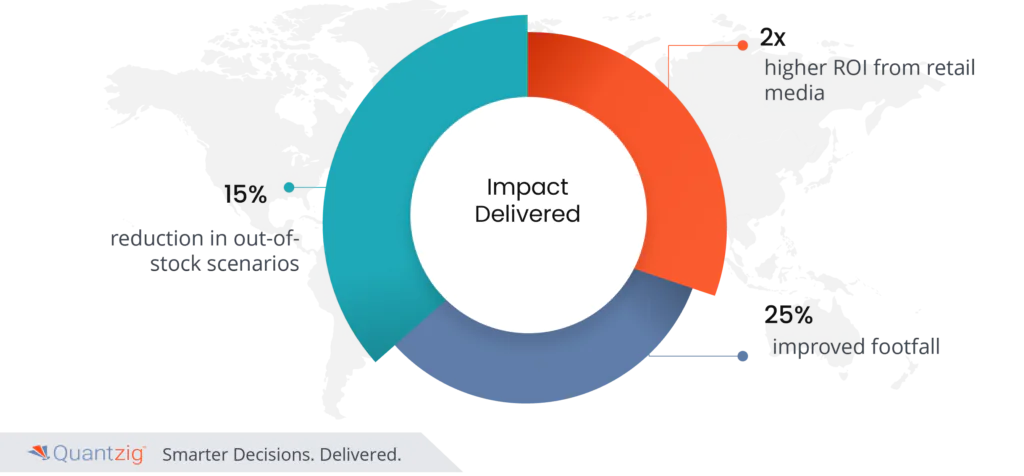 15% reduction in out-of-stock scenarios
2x higher ROI from retail media
25% improved footfall
Discover how Quantzig's Retail Media Analytics solutions helped the E-commerce Retailer transform their marketing strategies, boost ROI, and revolutionize customer engagement. Read the full case study to unlock the secrets of data-driven success in the e-commerce industry!