Introduction
In today's rapidly evolving business landscape, the key to achieving profitable growth in sales lies in harnessing the immense power of e-commerce analytics. As businesses increasingly pivot towards online platforms, the ability to extract actionable insights from data has become paramount. This article delves deep into the transformative potential of analytics for e-commerce companies, illuminating how it empowers organizations to not only optimize their sales strategies but also uncover hidden opportunities for expansion. From predictive modeling to customer segmentation, we will explore the cutting-edge techniques that propel businesses toward sustained profitability in the digital age. Brace yourself for a journey through the dynamic realm of e-commerce analytics, where data-driven decisions redefine success.
Importance of analytics for e-commerce:
In the evolving landscape of retail, the shift towards digital channels for customer purchases is undeniable. As more and more consumers embrace online shopping, retailers are compelled to optimize their sales efforts across both traditional brick-and-mortar stores and the relatively unexplored realm of e-commerce. While traditional channels have a long-standing presence, e-commerce offers an unprecedented opportunity to transcend geographical boundaries and tap into a global customer base.
The key to achieving profitable growth in sales lies in effectively harnessing this potential. Crafting strategic approaches tailored to the nuances of e-commerce is essential. This involves understanding online consumer behavior, leveraging data-driven insights, and optimizing the digital shopping experience. Personalization, seamless user interfaces, and robust supply chain management are pivotal components in this journey.
By embracing analytics tools for e-commerce and developing tailored strategies, businesses can not only expand their reach but also enhance customer engagement, drive revenue, and secure a competitive edge in an increasingly digital world. It's a pivotal moment for retailers to unlock the full potential of e-commerce and steer their sales growth towards profitability.
Challenges during the implementation of e-commerce analytics tool:
Data Complexity and Inability to Decipher Huge Information: In today's data-driven business landscape, one of the foremost challenges is coping with the sheer complexity and volume of data generated. The proliferation of digital platforms and technologies has led to an overwhelming influx of information, often referred to as "big data." Companies struggle to harness the full potential of this data due to its sheer volume and complexity. Extracting meaningful insights, patterns, and actionable intelligence from this vast sea of information can be daunting. Without sophisticated data analytics tools and strategies, organizations risk drowning in data, unable to make informed decisions or respond effectively to changing market conditions.
GDPR Rules Limiting Capture and Use of Customer Data: The General Data Protection Regulation (GDPR) has significantly reshaped the data landscape, especially in the European Union. GDPR imposes strict rules on how organizations collect, store, process, and use customer data. While these regulations are designed to protect individual privacy and data security, they have created challenges for businesses seeking to capture and utilize customer data for marketing, analytics, and personalization. Companies must now navigate a complex web of consent requirements and data protection protocols, often leading to reduced access to valuable customer information. Striking the right balance between compliance and data-driven decision-making is a constant dilemma for organizations in a GDPR-compliant environment.
Volatile and Aggressive Market Demands for Near Real-Time Strategy Implementation: Today's markets are characterized by unprecedented volatility and demand for near real-time decision-making and strategy implementation. Rapid changes in consumer preferences, competitive landscapes, and global events require businesses to be agile and responsive. This puts immense pressure on organizations to adapt swiftly, reconfigure their strategies, and execute them with speed and precision. The challenge lies in aligning data analysis and decision-making processes to operate at the pace demanded by these volatile market conditions. Traditional business models and strategies often struggle to keep up, necessitating the adoption of agile methodologies and advanced online shopping analytics to enable near real-time responses to market dynamics.
Benefits of e-commerce analytics:
Achieving profitable growth in sales through e-commerce analytics offers a multitude of benefits that empower businesses to thrive in today's competitive landscape.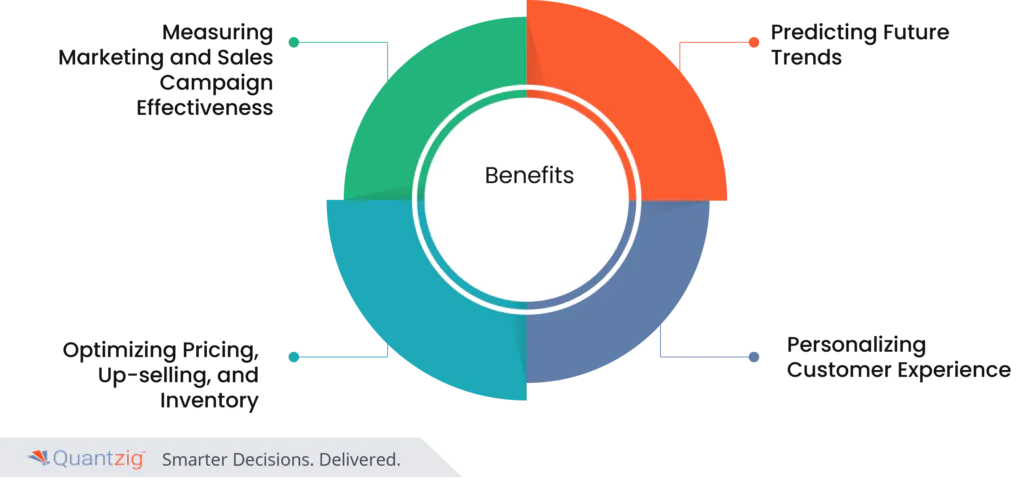 Measuring Marketing and Sales Campaign Effectiveness: E-commerce analytics provides the means to comprehensively track and evaluate the performance of marketing and sales campaigns. By analyzing key metrics such as conversion rates, customer acquisition costs, and ROI, businesses can fine-tune their strategies, allocate resources more effectively, and eliminate underperforming initiatives. This data-driven approach ensures that marketing and sales efforts are optimized for maximum impact and profitability.
Predicting Future Trends: E-commerce analytics leverages historical and real-time data patterns to predict future market trends. By identifying emerging customer preferences and market shifts, businesses can proactively adjust their product offerings, marketing strategies, and inventory management to stay ahead of the competition. This foresight enables companies to seize opportunities and mitigate risks, positioning themselves for sustainable growth.
Optimizing Pricing, Up-selling, and Inventory: E-commerce analytics empowers businesses to set competitive pricing strategies, identify opportunities for up-selling and cross-selling, and optimize inventory performance. By analyzing demand patterns, stock levels, and customer behavior, organizations can strike the right balance between supply and demand, reduce carrying costs, and maximize profit margins.
Personalizing Customer Experience: Personalization is at the heart of successful e-commerce. E-commerce analytics allows businesses to create tailored customer experiences by analyzing individual preferences, purchase history, and behavior. Personalized product recommendations, targeted marketing messages, and a seamless shopping journey enhance customer satisfaction and loyalty, ultimately driving higher sales and revenue.
In summary, e-commerce analytics equips businesses with the insights and tools needed to measure performance, anticipate market trends, optimize operations, and provide exceptional customer experiences. These advantages collectively contribute to achieving profitable growth in sales, ensuring long-term success in the digital marketplace.
Conclusion
In conclusion, harnessing the transformative power of e-commerce analytics is not merely an option but a strategic imperative in today's dynamic business environment. The ability to measure, predict, optimize, and personalize through data-driven insights empowers businesses to unlock profitable growth in their sales endeavors. By continuously refining strategies, adapting to market shifts, and enhancing customer experiences, organizations position themselves for success in the digital age. ecommerce analytics platform is the compass guiding businesses toward sustainable profitability, enabling them to not only meet but exceed customer expectations while staying one step ahead of the competition. Embracing this analytical revolution is the key to thriving in the ever-evolving world of e-commerce.
Success Story
Achieving Profitable Growth in Sales with E-commerce Analytics
Client Details:
E-commerce Giant in the USA
Challenges
The client, a prominent e-commerce giant based in the USA, was grappling with stagnant revenue growth and alarmingly high cart abandonment rates. Despite deploying extensive marketing efforts, their sales figures were falling short of expectations. The client recognized the urgent need to find a solution that would not only reduce cart abandonment but also encourage customers to complete their purchases, thus boosting overall revenue.
Solutions
Quantzig stepped in to address the client's pressing challenge. Leveraging advanced e-commerce analytics tools and artificial intelligence/machine learning (AI/ML), Quantzig developed an automated customer tactic recommendation platform. This innovative solution focused on understanding and mitigating the issues leading to cart abandonment.
Quantzig's platform began by analyzing the products that were commonly abandoned by customers. It then delved into historical customer behavior data to predict the potential reasons for cart abandonment. These reasons ranged from price sensitivity and preferred pack sizes to product assortment availability and perceptions based on reviews and ratings.
Once the system identified the likely cause of abandonment for a particular customer, it initiated a customized marketing message, directly targeting the individual. This personalized approach aimed to address the specific concerns or preferences of each customer, thereby increasing the likelihood of completing the purchase. Importantly, depending on the customer's response to the initial marketing message, the platform automatically generated subsequent marketing tactics, ensuring a continuous and tailored interaction that effectively nudged customers toward making a purchase.
Impact Delivered:
Quantzig's e-commerce analytics solution yielded impressive results for the client: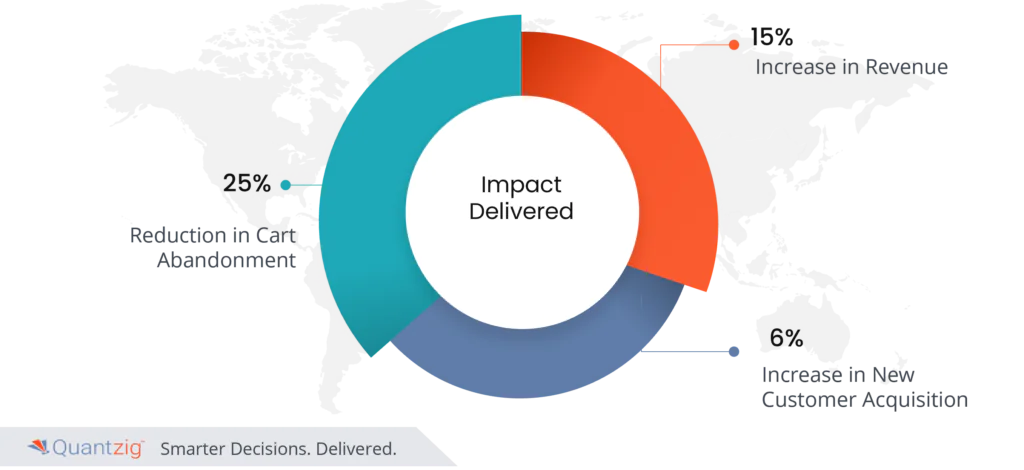 25% Reduction in Cart Abandonment: By proactively addressing the root causes of cart abandonment, the client witnessed a substantial 25% reduction in this critical metric. Fewer abandoned carts translated to a significant increase in the number of completed purchases.
15% Increase in Revenue: The reduction in cart abandonment, coupled with the personalized approach to customer interactions, resulted in a remarkable 15% boost in revenue for the e-commerce giant. This growth represented a substantial return on investment for the analytics solution.
6% Increase in New Customer Acquisition: The success of the tailored marketing approach not only retained existing customers but also attracted new ones. The client experienced a 6% increase in new customer acquisition, expanding their customer base and further fueling revenue growth.
In conclusion, Quantzig's e-commerce analytics services transformed the client's stagnant sales performance into a thriving revenue stream. By understanding and addressing the nuances of customer behavior, the client not only reduced cart abandonment but also achieved sustainable and profitable growth in their sales endeavors. This case exemplifies the power of data-driven insights and personalized customer engagement in the realm of e-commerce.
Unlock Your E-commerce Potential with Quantzig: Achieve Profitable Growth in Sales
Don't let stagnant sales and high abandonment rates hold you back. It's time to leverage the power of e-commerce analytics to drive profitable growth. Click below to access the full case study and unleash the potential of your business. Your path to e-commerce success starts here.
Click to Read the Case Study and Ignite Your Sales Growth!