Introduction
Personalization factors and New Product Development (NPD) solutions are pivotal forces reshaping the landscape of the retail industry. In an era defined by ever-evolving consumer preferences and expectations, the ability to tailor products and experiences to individual tastes has become a strategic imperative. This article will delve into the dynamic interplay between personalization factors, such as data analytics and AI-driven insights, and NPD solutions, exploring how these elements converge to drive innovation, enhance customer engagement, and ultimately, redefine success in the retail sector. Join us on a journey through the transformative power of personalization and NPD in retail's future.
Importance of Personalization factors and NPD solutions for the retail industry:
In today's digital era, consumers crave personalized and contextualized experiences throughout their digital journeys. Brands that excel in this domain are the ones that not only react to customer needs but proactively anticipate them. By leveraging data analytics and artificial intelligence, these winning brands are empowered to understand their customers on a deeper level, grasping their preferences, desires, and values.
Moreover, the modern omnichannel retail landscape offers a multitude of touchpoints within the customer journey. This complexity creates a fertile ground for innovation, allowing brands to reimagine their products, services, and overall customer experiences in distinctive ways. Whether it's through tailored product recommendations, seamless cross-channel interactions, or hyper-personalized marketing campaigns, brands have the opportunity to engage customers in a manner that resonates with their preferences and aligns with their values. Ultimately, the synergy between personalized digital experiences and innovative approaches to customer journeys defines the competitive edge for brands in today's retail landscape, fostering deeper connections and long-lasting loyalty among consumers.
Challenges due to a lack of Personalization factors and NPD solutions:
Customizations at the Individual Customer Level: Achieving personalization at the individual customer level demands a sophisticated level of programmatic intelligence. It necessitates real-time data analysis and decision-making capabilities, often driven by AI and machine learning. While this level of customization can enhance customer experiences by providing tailored recommendations and services, it also carries the risk of over-engineering. Overly complex personalization algorithms can overwhelm customers with choices, potentially leading to decision fatigue and eroding trust. Striking the right balance between customization and simplicity is crucial to ensure customers feel understood and valued without feeling inundated with options.
Innovation Within Customer Journeys: Transforming customer journeys through innovation is a multifaceted challenge. It requires substantial investments in technology, talent, and infrastructure. Additionally, it often entails significant changes in internal processes and cultural shifts within organizations, making change management a critical consideration. Moreover, there's a high risk associated with innovation within customer journeys. If not executed correctly, it can disrupt existing customer engagement patterns and alienate customers. Therefore, careful planning, testing, and a customer-centric approach are essential to minimize risks and ensure that innovations truly enhance the overall customer experience, rather than detract from it. Balancing innovation with stability and continuity is a delicate endeavor in the realm of customer journey management.
Benefits of Personalization factors and NPD solutions for the retail industry: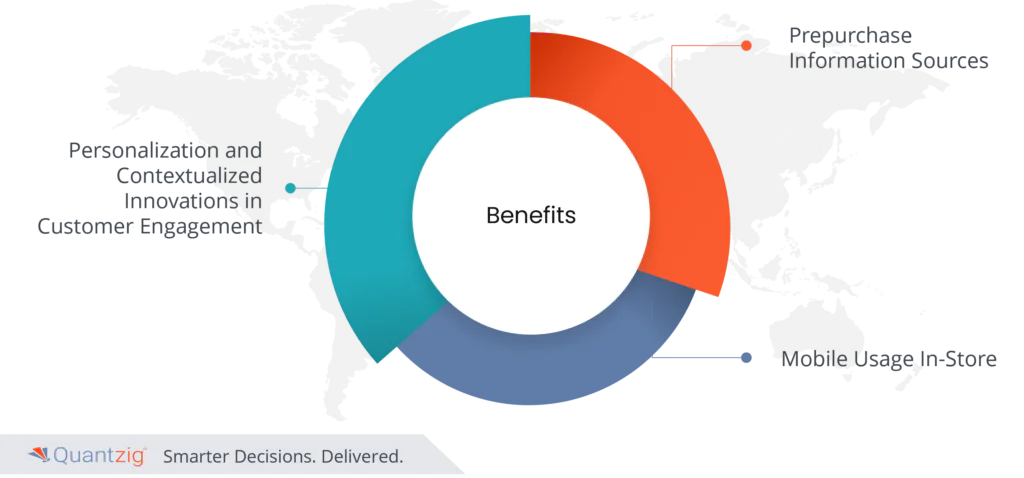 Personalization and Contextualized Innovations in Customer Engagement: Personalization and contextualized innovations have become instrumental in modern brand-customer interactions. These strategies enable brands to connect with customers at every touchpoint, creating meaningful and tailored experiences. By doing so, brands can strategically target and win key moments that significantly impact the overall customer journey. Whether it's through personalized product recommendations, relevant content, or context-aware marketing messages, brands can enhance customer engagement and foster loyalty by delivering value precisely when it matters most in the customer experience.
Prepurchase Information Sources: In a recent survey, it was found that 55% of respondents prioritize search engines as their primary source of pre-purchase information. This underscores the importance of online search in the decision-making process. Additionally, 63% of customers make direct purchases from brand websites, emphasizing the significance of a brand's online presence. Furthermore, over half of users rely on mobile phones for pre-purchase information and product reviews, highlighting the need for mobile-friendly content and seamless mobile experiences.
Mobile Usage In-Store: The survey also revealed that a substantial portion of consumers (about four in ten) use their mobile phones while navigating store aisles. More than 35% of these shoppers use their mobile devices right in front of products to compare prices. This behavior underscores the critical role of mobile technology in the in-store shopping experience and indicates that consumers increasingly rely on digital tools to make informed purchasing decisions.
In summary, personalization, digital presence, and mobile accessibility are key drivers of effective customer engagement and decision-making, reshaping the way brands connect with consumers in today's evolving retail landscape. Understanding and leveraging these trends can be instrumental in gaining a competitive edge and fostering customer satisfaction.
Conclusion
In conclusion, the synergy between personalization factors and New Product Development (NPD) solutions stands as a transformative force within the retail industry. As consumer expectations continue to evolve, the ability to craft individualized experiences and innovate in product offerings has become essential for success. The dynamic interplay of data-driven insights, AI-driven personalization, and NPD strategies empowers brands to not only meet but exceed customer demands. This convergence reshapes the retail landscape, fostering deeper customer relationships, enhancing competitiveness, and positioning forward-thinking retailers to thrive in an ever-changing marketplace. The future of retail lies in the harmonious fusion of personalization and NPD, where innovation meets consumer-centricity to drive sustainable growth and lasting relevance.
Success Story
Revolutionizing Retail: How Quantzig Transformed Customer Engagement with Personalization and NPD Solutions
Client Details:
Client is a multinational retail brand headquartered in Germany with annual revenue of $8bn+.
Challenges
They were looking for a customer analytics solution to gain deeper insights into their customer base, to foster increased repeat customer engagement through personalized strategies. This initiative aimed to harness data-driven intelligence to enhance customer understanding, enabling tailored approaches that resonate with individual preferences and behavior, ultimately resulting in more meaningful and recurrent interactions.
Inefficient data management practices hindered the maintenance of comprehensive customer data. Consequently, the organization struggled to establish a cohesive, connected view of customers, limited to specific isolated interactions or sessions. This inadequacy in data maintenance prevented the client from accessing valuable insights into long-term customer behavior and preferences, impeding their ability to implement effective and personalized strategies for sustained customer engagement and loyalty.
Solutions
Building a customer 360 Datamart: The journey began by constructing a comprehensive Customer 360 Datamart. This central repository aggregated diverse data types, including demographic, transactional, channel, and behavioral data. Key customer attributes, purchase histories, marketing interactions, and channel behaviors were integrated into this data hub, providing a holistic view of customer information.
Identifying Impactful Attributes: To understand purchase behavior, we meticulously identified all potential attributes that could influence it, whether positively or negatively. This involved a thorough examination of factors such as customer demographics, preferences, and engagement history, as well as transactional details.
Segmentation and Propensity Analysis: Leveraging this rich dataset, we segmented customers into distinct groups or segments based on demographic, behavioral (using RFM analysis), and transactional information. We then employed decision trees and look-alike modeling to pinpoint customers with higher purchase propensities and determine the key attributes driving their purchasing behaviors.
Inflection Points and Activation Plans: The journey also involved identifying critical inflection points within customer journeys. This allowed us to create targeted activation plans, both within the inner loop (on the website) and the outer loop (through campaigns). By strategically engaging customers at these pivotal moments, we aimed to enhance their experiences and drive favorable purchasing decisions.
In summary, this systematic approach involved data consolidation, attribute analysis, customer segmentation, propensity modeling, and the development of tailored activation strategies. By understanding customer behavior and influencing their journeys, we sought to optimize engagement and foster lasting customer relationships.
Impact Delivered:
The results were impressive: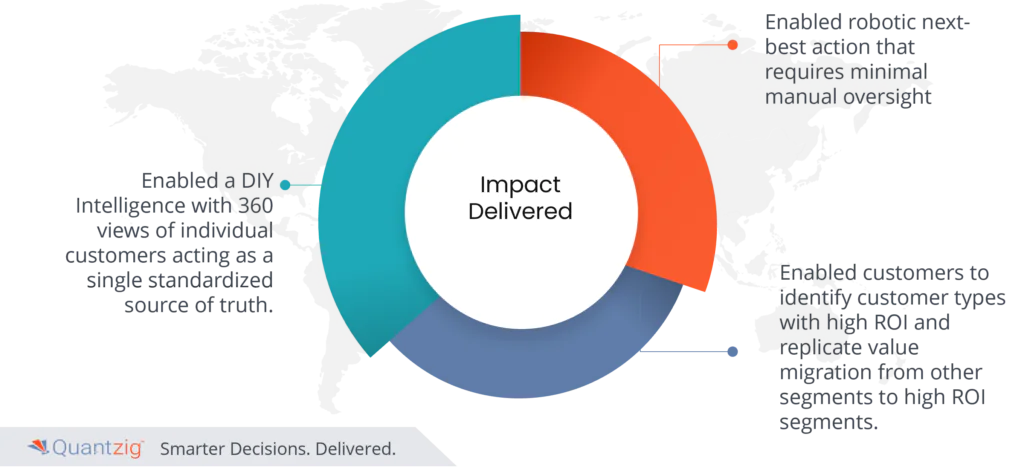 Enabled DIY Intelligence with 360 views of individual customers acting as a single standardized source of truth.
Enabled robotic next-best action that requires minimal manual oversight.
Enabled customers to identify customer types with high ROI and replicate value migration from other segments to high ROI segments.
Discover how our personalized strategies and innovative NPD solutions redefined retail success. Explore the full case study to see how we can help your business thrive in the digital age. Contact us today to unlock the power of data-driven retail excellence!