Customer Analytics
Comprehend dynamic customer behavior, drive customer loyalty, strengthen customer relationships, and fuel new revenue streams.
Building a loyal customer base is the ultimate goal of every business. But the evolving technological innovations and the rapid paradigm shift have disrupted the global business landscape leading to dynamic shifts in customer behavior. While these disruptions have severely impacted business growth, forward-looking, agile businesses are capitalizing on these opportunities to drive customer loyalty.
Customer analytics has, therefore, become an integral part of every business agenda. Customer data holds immense value, and a detailed analysis of these data sets using advanced analytics methodologies can reveal incisive insights that can help you build a customer-centric organization.
The success of a customer lifetime value program depends on how well an organization utilizes customer data to identify and capitalize on new customer retention opportunities. At Quantzig, we combine the right mix of domain expertise and technical skills to help our clients build customer-centric capabilities to deliver the right outcomes for their customers.
Quantzig's approach combines the application of dynamic micro-segmentation and predictive modeling techniques to accurately forecast customers' lifetime value based on their purchase history, demographics, and other behavioral traits. By segmenting the customer base into granular, homogeneous groups, analyzing the segment migration patterns, and identifying the factors that impact the value of the products they purchase, we help organizations develop unique customer lifetime value calculation methods.
In today's highly competitive business world, creating a unique value proposition and a good enough reason to be chosen by ideal prospects is crucial to success. But this can only be achieved when businesses offer value proposals that are in-line with customer needs. And since customer needs and preferences differ based on numerous factors, there is a growing need to create customer segments.
Do you know which customer segments you should target to drive value for both your customers and business? Customer segmentation analytics provides this kind of insight that aids decision-making in real-time.
Tap into our domain knowledge and expertise in customer segmentation analytics to generate actionable customer insights. Our solutions also enable ongoing customer segmentation capabilities through real-time data dashboarding and reporting that empower businesses to make the right decisions to increase MROI and customer satisfaction.
Next-Best Action Analytics
Delivering unique customer experiences has become a strategic imperative for businesses globally. However, integrating, decoding, and analyzing customer data to glean actionable insights on the next best action is a significant challenge. The real value from these insights come only when every customer is delivered the right message at the right time and through the right channel.
Quantzig's next best action solutions can help you achieve your goals by decoding customer data into meaningful insights that ultimately translate into customer value. Driven by machine learning and AI-based models, our next best action analytics solutions help track and analyze purchase behavior, social media interactions, and other aspects of the customer journey, enabling the delivery of superior experiences across all customer touchpoints.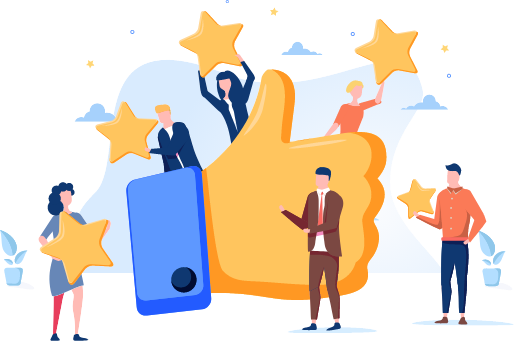 Customers today expect consistency in services across channels. As such, anticipating customer expectations and enhancing customer satisfaction are the two main challenges that businesses face today. Quantzig, through its comprehensive portfolio of customer satisfaction analytics solutions, can help you create a seamless customer experience and enhance customer satisfaction within a stipulated deadline.
With a proven track record and years of expertise in designing and delivering customized customer satisfaction analytics solutions, our robust customer segmentation frameworks ensure you gain in-depth insight into your customers' needs and behavior. Our innovative, analytics-driven approach also helps clients better understand their customers by tracking key metrics that impact customer satisfaction rates, including churn drivers, customer service experiences, and sales campaign success.
Without comprehensive views on business growth, customer journeys, cash-flows, customer experience, and customer purchasing behavior, it's nearly impossible for businesses to achieve their end-goals. Calculating the net promotion index can help businesses gain insights into customer experience and gauge their marketing campaigns' effectiveness. Businesses can also use the net promotion index to strengthen customer relationships, provide tangible value propositions throughout the customer journey, and deliver an experience that resonates with their customers' needs and preferences.
At Quantzig, we adopt a comprehensive approach to net promoter index calculation, one that leverages advanced analytics and cross-platform customer insights. We also offer end-to-end solutions around customer experience management by complementing the net promoter index with insights from various points along the customer journey.
Customer Loyalty and churn analysis
The cruel reality of the modern business world, coupled with the paradigm shift, reflects on the fact that it costs far more to acquire a new customer than to retain an existing customer. Given the high costs of acquiring new customers, solutions to improve customer loyalty, and reduce customer churn are gaining popularity across industries.
Quantzig helps clients formulate strategies to retain loyal customers and reduce churn. We also offer solutions that can be custom-built to suit one's customer base of loyal clientele. Leveraging our solutions can also help you improve customer relationships, identify profitable segments, and win back lost customers by enhancing customer loyalty.
Being one of the world's fastest-growing analytics solutions provider, we are committed to delivering cutting-edge customer analytics solutions to help clients institutionalize data-driven decision making and tackle complex customer experience management challenges.
We've helped some of the world's leading companies gain unparalleled access to smarter insights and analytically use customer data to drive positive business outcomes.
Request a free proposal to leverage statistical approaches and robust customer analytics solutions to accelerate your journey from data to decisions.
Driven by the disruption of COVID-19 and enabled by technology, the world's business leaders can redesign workforce management and redefine ways of working. Organizations are now rethinking workforce management, planning, performance, and experience strategies. Now,...
read more