Introduction
In today's rapidly evolving tech arena, where innovation reigns supreme and competition is fiercer than ever, the need for marketing excellence has never been more vital. The dynamic landscape of technology demands a unique and adaptable approach to marketing, one that transcends traditional boundaries and harnesses the power of data, creativity, and strategic thinking. "Building Marketing Excellence in the Tech Arena" is an exploration into the strategies, tools, and visionary insights that drive success in this dynamic industry. As tech companies jostle for market share and consumer attention, the ability to craft compelling narratives, identify emerging trends, and connect with audiences in an increasingly digital world has become a strategic imperative. This article delves deep into the heart of excellence in marketing, offering a roadmap for achieving excellence in a realm where the stakes are high, and innovation knows no bounds.
Importance of Building Marketing Excellence in the Tech Arena:
In the ever-evolving tech industry, consumer adoption is a dynamic force shaped by both brand recognition and product appeal. However, the journey doesn't end at the point of sale. In fact, it gains momentum through post-purchase engagement, primarily driven by marketing interactions and incremental activations. This continuous connection and the ability to adapt to evolving customer needs are pivotal for tech brands aiming to maintain a competitive edge.
Global tech brands, aware of the intricacies of the market, now seek tailored and customized marketing strategies. These strategies are finely tuned at multiple levels, encompassing specific markets, product categories, and distinct customer segments. Personalization has become the mantra, ensuring that customers are not just engaged but feel like they are part of a unique, one-on-one relationship with the brand. This personalized approach is complemented by a top-down, fine-grained execution strategy, providing meticulous control across the vast and diverse landscape of the tech business. It's this comprehensive and agile excellence advertising approach that empowers global tech brands to navigate the complex and ever-shifting currents of the industry with confidence and finesse.
Challenges/Problems faced while implementing Building Excellence in Marketing in the Tech Arena:
The tech industry is a treasure trove of diverse data, encompassing customer experiences, behaviors, product usage, and clickstream information. This wealth of data opens up endless possibilities for innovation and improvement. However, harnessing this data can be a formidable challenge. Crafting future-proof, operationally feasible, and financially viable solutions require a delicate balance between bottom-up intelligence and top-down execution.
On one hand, bottom-up intelligence involves a granular understanding of the data, delving deep into its nuances to extract actionable insights. This approach enables companies to fine-tune their strategies and products based on real-world feedback. On the other hand, top-down execution entails a cohesive, overarching strategy that aligns with the company's global objectives. This global perspective ensures that the solutions developed are scalable, consistent, and synchronized across markets and regions.
In the tech industry, where innovations are swift and global reach is paramount, the fusion of bottom-up intelligence and top-down execution is critical. It empowers companies to create and implement marketing operations that are not only agile but also responsive to the ever-evolving landscape of technology, ensuring a competitive edge in the digital age.
Benefits of Building Excellence Marketing in the Tech Arena:
Our comprehensive marketing optimization solutions empower marketing teams by providing an integrated and targeted approach to cater to the demands of the new age omnichannel customer. This integrated platform equips CMOs and marketing leaders with the tools to plan their marketing budgets with near real-time data throughout the calendar year, enabling them to adapt to seasonal performance variations and forthcoming campaign executions effectively. Moreover, it offers digital marketers the agility to respond swiftly to both risks and opportunities, facilitating programmatic, channel-specific action plans.
Our all-in-one solution simplifies the management of rapidly evolving digital data, facilitating connections and attributions that yield holistic insights. This, in turn, drives real-time actionable strategies across various channels and platforms. The result is a dynamic approach to consumer planning, spend allocation, and activation strategies, all of which can be tailored to suit the local category, market, brand, product, and hyper-localized to individual consumer personas.
Our marketing optimization solution is composed of four key modules: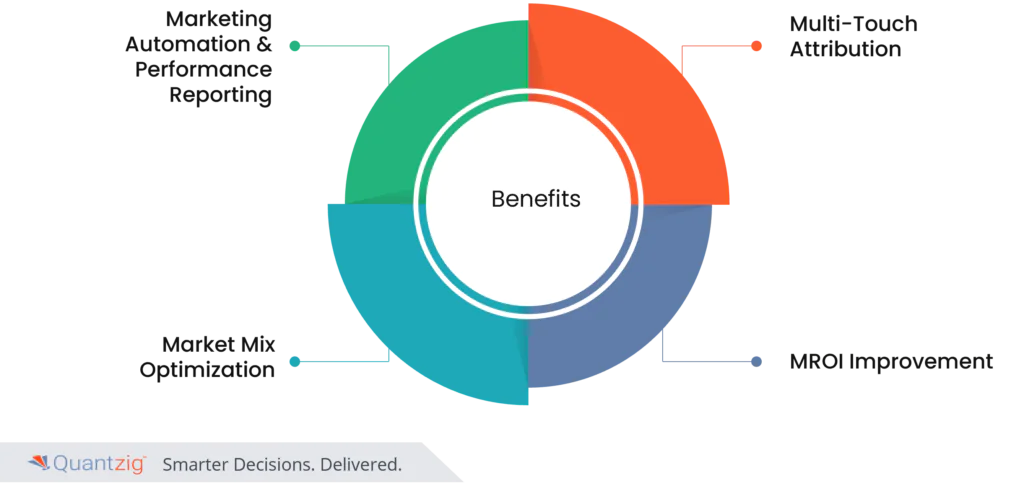 Marketing Automation & Performance Reporting: This module streamlines marketing tasks and provides in-depth performance reporting, enhancing efficiency and accountability.
Multi-Touch Attribution: It enables businesses to trace and credit various touchpoints in a customer's journey, allowing for a more accurate understanding of what drives conversions.
Market Mix Optimization: This module optimizes marketing investments by identifying the most effective marketing channels and allocation of resources.
MROI Improvement: The MROI (Marketing Return on Investment) module focuses on enhancing the efficiency and effectiveness of marketing efforts, ensuring that resources are utilized optimally.
In a rapidly evolving digital landscape, our marketing optimization solution empowers businesses to make data-driven decisions, maximize ROI, and deliver tailored, impactful marketing campaigns to an increasingly diverse and discerning audience.
Why should a client opt for our offering?
Our solutions are meticulously designed to accommodate the dynamic and swiftly changing landscape of data in the modern marketing realm. They enable marketing teams to seamlessly incorporate a continuous stream of real-time information, providing the critical edge of up-to-the-minute insights for faster and more informed decision-making.
The adaptability of our solutions is a hallmark feature. Whether it's a leadership cockpit dashboard for high-level strategic oversight, a DIY workbench catering to the analytical needs of marketing professionals, or comprehensive integration with your CRM and marketing systems, our solutions can be tailored to suit your specific requirements. This customization excellence in advertising ensures that decision-makers at all levels have access to the tools and information they need, precisely when they need it, promoting agile responses and a competitive advantage in the fast-paced world of marketing. Our goal is to empower your team with the right data and tools to make data-driven decisions that drive success.
Conclusion
In the fast-paced, ever-evolving landscape of the tech industry, achieving excellence marketing is not just a goal; it's a necessity. This journey demands a harmonious fusion of innovation, data-driven strategies, and adaptability. As we conclude our exploration of "Building Marketing Excellence in the Tech Arena," it is clear that success in this dynamic realm hinges on the ability to engage consumers, harness data, and remain agile. With the right strategies, excellence promotions, personalized approaches, and a commitment to constant evolution, tech companies can not only thrive but also lead the way in an industry where change is the only constant. Embracing advertising excellence is the key to staying ahead in the tech arena's relentless pursuit of innovation and excellence.