Introduction
Tech Platform Engineering is an important emerging technological approach that can accelerate the delivery of applications and the pace at which they produce business values. It improves developer productivity and experience by offering self-service capabilities with efficient automated developer operations. It is highly trending because of its commitment to optimizing the developer experience and accelerating the organizations' product teams' delivery of customer values.
This article embarks on a journey to unravel the essential role of platform engineering, exploring how it shapes the very foundations of our digital existence. From the creation of robust APIs that enable software systems to communicate effortlessly to the orchestration of scalable infrastructure that underpins cloud computing, the article delves deep into the mechanics of platform engineering. It's a world where innovation meets infrastructure, where the boundaries between hardware and software blur, and where the future of technology is conceived and constructed. Join us as we decode the complexities of tech platform engineering and discover how it paves the way for the interconnected future, we all inhabit.
Importance of platform engineering & connected propositions:
In the contemporary tech landscape, brands engage in a dynamic and interconnected ecosystem encompassing products, services, platforms, content, and operational facets. To thrive in this intricate web, a holistic strategy becomes paramount. It's a strategy that harmoniously interweaves all these elements within a unified connected proposition. Products are tangible offerings, but they are bolstered by services that enhance user experience and support. Platforms serve as the foundation, enabling seamless interactions and integration of products and services. Content provides the narrative, capturing attention and fostering engagement. Operations ensure efficiency in delivering products and services.  A holistic approach recognizes the interdependence of these elements. A change in one impacts all others. A brand's success hinges on how effectively it orchestrates this symphony, aligning products with services, platforms, content, and operational efficiency to create a compelling and cohesive user experience. This strategy is not just about individual elements; it's about their interconnectedness, building a powerful and unified brand presence in today's tech-driven world.
In the tech industry, empowering business users with self-serve insights and DIY analytics is imperative. Interactive digital toolboxes cater to this demand, providing accessible tools for extracting actionable analytics. This approach spans the entire tech value chain, from development to marketing. It allows non-technical professionals to harness data, make informed decisions, and drive innovation. By democratizing analytics, companies ensure agility and responsiveness in a fast-paced tech landscape, where timely insights are the currency of success. Self-serve analytics not only boosts efficiency but also fosters a data-driven culture, ultimately positioning businesses to thrive in the ever-evolving tech ecosystem.
Challenges present due to a lack of platform engineering:
Integrating and connecting data from emerging ecosystems is a formidable challenge. These ecosystems present diverse data sources, formats, and Key Performance Indicators (KPIs) that demand standardized interpretation. Achieving this requires meticulous data mapping, transformation, and harmonization processes. It's akin to translating multiple languages into a common one, ensuring that data speaks a universal dialect for analysis. This complexity underscores the importance of robust data integration solutions, as they bridge the gap between disparate data realms, enabling businesses to harness insights effectively from these newer ecosystems and make informed decisions in a data-rich but diverse landscape.
In the realm of tech platforms, analytics solutions must evolve and adapt continuously. They need to be dynamic, akin to a "living and breathing" entity, to keep pace with the ever-changing landscape. The fast-changing scope and demands within tech platforms require flexibility. This means being agile enough to accommodate new data sources, evolving KPIs, and shifting business priorities. A static analytics solution would become quickly outdated, whereas a flexible one empowers businesses to not only keep up but also thrive by extracting meaningful insights in real-time, ensuring that decision-makers are always equipped with the latest, and most relevant information.
Key Benefits of Implementing Platform Engineering:
Platform engineering offers a myriad of benefits when implementing a holistic Revenue Operations framework. Firstly, it streamlines and synchronizes business operations, breaking down silos that can impede efficiency. By unifying data and processes, it ensures that every department, from marketing to sales to customer support, operates cohesively. Consistency in customer journeys is another vital advantage. Through well-designed platforms, customer interactions are seamless, with data seamlessly flowing between touchpoints. This consistency enhances the customer experience, fostering loyalty and trust.
Moreover, platform engineering promotes adaptability. As market dynamics change rapidly, having a flexible infrastructure enables businesses to quickly adjust their strategies and processes. This agility is crucial for staying competitive. Furthermore, it can optimize resource allocation by providing insights into what's working and what's not. This data-driven approach enables more informed decision-making, ultimately leading to increased revenue and profitability.
In summary, platform engineering underpins a holistic Revenue Operations framework, promoting operational efficiency, consistency in customer experiences, adaptability, and data-driven decision-making, all of which are pivotal for sustained business success in the tech-driven landscape.
What do our platform engineering solution and connected proposition offer?
Our connected proposition Suite within Quantzig focuses on 5 essential pillars of business operations as a one-stop command center for all analytics requirements.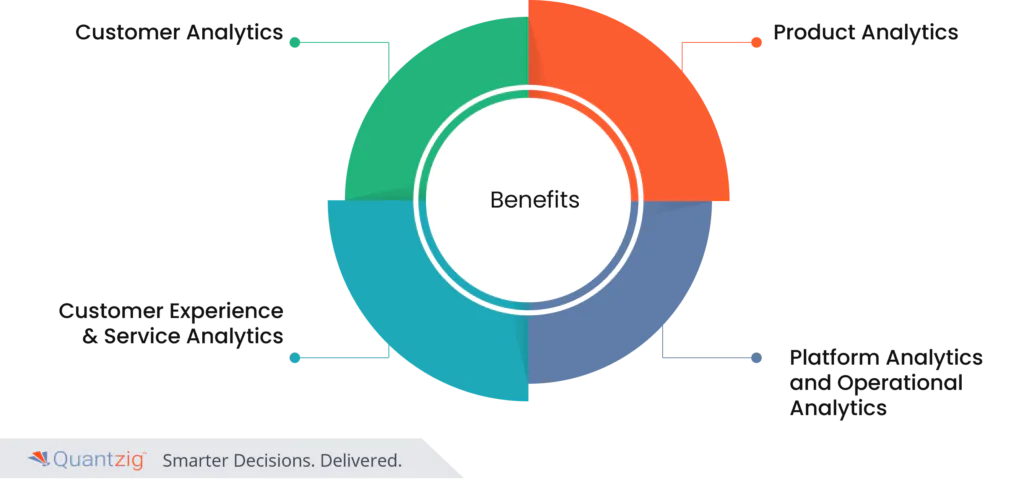 Customer Analytics: 
Customer Analytics in digital setups involves meticulous tracking of every customer's journey, from initial interaction to conversion. Utilizing data and algorithms, it programmatically discerns patterns and preferences, allowing real-time delivery of the "next best action." This means tailoring recommendations, offers, or content to each customer's specific needs and behavior. It enhances engagement and conversion rates by providing a highly personalized experience. Essentially, it's the art of leveraging data and technology to anticipate and fulfill customer needs proactively, create a seamless and rewarding journey for every individual, and ultimately drive customer satisfaction and business success.
2. Product Analytics: 
Product Analytics spans the entire Product Lifecycle Management (PLM) spectrum. It offers decision support through data-driven insights, starting from innovation and concept testing, and extending to brand positioning, launch planning, and mass commercialization. It combines both "outside-in" intelligence, which considers market and consumer trends, and "inside-out" intelligence, which focuses on internal data and processes. This comprehensive approach enables businesses to make informed decisions at every stage of product development and launch, optimize strategies, minimize risks, and ensure that products align with market demands, ultimately leading to successful and well-positioned products in the market.
3. Customer Experience & Service Analytics: 
Customer Experience and Service Analytics involve fine-tuning CX/UX strategies across diverse touchpoints and individual journeys. It hinges on delivering personalized services by understanding each customer's unique context and preferences. By analyzing data from various interactions, businesses can identify pain points, and opportunities for improvement, and tailor services accordingly. This approach enhances overall satisfaction, as customers receive precisely what they need when they need it. It's a data-driven strategy that not only optimizes the customer experience but also fosters lasting customer loyalty, elevating a brand's reputation and competitiveness in a crowded marketplace.
4. Platform Analytics: 
Platform optimization encompasses a holistic approach, combining SEO, technical performance enhancements, user analytics, and rigorous testing. It aims to secure a fair share of the market and establish category dominance within the earned, owned, and paid platforms. By fine-tuning SEO, ensuring top-notch technical performance, analyzing user behavior, and conducting rigorous testing, businesses can maximize their visibility, attract, and retain customers, and outperform competitors. This comprehensive strategy empowers brands to not only claim their share of the market but also position themselves as leaders, ultimately driving sustained success in the digital landscape.
5. Operational Analytics: 
Operational Analytics provides intelligence spanning the entire supply chain network, encompassing daily processes and future-focused strategic planning. It involves streamlining data, establishing measurement and alert systems, implementing execution and optimization solutions, and utilizing simulation and planning tools. This multifaceted approach enhances decision-making across supply chain operations. It ensures efficiency in daily processes while enabling businesses to anticipate future demands, optimize resources, and adapt swiftly to market changes. Operational Analytics serves as a vital compass for navigating the complexities of supply chain management, balancing the present with a keen eye on tomorrow's challenges and opportunities.
Why should a client opt for our offering?
Our solutions offer a comprehensive and real-time view of your entire business, creating a connected perspective. This empowers customers to assess the potential impact of their decisions across all aspects of their operations. By providing this holistic insight, businesses can make informed choices that consider the ripple effects on various departments, processes, and performance metrics. This not only enhances decision-making but also fosters agility and adaptability, ensuring that actions taken align with broader business objectives, ultimately leading to more efficient and successful outcomes in today's dynamic and interconnected business landscape.
Our solutions are preconfigured with ready-to-use solution accelerators, primed for swift deployment. We prioritize delivering value promptly, with an operationalization timeline of less than 100 days. This means businesses can quickly implement our solutions and start reaping benefits in a matter of weeks, not months. By offering prebuilt solutions and an expedited timeline, we streamline the process, minimizing disruption and enabling organizations to unlock the advantages of our technology rapidly. It's a commitment to efficiency and effectiveness, ensuring that businesses can harness the power of our solutions and achieve tangible results with speed and precision.
Our approach combines the best of both worlds through a distinctive hybrid execution model. We blend managed services with cutting-edge solutions, marrying the finesse of product offerings with the flexibility of tailored services. This synergy means our clients benefit from robust, off-the-shelf solutions while also having the adaptability to customize them to their specific needs. It's about delivering not only exceptional products but also the support and flexibility that ensure seamless integration and ongoing success. This unique model empowers businesses with a dynamic and adaptable toolkit, providing them with the competitive edge required in today's rapidly evolving market landscape.
Conclusion:
In the ever-evolving landscape of technology and business, the importance of platform engineering and connected propositions cannot be overstated. These two pillars stand as the cornerstones of innovation, facilitating the seamless flow of information, services, and products in our interconnected world.
Platform engineering serves as the invisible hand that orchestrates the symphony of our digital age. It enables the creation of ecosystems where diverse software systems harmoniously interact, fostering innovation and efficiency. It's the bridge that connects disparate elements, from APIs to microservices, scalability to security, making our interconnected world possible.
Connected propositions, on the other hand, represent the ability to adapt and thrive in this interconnected world. By seamlessly interweaving products, services, platforms, content, and operations, businesses can offer holistic experiences that resonate with customers. This interconnectedness enhances customer satisfaction, loyalty, and ultimately, a brand's competitiveness.
In conclusion, platform engineering and connected propositions are not merely concepts but imperatives for success in the digital era. They are the driving forces behind innovation, efficiency, and customer-centricity, shaping the future of business and technology. Embracing these principles is not a choice; it's a necessity for those who seek to flourish in our interconnected, technology-driven world.