Introduction
In the ever-evolving landscape of the travel industry, knowledge is power, and data is the catalyst for informed decision-making. Welcome to "A Guide to Data Analytics in the Travel Industry," a comprehensive exploration of how data analytics is reshaping the way we navigate the world. In an era where every traveler's journey generates a digital footprint, data analytics has become the compass guiding the industry toward unparalleled efficiency, personalization, and sustainability. This article delves deep into the transformative potential of data analytics, shedding light on its multifaceted benefits. From revolutionizing itinerary planning and optimizing pricing strategies to enhancing customer experiences, we embark on a journey through data-driven insights, uncovering how they have become the lifeblood of an industry built on exploration, adventure, and discovery. Join us as we unveil the secrets and strategies that are reshaping the future of travel.
Importance of Data Analytics in the Travel Industry:
The travel industry can harness the power of enhanced Revenue Operations (RevOps) by delving into crucial factors like demand dynamics, pricing strategies, and competitor activity. In an environment characterized by fluctuating demand and dynamic market conditions, data-driven insights are paramount. By analyzing data on customer preferences, market trends, and historical booking patterns, businesses can make quicker, more informed decisions on pricing and promotional strategies.
RevOps enables companies to adapt to real-time changes in demand, fine-tune pricing models, and implement dynamic promotions. This agility allows travel businesses to maximize revenue while staying competitive in a fast-paced industry. Furthermore, the ability to respond swiftly to market shifts enhances profitability, customer satisfaction, and overall operational efficiency, making data driven RevOps a vital asset for success in the travel sector.
Challenges/Problems faced while implementing Data Analytics in the Travel Industry:
The success of the travel industry is contingent on a holistic approach that prioritizes excellence before, during, and after the customer's experience. To achieve this, the industry is increasingly recognizing the significance of Revenue Operations (RevOps) in orchestrating seamless and efficient journeys.
Streamlining these various phases and building a high-performance RevOps framework is a strategic roadmap essential for sustained growth. It demands programmatic transformation, entailing a fundamental shift in how the travel business operates.
Excellence before the experience involves precise market analysis, pricing strategies, and demand forecasting to attract the right audience. During the experience, operations, service quality, and customer satisfaction are paramount. After the experience, post-trip engagement, loyalty-building, and data-driven insights play a pivotal role.
RevOps serves as the linchpin connecting these phases, optimizing processes, pricing, and promotions, ultimately enhancing the overall guest journey. Programmatic transformation empowers the industry to adapt, innovate, and stay competitive in a rapidly evolving landscape, ensuring that travelers receive excellence at every stage of their journey.
Benefits of implementing Data Analytics in the Travel Industry:
Our RevOps Solutions suite represents a transformative approach to handling data complexities within the travel industry. From the cockpit of your operations to advanced simulators, our suite is meticulously designed to streamline your data ecosystem. We enable actionable reporting and equip decision-makers with advanced analytics capabilities that empower them to navigate the dynamic landscape of the travel sector.
Central to our approach is the deployment of highly efficient analytics engines that seamlessly integrate with your data infrastructure. These engines not only process data but also provide predictive and simulation capabilities, delivering insights in real or near-real time. This means that decision-makers have access to up-to-the-minute data, allowing them to make informed, data-driven choices that can significantly impact revenue, customer satisfaction, and operational efficiency. In an industry as fast-paced and dynamic as travel, having the ability to make strategic decisions based on the latest data is a game-changer, and our RevOps Solutions suite makes it possible.
Conclusion
In the ever-evolving realm of travel, data analytics emerges as the guiding compass, transforming the industry in unprecedented ways. As we conclude our guide to Data Analytics in the Travel Industry, we've unveiled the immense potential of data-driven insights in optimizing every aspect of the traveler's journey. From personalized itineraries to responsive pricing strategies and enhanced customer experiences, data analytics has become the heartbeat of a vibrant and adaptive sector. It empowers decision-makers with the tools they need to navigate the dynamic landscape of travel, ultimately reshaping the way we explore the world. As the industry continues to evolve, harnessing the power of data analytics is not a choice but a fundamental necessity, ensuring that travelers embark on journeys defined by excellence, efficiency, and seamless discovery.
Success Story:
"Transforming Travel Excellence: How Quantzig's Data Analytics Guide Supercharged Client Success"
Client details:
The Client is a Leading Hotel Chain based out of the US that operates multi-brand hotels across the country.
Challenges faced by the client:
The objective of our client was to find an integrated solution that could effectively address performance measurement, streamline operational processes, and enhance decision-making support. The primary goal was to establish a cohesive framework that enabled comprehensive data analysis, allowing the organization to gauge performance, identify areas for improvement, and make data-driven decisions. By implementing this connected solution, the company aimed to optimize its operations, increase efficiency, and ensure that decision-makers had access to real-time, actionable insights to drive strategic planning and growth.
Solutions offered by Quantzig:
Our RevOps solution is a pioneering system that seamlessly integrates performance data across the entire customer journey, encompassing the stages before, during, and after the trip. This holistic approach offers a comprehensive understanding of the entire value chain. To enhance decision-making, our solution provides a cohort of dashboards, each tailored to a specific stage of the customer journey. These dashboards act as strategic command centers, offering real-time insights and in-depth analytics.
A key feature is our root cause analysis components, which are embedded within the dashboards. These components excel at identifying variances in performance metrics and swiftly provide remediation recommendations directly within the dashboard interface. This dynamic functionality empowers businesses to not only track their key performance indicators but also proactively address issues, optimize processes, and enhance the customer experience throughout the journey.
In a rapidly evolving industry, our RevOps solution acts as a lighthouse, guiding businesses towards data-driven, performance-boosting strategies and decision-making, ultimately driving growth and excellence.
Impact delivered: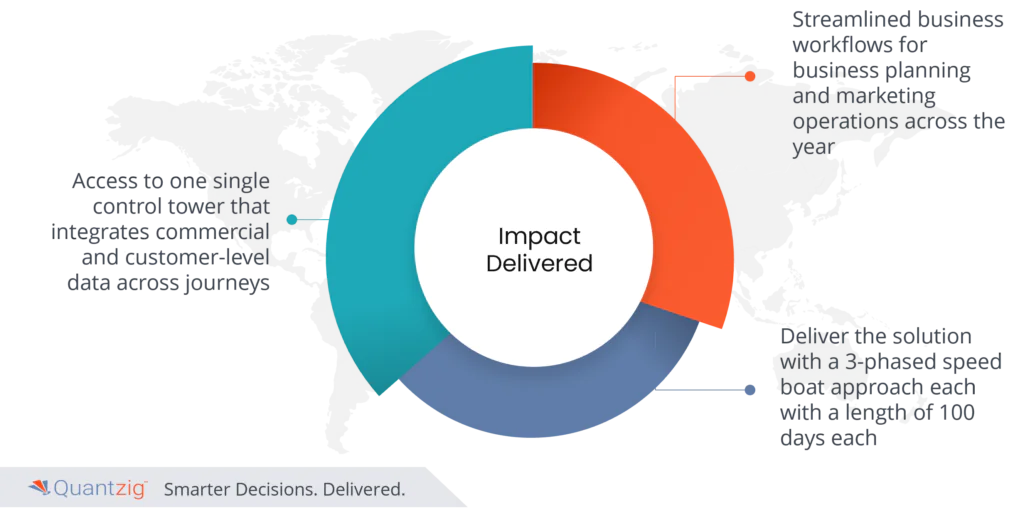 The client now has access to one single control tower that integrates both commercial and customer-level data across journeys.
Quantzig was able to deliver the solution with a 3-phased speed boat approach each with a length of 100 days each.
"Unlock the Power of Data in Your Travel Business. Discover How We Can Help You!"