Introduction
In an ever-evolving and fiercely competitive hospitality industry, the ability to make data-driven decisions is the linchpin to success. For hotel marketers, marketing analytics strategies have become the bedrock upon which marketing plans for hotels, sustainable growth, profitability, and customer satisfaction are built. As the digital landscape continues to reshape guest expectations and behaviors, this article delves deep into the transformative power of marketing analytics. It unveils innovative strategies that enable hoteliers to not only adapt to changing market dynamics but also to proactively drive business outcomes. From understanding guest preferences to optimizing pricing and marketing campaigns, this comprehensive guide unlocks the keys to unlocking the full potential of marketing analytics in the dynamic world of hotel management.
Importance of

marketing strategy in hospitality industry:

In the contemporary landscape of hotel marketing, the digital realm has taken center stage, with an overwhelming 90% of the guest journey, encompassing discovery, activation, information exchange, and conversions, unfolding online. As hotels engage in various online marketplaces, the need for platform-specific SEO strategies is paramount. Optimizations within each platform are essential to secure a fair market share, particularly at a competitive seasonal value, often facilitated through dynamic pricing and creative promotions.

The critical linchpin in this digital transformation is the role of analytics and data engineering. These functions enable real-time and fully automated marketing operations, a necessity in the fast-paced, dynamic environment of digital ecosystems. With this, the call to action becomes faster, and execution strategies must adapt dynamically to shifting market trends and guest behaviors. In this digital-first era, the integration of marketing tools in hospitality industry, data engineering, and agile marketing approaches is indispensable for hotels looking to thrive and capture their share of the online marketplace.
Challenges/Problems faced while implementing Marketing Analytics Strategies fo
r Hotel Marketers:
Hotel marketing is an intricately seasonal and nuanced discipline, demanding constant adaptation. Success hinges on the ability to dynamically optimize digital visibility and conversion rates throughout the year. This optimization must be finely attuned to factors such as brand perception, customer satisfaction, and the ever-shifting balance of supply and demand. It's not just about responding to typical marketing signals; it also entails a keen awareness of how the broader market landscape is evolving. Staying ahead in this competitive arena necessitates a continuous, near-real-time evaluation of how rivals are performing and, crucially, the ability to swiftly adapt strategies that maintain a competitive edge. In this environment, the agility to respond to multifaceted influences is the hallmark of effective hotel marketing.
Benefits of Implementing Marketing Analytics Strategies for Hotel Marketers: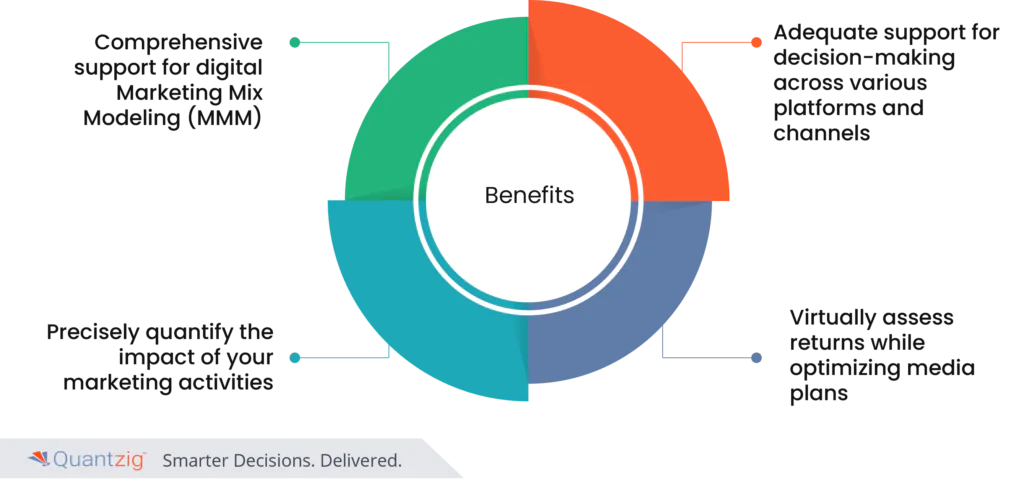 Quantzig's distinctive Marketing Decision Management (MDM) framework provides clients with comprehensive support for digital Marketing Mix Modeling (MMM) and decision-making across various platforms and channels. We recognize that increased volumes result from multiple revenue-enhancing initiatives operating in harmony. Therefore, we ensure that our measurement approach is unified and holistic, considering a cohort of primary drivers (comprising pure marketing and demand-driven signals), secondary drivers influencing incremental demand (such as pricing strategies, sales and execution effectiveness, and asset location development), and corrective measures affecting aspects like consumer perception, demand transference, and strategic alignments.
Our MDM framework empowers you to precisely quantify the impact of your marketing activities, amalgamate results for multiple brands, and virtually assess returns while optimizing media plans. We adopt a tiered approach to measure marketing impact, incorporating both top-down and bottom-up perspectives to address commercial insights, digital attributions, and the behavioral impact on consumers resulting from our marketing expenditures.
Conclusion
In an era defined by digital dominance and evolving guest expectations, the strategic integration of marketing analytics is the lodestar for hotel marketers. As we conclude this exploration of Marketing Analytics Strategies for Hotel Marketers, it is abundantly clear that the path to success lies in harnessing data-driven insights, dynamic pricing, and nimble promotional tactics. The ability to pivot swiftly, align with ever-changing market dynamics, and adapt to the multifaceted demands of the modern traveler is imperative. With analytics as their compass, hotel marketers can chart a course toward sustainable growth, enhanced guest satisfaction, and unrivaled competitiveness. In this data-powered landscape, the future of hotel marketing is both promising and profoundly transformative.