Introduction
In today's fiercely competitive digital landscape, unleash the conversion-boosting prowess of Artificial Intelligence (AI) and watch your business soar to new heights of success. From intelligent chatbots that convert and engage customers around the clock to predictive analytics that help you get the most promising leads, AI is a secret business weapon that will propel your conversation rates to unprecedented heights. In this article, we'll dive into how AI can impact your conversion rates and drive your business toward tremendous success. 
Make the most of your data!
Connect with us for tailor-made solutions
How AI can impact your conversion rates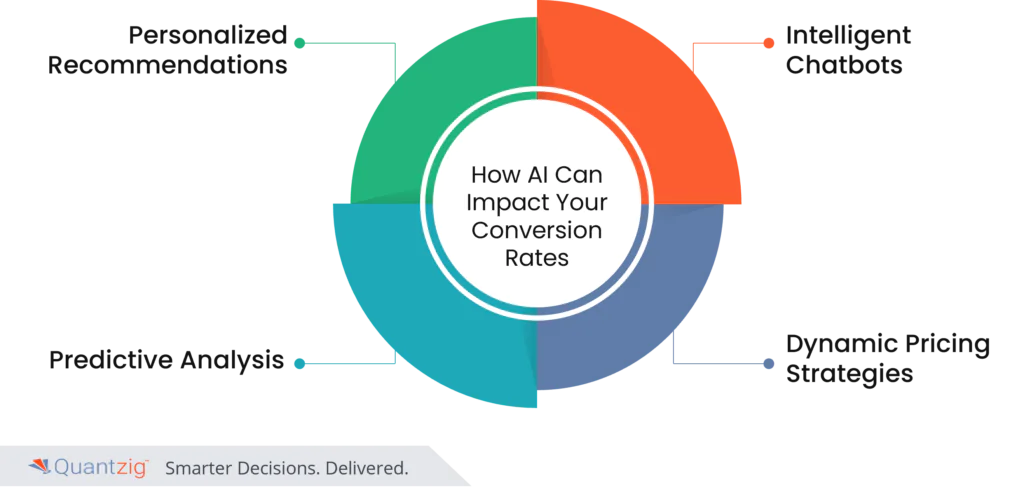 Personalized Recommendations: 
Personalization enhances the customer experience, fosters trust, and boosts conversation rates by presenting customers with products they are most likely to purchase. AI-powered personalization mainly involves gathering and analyzing vast amounts of customer data, from their purchasing and browsing history to demographic information and social media interactions. This valuable information allows businesses to evaluate customers' preferences and needs, and pain points, enabling them to offer personalized experiences that resonate with individual customers. This process significantly increases the chances of customer conversation rates as customers feel valued and understood by their favorite brands.
For example, due to the AI-Powered personalization system of Starbucks, many of their customers find it easy to fulfill their requirements for the stated rewards, that in return increase purchasing frequency, customer loyalty, and customer participation.
Intelligent Chatbots:
AI chatbots are mainly computer programs that have been designed to mimic human conversations and offer automated support to customers. These intelligent virtual assistants offer instant and personalized support, eliminating long waiting times and ensuring prompt responses. With AI chatbots as your 24/7 virtual salesforce, you'll experience an engaging and seamless customer experience that caters to individual experiences, builds trust, and skyrockets your conversation rates. 
A few years ago, Foyer, a world-leading wealth management and insurance company, implemented Chatlayer's AI bot that helped them to answer incoming customer requests on time in approx. 125 different languages. 
Predictive analysis:
By successfully leveraging the capabilities of machine learning and AI, a predictive data forecasting engine evaluates the patterns of essential business data to predict events or outcomes that help you prepare your business for the unpredictable future. It provides you with intelligent insights for taking proactive measures and ensuring your business's success. The advanced algorithms of AI analyze customer data to understand their ever-changing needs that help your business to deliver proactive support, tailored solutions, and personalized recommendations. Leave the guesswork behind and embrace AI's data-driven approach that captivates customers, leading to increased conversions. 
Intelligent Ad Targeting: 
AI-Powered ad targeting revolutionizes digital advertising by delivering highly targeted ads to the right customers at the right time. By using AI algorithms, marketers can effortlessly test different variations of videos, images, and PPC ad copy to evaluate the most effective messaging and formats for potential customers. This A/B testing process enables marketers to make data-driven decisions to improve their ad performance and increase customer conversion rates. AI analyzes customer preferences, behavior, and demographics to identify the most promising leads, ensuring that advertising efforts are effective and focused, Intelligent Ad targeting increases the chances of reaching potential customers who are more likely to convert, leading to higher conversation rates. 
Dynamic pricing strategies:
Harnessing the power of advanced algorithms, AI analyzes customer behavior, competitor pricing, and real-time market data to determine optimal pricing strategies. With AI's ability to respond to market fluctuations and identify price thresholds, businesses can captivate customers with compelling pricing offers that drive higher conversions and engagement. If you implement AI's dynamic pricing strategies into your business, you can quickly respond to market changes, offer competitive prices, and find the sweet spot that attracts customers while ensuring profitability.
Conclusion:
In the digital transformation era, AI emerges as a powerful ally in boosting customer conversion rates. In conclusion, we can say that from intelligent chatbots and personalized recommendations to dynamic pricing strategies and predictive analytics, AI unleashes a world of possibilities for your businesses. By evaluating customer behavior, delivering tailored experiences, and anticipating needs, AI algorithms captivate customers and foster deeper engagement. Embrace the transformative power of AI and witness your business thrive at higher conversation rates, leaving competitors in awe. 
Success Story:
How we transformed the customer conversation rates of an e-commerce retailer with AI-Powered solutions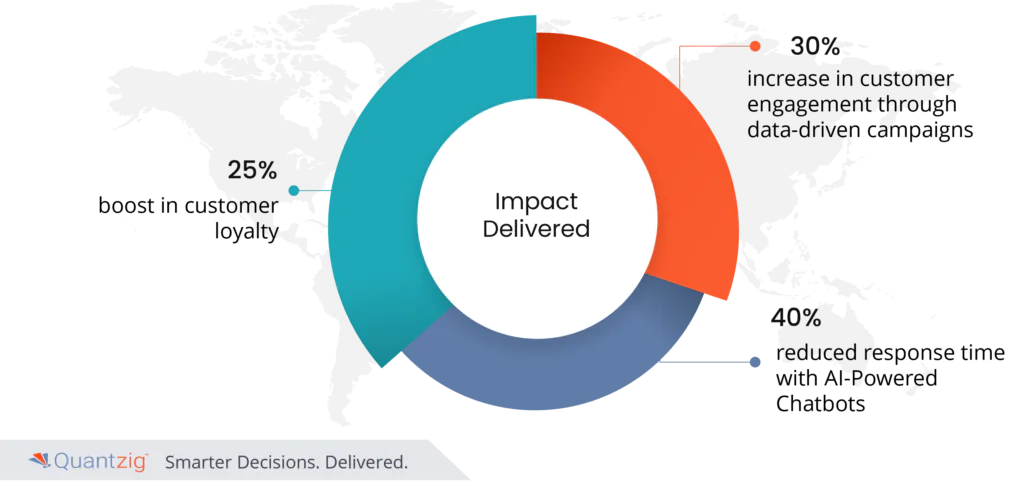 Client Details: Our recent client was a prominent e-commerce retailer with a vast product catalog, catering to a diverse customer base. Despite offering a wide range of products and services, the client struggled to maintain consistent customer conversation rates due to generic marketing campaigns and delayed customer support responses. They recognized the pressing need to leverage AI-driven solutions to deliver personalized experiences, optimize marketing efforts, and elevate customer engagement. 
Challenges: 
Inadequate Customer Support: Their Company grappled with inefficient support systems, leading to delayed responses and customer dissatisfaction. 
Generic Interactions: Their existing marketing campaigns lacked personalization, failing to resonate with their audience and affecting the conversion process. 
Real-time Personalization: The client yearned to provide real-time personalized experiences, fostering deeper engagement with customers. 
Facing similar challenges?
Connect with us for tailor-made solutions
Solutions:
AI-driven Chatbots: Quantzig deployed intelligent chatbots, powered by AI algorithms, capable of handling customer queries 24/7. The chatbots offered personalized product recommendations, instant assistance, and real-time engagement, ensuring customer satisfaction.
Predictive Analytics: By utilizing predictive analytics, our team analyzed customer data to understand customer behavior and preferences. This empowered the client to craft targeted marketing campaigns, driving higher engagement and conversion rates.
Dynamic Pricing Strategies: Our team implemented dynamic pricing algorithms, analyzing real-time market data and competitor pricing. This allowed the client to optimize product pricing, captivating customers and driving conversions.
Impact Delivered:
25% boost in customer loyalty
30% increase in customer engagement through data-driven campaigns 
With AI-Powered Chatbots, response time reduced by 40%
Unlock the potential of AI and elevate your customer conversations! Contact Quantzig today to embark on your transformation journey!