In the dynamic realm of education, the fusion of innovation and knowledge exploration is steering the trajectory of learning into uncharted territories. Artificial Intelligence (AI), as a powerful catalyst, is not just a technological enhancement but a strategic investment that promises to reshape the future of education. In this narrative, Quantzig, with its technical acumen, delves into the influential trends where AI is at the forefront of revolutionizing the educational landscape.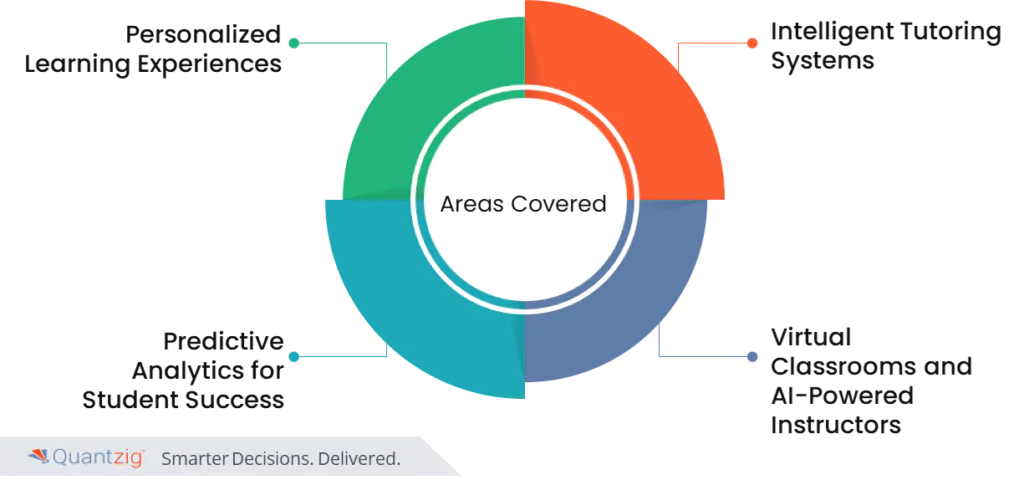 Personalized Learning Experiences:
AI algorithms, fueled by extensive datasets, are ushering in a new era of personalized learning experiences. The future of education is envisioned as a realm where AI tailors lessons to individual student needs. Adaptive learning platforms, empowered by AI, meticulously analyze student performance, identify strengths and weaknesses, and deliver customized content, ensuring a more effective and tailored learning journey.
Intelligent Tutoring Systems:
The future classroom will witness the seamless integration of intelligent tutoring systems, guided by AI's intelligence. Going beyond conventional teaching methods, these systems provide real-time feedback, adapt to student progress, and offer additional support where needed. As AI evolves, these tutoring systems become more sophisticated, creating an interactive and adaptive learning environment catering to diverse learning styles.
Gamification and AI:
The convergence of AI and gamification promises to redefine the educational landscape. By infusing gaming elements into educational platforms, AI enhances student engagement, making learning a dynamic and immersive experience. AI-driven analytics enable educators to track student progress, identify learning patterns, and continuously refine gamified content to optimize educational outcomes.
Predictive Analytics for Student Success:
AI's increasing role in predictive analytics is transforming how we identify students at risk of academic challenges. By analyzing historical data and learning patterns, AI forecasts potential issues, enabling timely intervention. This proactive approach ensures that educators can provide additional support to students facing difficulties, ultimately enhancing overall student success rates.
Smart Content Creation:
The future of education entails smart content creation facilitated by AI. Content generation, powered by natural language processing and machine learning algorithms, expedites the creation of high-quality, relevant, and adaptive educational materials. This not only streamlines content creation but also allows educators to focus on fostering critical thinking and creativity.
Virtual Classrooms and AI-Powered Instructors:
The integration of AI into virtual classrooms is a trend poised to revolutionize education. Virtual instructors powered by AI can analyze student interactions, answer queries, and adapt teaching methods in real-time. This creates a dynamic and responsive virtual learning environment, offering students the benefits of personalized attention and instant feedback.
Elevating Education Intelligence: A Quantzig Perspective
Incorporating AI into education is not just an upgrade; it's a strategic investment in shaping the future of learning. Quantzig's expertise in AI seamlessly integrates into existing educational frameworks, enhancing the learning experience for both educators and students. As we navigate the future of education, the synergy of AI and learning becomes a cornerstone in fostering knowledge, innovation, and adaptability.
In conclusion, the trends shaping the future of education through AI reflect a paradigm shift in learning approaches. With Quantzig leading the way, the future of education is about creating a dynamic and personalized learning ecosystem that empowers students and educators alike. As AI continues to evolve, so too will its impact on education, ensuring a transformative and enriching learning experience for generations to come.