Applications of Data Analytics in IT
| | |
| --- | --- |
| S No | Data Analytics in IT |
| 1. | Identifying Customer-Centric Metrics |
| 2. | Ramping up security frameworks |
| 3. | Analyzing complex data sets |
| 4. | Automating production management |
| 5. | Identification of potential risks and bottlenecks |
| 6. | Creation of innovative products |
Introduction
In the dynamic realm of the IT industry, staying abreast of evolving trends is pivotal for organizational growth and success. Data analytics has emerged as a transformative force, enabling IT businesses to harness the power of information for enhanced performance and strategic decision-making. Let's explore the current trends shaping the IT industry through the lens of data analytics.
Data Analytics in the IT Industry
Data analytics techniques are an assortment of business intelligence, online analytical processing (OLAP), and other advanced analytics applications with a much broader focus. Data analytics services have expansive organizational benefits that help businesses drive revenue, improve operational efficiency, optimize customer experience, and develop effective marketing campaigns. Data analytics coupled with business intelligence and related advanced analytics services can work wonders in every industry, especially in the booming IT industry.
With growing competition and the presence of a highly fragmented market, it is essential for the players in the IT sector to respond quickly to the latest market trends to gain a competitive advantage over their competitors.
Contact us to learn more about the impact of data analytics on the IT industry and how you can leverage it to gain a competitive advantage.
What's Trending in the IT Industry?
The ultimate goal of any business, irrespective of the industry it operates in, is to boost business performance and drive profitability. The IT industry possesses large amounts of information – historical and real-time – from a variety of sources that can be processed and analyzed with the help of data analytics. With the help of analytics tools, the IT industry players can leverage this data to reduce costs, optimize processes, and enhance organizational operability. But what are the data analytics trends that will revamp the IT industry? Read on.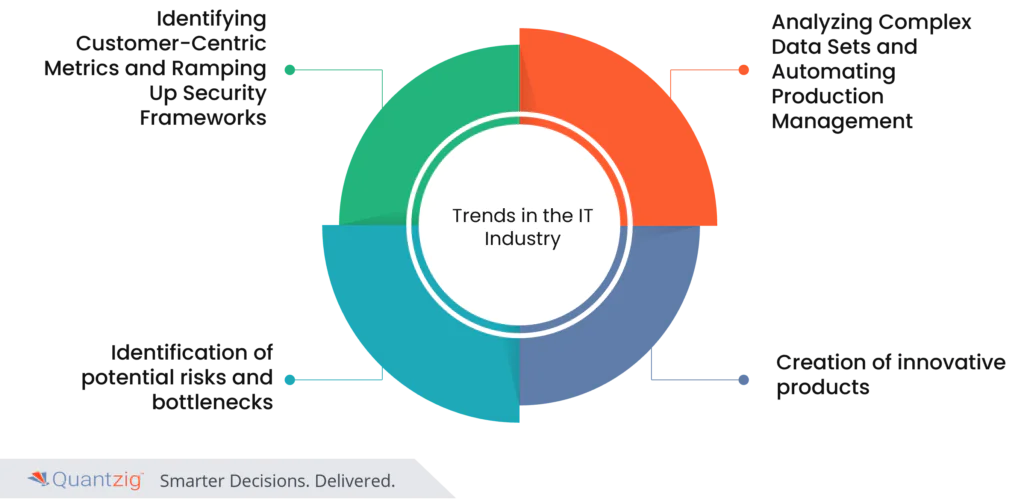 1. Identifying Customer-Centric Metrics:
Enhanced Customer Experience:
The IT industry is increasingly leveraging data analytics to identify customer-centric metrics, measuring and monitoring performance across various parameters. This enables businesses to track brand perception, gauge customer satisfaction, and tailor services for an enhanced customer experience.
2. Ramping Up Security Frameworks:
Data Security Prioritization:
With the rise of data analytics, there's a concerted effort in the IT industry to bolster security frameworks. This proactive approach aims to eliminate data security issues, safeguard sensitive information, and fortify systems against vulnerabilities, ensuring data integrity and user trust.
3. Analyzing Complex Data Sets:
Seamless Business Processes:
IT vendors are increasingly relying on advanced analytics software to analyze and interpret complex data sets. This trend simplifies business processes, ensuring operational efficiency, a seamless experience, and extracting valuable insights for informed decision-making.
Request a free proposal to learn how you can leverage data analytics for your organization and drive continuous innovation, competitiveness, and unprecedented market excellence.
4. Automating Production Management:
Reducing Human Intervention:
Data analytics is enabling IT companies to automate production management, minimizing the need for extensive human intervention. By analyzing historical data and real-time information, businesses can automate physical changes to equipment, optimizing manufacturing processes through targeted commands to actuators and advanced robots.
5. Identification of potential risks and bottlenecks
Data analytics plays a crucial role in identifying potential risks and bottlenecks. In the ever-changing landscape of technology, having robust risk management processes is essential. Data analytics assists in developing optimal risk management solutions and devising agile strategies to navigate uncertainties.
6. Creation of innovative products
Customer-Centric Innovation:
Data analytics empowers IT companies to innovate products by collecting and analyzing extensive data on existing market offerings. Insights from customer feedback, product success metrics, and competitor inputs guide businesses in understanding customer needs, driving innovation, and staying ahead in the competitive landscape.
Conclusion
In conclusion, the convergence of data analytics and the IT industry is reshaping business strategies, enhancing security measures, and fostering innovation. As businesses continue to prioritize customer-centricity, automation, and risk management, the utilization of data analytics in IT becomes not just a trend but a fundamental driver of success. Embracing these trends positions organizations to navigate the evolving IT landscape with agility, competitiveness, and a commitment to continuous innovation.
Data analytics is the one-stop solution to all IT business challenges. Speak with our advanced data analytics experts to learn how you can leverage data analytics to optimize your organization and drive innovation, growth, and market excellence.