Have a look at the devices you own. In totality, there must be over a terabyte of media, files, and documents over all the devices. Then, there are millions and millions of such devices. If such a volume of data was not enough, then there are supercomputers, data centers, and huge servers all across the world. The overall data currently produced in the world each day is so large that it may require a supercomputer on its own to process it. Such characteristics of big data which is critical for insight generation is dictated by the four 4 v's of big data.
We understand the challenges faced by businesses today, which is why we've developed a comprehensive suite of big data analytics solutions that can help you skillfully address such challenges. Request a FREE proposal to learn more.
4Vs of Big Data
Volume
As the name suggests, Big Data should be big in terms of sheer volume. The total amount of information generated each day is growing exponentially. Some experts state that the amount of data created in the last two years is more than what has been generated before that throughout human history. It is also estimated that 2.3 trillion gigabytes of data are generated each day. Additionally, each multinational company will have at least 100,000 GB of data stored.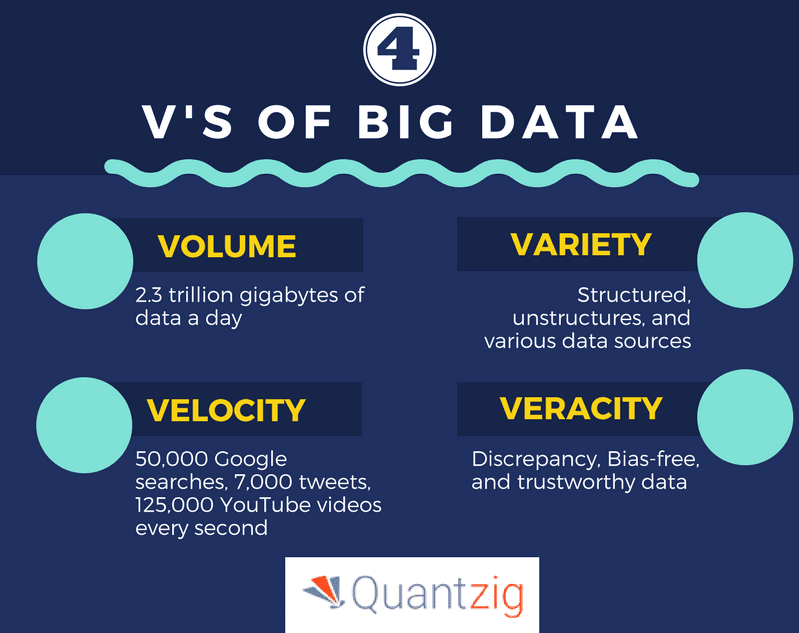 ---
To know more about 4 Vs of big data, big data analytics, and machine learning, get in touch with our analytics experts right away!
---
Variety
It's not the sheer volume of data that is impressive about big data; it's the endless variety of it. The diversity originates not only regarding devices or sources of big data generation but also the type of data, including structured and unstructured data. Data is generated via fitness trackers, laptops, smartphones, tablets, supercomputers, and many other mediums. In terms of sources, one of the most significant sources is social media with Facebook, Twitter, and Instagram generating more data than any other communication tool. Today, data scientists are more curious about unstructured data, which can be in the form of voice recording, social media comments, or media files. Using natural language processing and machine learning techniques, data scientists are able to dwell deep into customer behavior.
Velocity
Apart from the volume of big data, the frequency of incoming data is also increasing each day. For instance, numerous reports published on what happens in an internet second state mind-boggling numbers. In an internet second, more than 50,000 Google searches are performed, 7,000 tweets are sent out, more than 125,000 YouTube videos are viewed, and more than 2 million emails are sent. The flow of big data is massive and continuous, which can help researchers and businesses make valuable decisions.
We can help you gain comprehensive insights into your business performance through customs analytical views and interactive dashboards. Request for more information to learn more about our analytics solutions.
Veracity
The sheer volume of big data being generated can pose one major concern for data analysts. Can the data be trusted? The trustworthiness of the big data depends on whether the data is representative, without discrepancies, and suppresses biases. The challenge is also to store and mine the information that is meaningful to the problem being analyzed. When dealing with big data, it is important to keep the data clean and avoid unwanted data from accumulating in your systems. This is mainly because when redundant data is taken into consideration, the resulting insights may be futile.
Use of 4 vs of big data
Big data, with its vast volumes of information, plays a crucial role in today's business landscape. It offers a wealth of opportunities and applications, enabling organizations to make more informed decisions and gain a competitive edge. Here are four key uses of big data: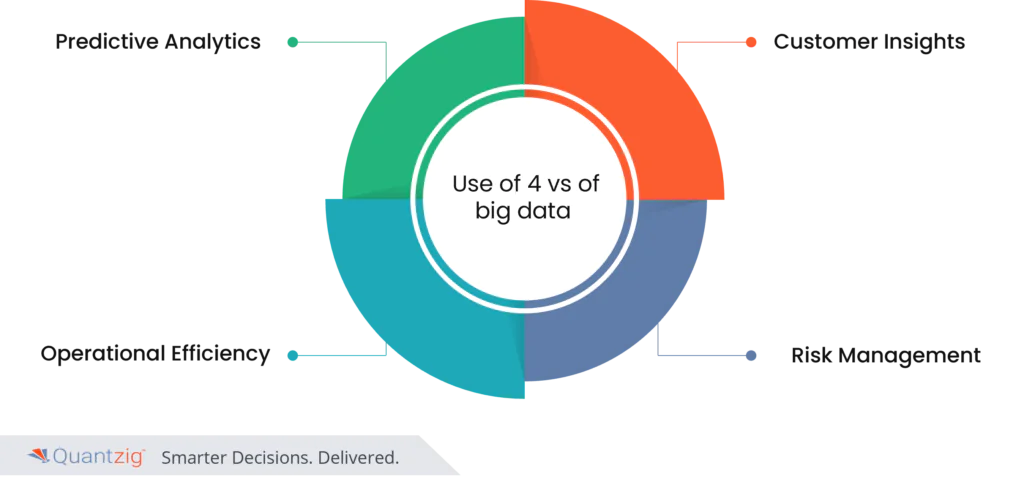 Predictive Analytics:
Big data facilitates predictive analytics by analyzing historical data to forecast future trends, behaviors, and outcomes. This is invaluable in various sectors, including finance, marketing, and healthcare. For example, financial institutions can use big data to predict market fluctuations and customer preferences, helping them make strategic investment decisions and offer personalized financial products. Similarly, healthcare organizations can employ predictive analytics to anticipate disease outbreaks, optimize resource allocation, and improve patient care.
Customer Insights:
Big data is a powerful tool for understanding customer behavior and preferences. By analyzing data from various sources, such as social media, online shopping, and customer surveys, businesses can create more tailored marketing strategies, personalized product recommendations, and enhanced customer experiences. This not only increases customer satisfaction but also boosts sales and brand loyalty.
Operational Efficiency:
Big data helps organizations streamline their operations and reduce costs. By monitoring and analyzing data from sensors, equipment, and supply chains, companies can optimize production processes, detect maintenance issues in real-time, and minimize downtime. This has a significant impact on sectors like manufacturing, where efficiency improvements can result in substantial cost savings.
Risk Management:
In the financial and insurance sectors, big data plays a vital role in risk assessment and management. By analyzing a wide range of data, including historical market trends, customer behavior, and external factors, institutions can better evaluate and mitigate risks. This is especially important for underwriting, fraud detection, and claims management, helping these industries minimize losses and improve profitability.
In conclusion, the Four V of big data – Volume, Velocity, Variety, and Veracity – collectively shape the landscape of modern data analytics. Understanding and harnessing these aspects is essential for organizations aiming to leverage data for informed decision-making, competitive advantage, and operational efficiency. As data continues to grow in size, speed, diversity, and accuracy, businesses must adapt their strategies to unlock valuable insights. Whether through predictive analytics, customer insights, operational optimization, or risk management, the 4v's of big data provide the foundation for successful data-driven transformations, enabling organizations to stay agile and responsive in an increasingly data-centric world.