What You Can Expect from the Steps in Market Segmentation Guide Article
Introduction
Five Steps in Market Segmentation Guide
Highlights of the Steps in Market Segmentation Guide
| | |
| --- | --- |
| S No | Five Steps in Market Segmentation Guide |
| 1. | Determine Your Target Segment's Need |
| 2. | Choose the Type of Segmentation |
| 3. | Evaluate Profit Prospects |
| 4. | Keep Expansion Plans Ready |
| 5. | Incorporate Marketing into Segmentation |
Introduction
Market segmentation is all about dividing and categorizing your target market based on the various demographics and psychographics of your audience. But why is market segmentation essential for your company, you ask? The reason behind its burgeoning popularity is the fact that most individual customers are convinced that their needs and challenges are unique; therefore, unless you can make them believe that your products or services have been crafted with their requirements in mind, you may lose out on the deal. That being said, you cannot meet all the expectations of your buyers. Therefore, it is essential to identify that target group that you can successfully satisfy with the resources you have in hand. What is crucial in efficient market segmentation is to boil a larger market down to the right categories of prospects, which will eventually help you to sell more by selling to fewer.
---
To know more about how we can help you make the most of your analytical investments, contact us.
---
Steps in Market Segmentation Guide
Get set to jot down these steps that you need to bear in mind while formulating a market segmentation plan for your business: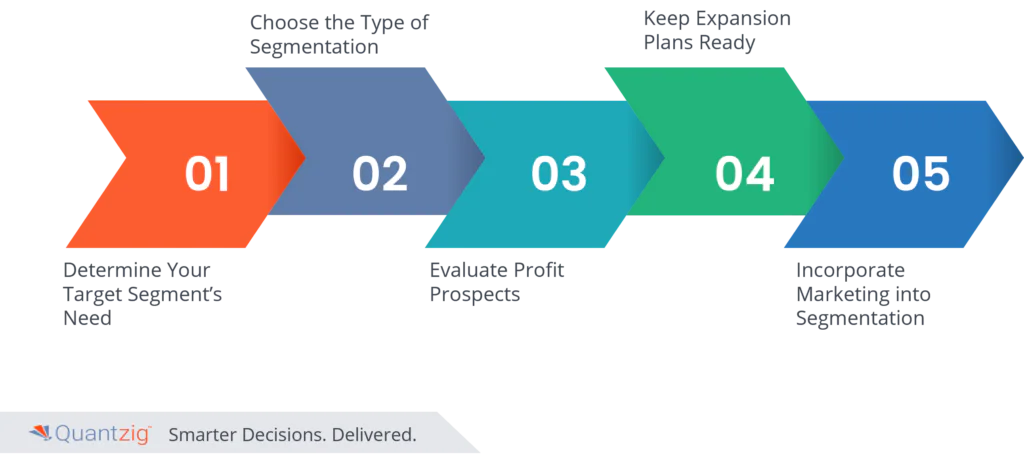 1. Determine Your Target Segment's Need
The first and foremost step for efficient market segmentation is to identify the customer's needs and evaluate the gaps. This will help the business to tap the available opportunities in the market and serve the target audience better.
2. Choose the Type of Segmentation
Once you have successfully identified the unmet needs of the customers, the next important decision you need to make is the type of segmentation that you are going to resort to – geographic, demographic, psychographic, etc. This step helps you to tailor your offerings to the target audience successfully.
3. Evaluate Profit Prospects
The ultimate aim of every business is to make profits, so businesses must take out ample time to decide which target segment would help them garner maximum benefits and direct and position their offerings to attract that segment.
To know more about the important uses, and strategies of market segmentation for your business, request a demo.
4. Keep Expansion Plans Ready
To be profitable in the long run, a business needs to expand. Players must ensure that the chosen segment is expandable in the long term. In the case of the industry being very niche, the company will run out of course in due time.
5. Incorporate Marketing into Segmentation
Once you have finally decided on the target segment, the final step is to make this segment a part of your marketing strategies and initiatives. Since you have already done your research about your target segment in the previous steps, formulating marketing strategies for this segment should be a cakewalk for you.