The creative media industry has historically been regarded as a hit-driven one owing to the dynamism in the market and the unpredictable nature of demand. However, the end-users today are increasingly interweaving the physical world and virtual lives and vice-versa, leaving behind a trail of information that could help media companies to structure their content. Today the end-user demand is analyzed based on the websites they visit, the devices they use, and the social conversations that happen. Also, the evolution of data and analytics have made it possible for creative media companies to take it a step ahead by offering personalized content.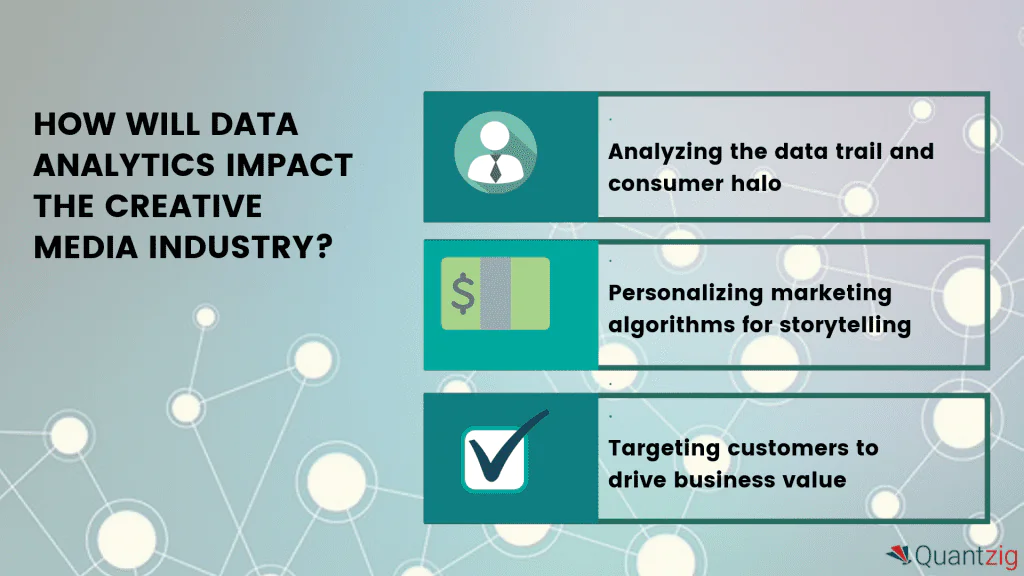 ---
Talk to our analytics experts to learn more about the role of analytics in helping businesses curate personalized content.
---
How Will Data Analytics Impact the Creative Media Industry?
The ongoing shifts in business models and data deluge have made it possible for creative media companies to lay their hands-on data from various sources. But it is crucial to process and analyze these datasets to turn them into actionable insights. This is where the role of data analytics comes into play.
Analyzing the Data Trail and Consumer Halo
Creative media companies can use advanced statistical tools and analytics methodologies to analyze the data trail of their customers. This offers innumerable opportunities for companies to offer tailored experiences to their customers, helping them drive revenue and growth across channels. Creatives can also use data to make crucial decisions by analyzing factors that impact consumer halos. This, in turn, paves the way for creative media companies to develop new content that is most likely to resonate with end-user preferences.
With the creative media industry witnessing major transformations, companies are poised to face challenges. Request a FREE proposal to learn how analytics can help you tackle the challenges.
Personalizing Marketing Algorithms for Storytelling
To attract and retain customers is a crucial prerogative for any player in the creative media industry. With smoother online experiences becoming familiar, creative media companies are increasingly being pressurized to retain customers by offering exceptional user experiences. This is where personalized marketing algorithms come into play. Creative media companies can leverage the power of personalized marketing algorithms to recognize patterns in data trails and build suitable strategies for the personalization of services. This data can also be used to promote media content among the audience, who may prove to be the most influential.
Our analytics solutions are designed to provide forward-looking insights for answering the complete portfolio of your business questions. Request a free demo to know more.
Targeting Customers to Drive Business Value
Targeting customers to maximize profits is crucial from a business perspective. Data and analytics can help creative media companies to analyze the consumer halo not just to make crucial decisions but to guide the customers to the right content. Offering personalized services by targeting a specific set of audience is proven to be more beneficial in driving revenue as opposed to catering to the generic needs of the audience as a whole.