When it comes to leveraging big data analytics in retail, there are several factors and statistical techniques that determine success including the approach to data mining, predictive modeling, machine learning, and data modeling. Retailers that have successfully incorporated big data analytics into their core business operations have achieved higher success rates and better profits when compared to their peers.
In this article, our analytics experts have outlined three success stories from the front lines and have explained how leading retailers have used big data analytics in retail to drive improvements in business operations.
Big Data Analytics in Retail: Business Benefits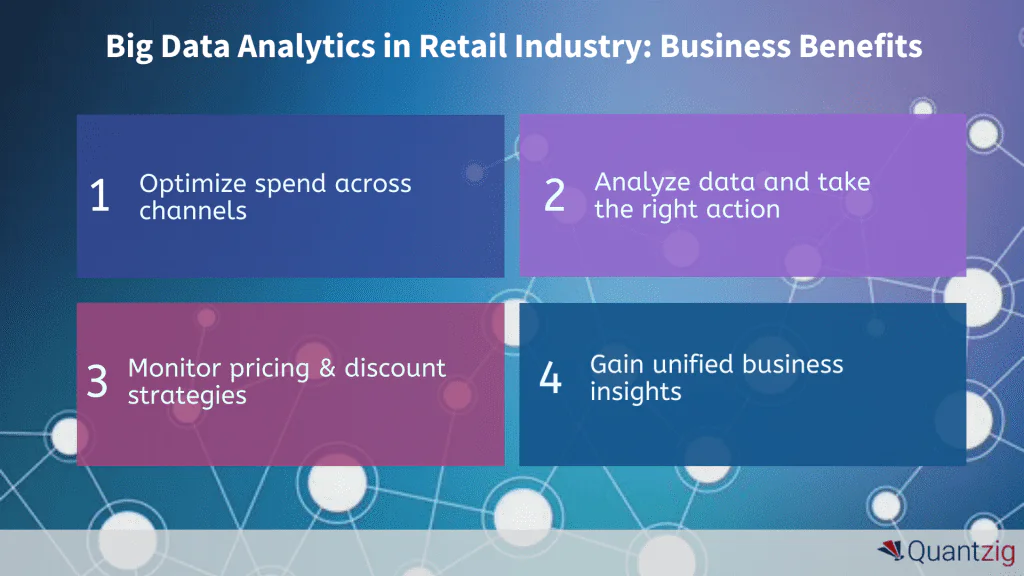 ---
With data volumes increasing with every passing day, collecting, integrating, and analyzing data is no easy task. Speak to an analytics expert to learn how big data analytics can help you simplify this process.
---
Optimizing Spend and Improving Experience Across Channels
The retail industry is all about trade-offs between factors such as pricing versus quality and cost of inventory & warehousing versus inventory stock-outs. Though such trade-offs and key business decisions were made successfully in the past, it's no more an easy task owing to the huge volumes of data and the complexities associated with conducting a detailed analysis of such data sets. In today's complex retail scenario, it's not very easy to optimize spend across channels, but the use of big data analytics in the retail industry can eliminate much of the guesswork and help drive user experience across channels.
In one of our recent engagements, we collaborated with a Fortune 500 fashion retailer and helped them improve brand recognition and profitability across channels while cutting down on the costs involved in acquiring new customers. The client's traditional marketing model posed several challenges in integrating data sets from disparate sources. This was when they approached Quantzig looking to leverage big data analytics in retail to analyze their data sets better. The use of big data analytics in retail played a crucial role in combining media, sales, and customer data sets. Analyzing data from various sources also helped them devise a model that demonstrated that social channels had a more significant impact on the overall sales than the company strategists had assumed. This, in turn, helped them reallocate spend and identify critical areas where improvements in customer experience could make a more significant impact.
Solidifying Customer Loyalty by Analyzing Data and Taking the Right Action
Big data analytics in the retail industry plays a prominent role in analyzing customer behavior and sentiments through a structured data-driven approach. Advanced data analytics models not just offer detailed insights on opportunities and risks but also help retailers to identify the root cause of issues. Our recent success story is a classic example of one such use case of big data analytics in the retail industry.
A leading consumer food brand approached us when they realized that their data could help solve a longstanding dilemma that is most commonly witnessed by players in this sector- How to leverage big data analytics in retail to drive improvements in key areas that would make a huge impact to the overall business. In this case, key decision-makers of the company realized that their data could be used to solve their conundrum. This is when the approached Quantzig looking to leverage big data analytics in retail to develop an innovative data analytics model to analyze customer data. Having strengthened customer loyalty and enhanced sales, the company is now exploring a new emerging market that relies on analytics as a core business asset.
Request a FREE proposal to learn why we are the most trusted analytics solutions provider for leading brands across industries
Monitoring Pricing and Discount Strategies to Drive Pricing Improvements
Today smart business decisions require you to know your numbers and analyze how your business is performing in comparison to your competitors. A leading specialty goods retailer, for example, realized that their big data strategy was inefficient when a large portion of their profits was acquired from a relatively small customer base while sales growth from that of the bigger customer segments was sluggish.
The client wanted to use big data analytics in retail to analyze their data sets and identify the root cause of such issues by monitoring the pricing and discount strategies adopted by their peers. To do so, they approached Quantzig to integrate data and build robust predictive data analytics models to identify customer segments with the highest sales potential. They also wanted to modify their strategies by keeping a close watch on the pricing and discount strategies adopted by their peers. Using big data analytics in retail, the client was able to analyze prices better and optimize their strategies to suit the needs of different customer segments.
If you're someone facing similar challenges, we've got the right solutions and analytics platforms that can help drive growth across key business areas. Request for more information on big data analytics in retail to gain comprehensive solution insights.
Today, capturing the potential of big data analytics in retail requires the basic building blocks of an excellent strategic transformation- a plan, an experienced team that focuses on data analysis, and a robust business strategy that helps address the challenges while facilitating the delivery of insights across the organization. We, at Quantzig, understand the unique challenges faced by retailers across segments and have developed a robust big data analytics solutions portfolio to help businesses achieve better results using data-driven insights.