Challenges and trends in food and beverage industry
| | | |
| --- | --- | --- |
| S No | F&B Industry Challenges | F&B Industry Trends |
| 1. | Enforcement of Plastic Ban | An Optimized Supply Chain |
| 2. | Stringent Regulatory Landscape | Use of Modern Technologies |
| 3. | The Pervasive Presence of e-Commerce | Transparency, Sustainability, and Waste Reduction |
| 4. | Rise of Veganism | Increase in Demand for Plant-Based Foods |
The Global F&B Industry – An Overview
The food and beverage industry has undergone a series of changes in the last decade due to the rapidly changing behaviors of consumers, technological advancements, and stringent regulations. Such factors have plagued the industry with a series of obstacles. Being a consumer-driven industry, this industry is facing serious challenges with the change in the perspective of the consumers as they have become more focused on maintaining healthy lifestyles.
Today, F&B products are judged based on not only the quality but also the nutritional value. As a result, food and beverage manufacturers need to bring about significant changes in their existing manufacturing processes. In this article, our food and beverage industry experts have highlighted some of the major challenges and trend in food and beverage industry that companies are going to face in 2021.
Challenges in the food and beverage industry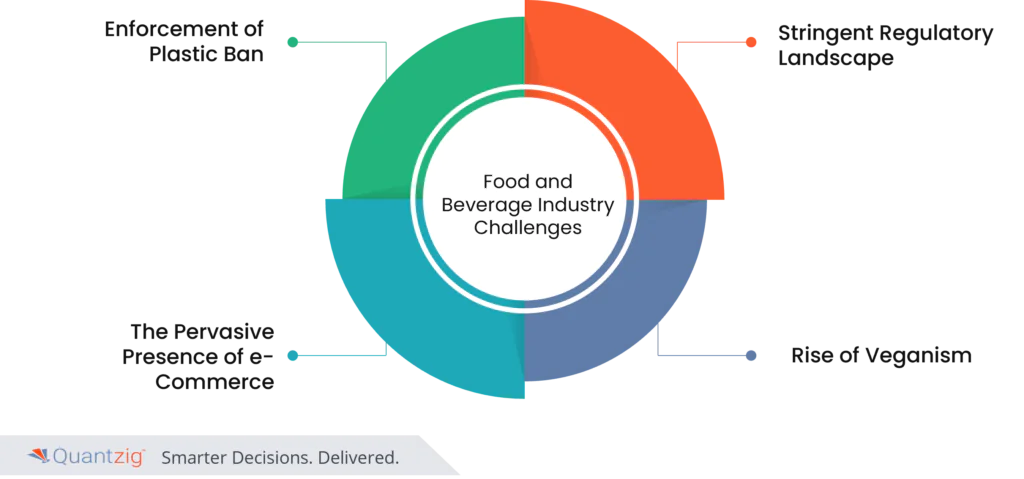 1. Enforcement of Plastic Ban
Food and beverage companies and manufacturers are now striving towards making the food manufacturing process highly conducive to the environment by adopting numerous recycling practices. In 2021, the need for deploying green business practices right from production to packaging and supply chain management will become very important to tackle the current issues in the food and beverage industry.
Optimize your supply chain processes with data-driven insights to build an adaptive, resilient, and transparent supply value chain. Get in touch with our experts to know more.
2. Stringent Regulatory Landscape
Most of the food and beverage companies adhere to the regulatory norms perfunctorily. But the consistent changes with respect to surplus production, waste disposal, quality of food, raw material, and documentation are emerging out to be major hurdles for food and beverage manufacturers. To deal with such challenges, companies in the food and beverage industry need to improve their business operations right from manufacturing to distribution processes.
3. The Pervasive Presence of e-Commerce
Another major challenge that the food and beverage industry is facing in 2021 is the challenge of improving online visibility. Today consumers have become more tech-savvy and digitally informed and this has raised their expectations. Unlike e-commerce companies, food and beverage companies are still lagging when it comes to analyzing their online presence. With the emergence of the newer market, changing nature of consumer spending, and advancing technology, it is high time for companies in the food and beverage industry to focus on marketing products online. This can also help them serve their customers better and stay ahead in the competition.
Quantzig's analytics solutions aim at deploying real-time insights for improved visibility and coordination throughout the supply chain. Request a free proposal to know more about our portfolio of advanced analytics solutions.
4. Rise of Veganism
With the increasing number of consumers turning vegan, the demand for meat and other products has witnessed a significant decline. This has posed a serious challenge to the food and beverage industry. Food and beverage manufacturers today need to maintain their reputation with regard to ethical treatment of animal concerns. As a result, companies have come up with meat-free alternatives to keep the retail and supply chains running.
How to overcome Major Food and Beverage Industry Challenges?
Overcoming challenges in the food and beverage industry requires strategic approaches to adapt to changing consumer demands, market dynamics, and regulatory requirements. Here are four ways to address major challenges:
1. Supply Chain Resilience:
To mitigate supply chain disruptions, companies should diversify suppliers, maintain safety stock, and invest in digital technologies for real-time tracking and monitoring. Creating agile supply chain strategies that can adjust to unforeseen disruptions, such as natural disasters or global crises, is essential.
2. Product Innovation and Diversification:
To meet evolving consumer preferences and dietary trends, companies must invest in research and development for new products and ingredients. This includes embracing plant-based and sustainable options, which are gaining popularity. Additionally, adapting packaging and labeling to reflect health and sustainability attributes can attract more consumers.
3. Quality Assurance and Safety:
Stringent food safety regulations require investment in quality control and compliance measures. Implementing technology for traceability, data analytics, and adherence to safety standards is vital. Training and educating staff on safety protocols are equally important to maintain consumer trust.
4. Sustainability Initiatives:
To address environmental concerns, food and beverage companies should adopt sustainable practices in their production processes, packaging, and waste management. Embracing responsible sourcing, reducing food waste, and using eco-friendly packaging materials are all steps in the right direction. Communicating these efforts to consumers can enhance brand reputation and loyalty.
Food and beverage industry trends You Can Expect in 2021 and Beyond
1. An Optimized Supply Chain
Food and beverage companies must optimize their supply chain processes to make them agile, resilient, and visible in real-time. This will enable them to reduce time to market, eliminate costly inefficiencies, save costs, optimize operations, and drive sales and profitability.
2. Use of Modern Technologies
The use of technologies like AI and ML, automation, and advanced analytics, is enabling food and beverage companies to reduce human error, cut down on product wastage, lower storage and transportation costs, reduce lead time, optimize service time and quality, and create happier customers.
3. Transparency and Sustainability
Consumers are keen to know more about where their food comes from and how it is made. Food and beverage companies must up their transparency and sustainability game to ensure their consumers know how humane and sustainable their products are in order to maintain their competitive edge and keep their consumers happy.
4. Waste Reduction
Reducing food waste is imperative for businesses not just to cut down on unnecessary costs, but also to reduce their planetary impact and optimize organization sustainability.
5. Increase in Demand for Plant-Based Foods
For increasing fitness, supporting weight loss, and leading a healthier lifestyle, consumers are seeking more plant-based foods. As a result, food and beverage players across the industry are beginning to launch vegetarian/vegan alternatives of their products.
In conclusion, overcoming major challenges in the food and beverage industry involves supply chain resilience, product innovation, quality assurance, and sustainability initiatives. Embracing these strategies ensures companies remain competitive, responsive to consumer trends, and compliant with evolving regulations, contributing to long-term success in the industry.
Summary
Even though the food and beverage industry continues to face pandemic-induced challenges like increased restrictions, demand shocks, and sourcing issues, the result is a more resilient, agile, and re-invented industry that knows how to make its consumers happy and is ready to take on future bottlenecks.
Related Articles