In the contemporary landscape of human resource management, leveraging analytics has become a strategic imperative for recruiters and HR professionals. As organizations strive to make data-driven decisions to optimize their workforce, Human Resources Analytics (HR Analytics) emerges as a powerful tool. This approach involves the use of data analysis and insights to enhance HR processes, talent acquisition, and overall workforce management. The adoption of HR Analytics provides recruiters with valuable insights that go beyond traditional methods, facilitating informed decision-making and contributing to the overall success of the organization. Let's delve into eight key benefits that HR Analytics brings to the workplace, empowering recruiters to navigate the complexities of talent management and shape a more efficient, productive, and future-ready workforce.
What is HR Analytics?
HR analytics is defined as workforce analytics, people analytics, or talent analytics. HR analytics enables businesses to analyze the problem of employees using data. It enables you to answer critical questions about your organization. For example:
What is your annual employee turnover?
How much of your employee turnover comprises regretted loss?
Do you know which of your employees will be the most likely to leave your company within a year?
At Quantzig, we believe that businesses that have implemented analytics in their HR processes are more efficient than their competitors. The following are the ways in which HR analytics can help businesses boost their efficiency by at least 30%.
With the help of Quantzig's HR analytics solutions, a lot of businesses are able to reap significant commercial gains. Are you interested in our data analytics solutions? Request a free proposal now.
Benefits of HR Analytics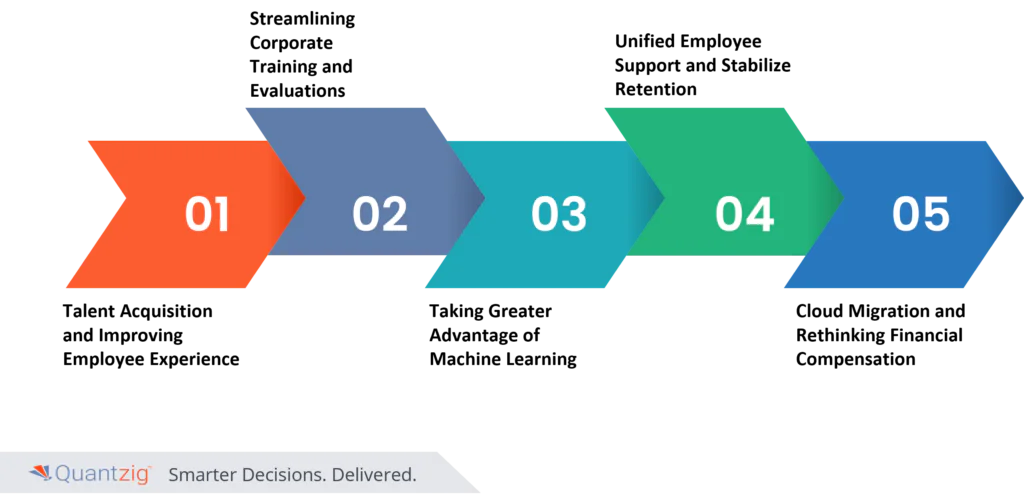 Benefit 1: Talent Acquisition
In the contemporary landscape of competitive markets, talent acquisition stands out as a pivotal challenge for companies aiming to secure the right workforce. The struggle to attract and retain top-tier talent has intensified, with the stakes particularly high given the substantial costs associated with poor hiring decisions, amounting to approximately 30% of employees' first-year earnings, according to recent studies. HR analytics, alongside other advanced software solutions dedicated to talent acquisition, emerges as a strategic ally for organizations grappling with this challenge.
Through the lens of HR analytics, companies can efficiently navigate the talent pool, leveraging technology to sift through a myriad of resumes and pinpoint the most promising candidates. This process not only expedites the hiring cycle but also enables the creation of a comprehensive database of potential hires. By harnessing the power of data-driven insights, organizations can make informed decisions, ensuring that their talent acquisition strategies align with business objectives and contribute to long-term success. In essence, HR analytics transforms talent acquisition into a streamlined, data-driven process, enhancing the precision and efficacy of identifying and onboarding the right individuals for sustained organizational growth.
Benefit 2: Improving Employee Experience
In the realm of HR Analytics, one of the paramount benefits lies in its ability to enhance the overall employee experience within an organization. By delving into the data-driven insights provided by HR analytics tools, companies can meticulously examine the factors contributing to employees' sense of belonging and satisfaction. Understanding the dynamics that shape the work environment, from collaboration and communication to recognition and growth opportunities, enables HR professionals to address pain points and optimize positive aspects.
Moreover, HR analytics serves as a compass for organizations to navigate the intricacies of company culture. By assessing the strength of employees' connection to the company, HR experts can strategically implement initiatives that foster a more inclusive, supportive, and engaging workplace. This, in turn, has a profound impact on morale and productivity, creating a virtuous cycle that not only retains talent but also attracts new individuals seeking a workplace that values and prioritizes employee experience. In essence, HR Analytics empowers organizations to proactively shape a work environment where every employee feels valued, motivated, and a vital part of the company's success.
Benefit 3: Streamlining Corporate Training and Evaluations
Beyond the initial recruitment phase, the journey of integrating new talent into a company involves more than just hiring the best individuals. HR professionals and recruiters shoulder the responsibility of ensuring seamless adaptation to corporate procedures and fostering alignment with the company culture. Achieving this transition effectively demands well-structured and impactful professional training programs. However, measuring the exact benefits and outcomes of these training initiatives, particularly those conducted online, presents a challenge.
Enter HR analytics, a transformative tool that provides invaluable insights into the effectiveness of training programs. Through data-driven analysis, trainers can comprehensively evaluate the true impact and value derived from various courses. This understanding empowers organizations to refine and tailor their training strategies, making them more targeted, efficient, and aligned with specific business objectives. By leveraging HR analytics to gauge the productivity and proficiency gained from training initiatives, companies can not only optimize their training programs but also enhance the overall performance and adaptability of their workforce. In essence, HR analytics becomes a guiding force in streamlining corporate training, ensuring that learning initiatives contribute substantively to employee development and organizational success.
Want to know more about the benefits of HR analytics and how it can help you optimize your organization's human resources? Request for more information now.
Benefit 4: Rethinking Financial Compensation
In the complex landscape of employee satisfaction, financial compensation stands out as a pivotal factor. It holds the power to significantly influence an employee's contentment and commitment to their role within an organization. Recognizing the critical role that financial rewards play, HR analytics emerges as a strategic tool to revolutionize the compensation structure.
For large corporations, especially those with international branches and diverse hierarchies, managing an equitable financial model for each employee can be intricate. HR analytics steps in to streamline this process, offering insights into individual performance, market benchmarks, and regional considerations. By leveraging data-driven analytics, HR professionals can recalibrate financial compensation models, ensuring fairness, competitiveness, and alignment with organizational objectives. This approach not only fosters employee satisfaction but also helps in talent retention, as it demonstrates a commitment to recognizing and rewarding individual contributions effectively. In essence, HR analytics transforms the way companies approach financial compensation, making it a dynamic and responsive aspect of talent management in today's competitive business landscape.
Benefit 5: Taking Greater Advantage of Machine Learning
There are vast amounts of data available both within a company and outside it. Some companies are beginning to use machine learning and tools that leverage the insights gained from HR analytics to help interpret and act on them. Such programs can examine employee and applicant data and help create strong matches for roles and teams, resulting in the recruitment of people that work well together and create effective results. There are many areas in recruitment, where advanced analytics can also be used to a great effect.
Benefit 6: Unified Employee Support
In the traditional HR landscape, employees often find themselves navigating a maze of different intranet locations and contacting various individuals to address their support needs. This fragmented approach not only consumes valuable time but can also lead to a disjointed employee experience. HR analytics emerges as a transformative solution by introducing a unified approach to employee support.
With the implementation of HR analytics tools, companies can streamline their support mechanisms. These tools identify a centralized resource capable of handling diverse employee requests efficiently. Whether it's seeking information, resolving queries, or accessing HR services, employees can turn to a singular, data-driven platform. This not only enhances the efficiency of HR operations but also contributes to a more seamless and satisfying experience for employees. By unifying employee support through hr analytics, organizations foster a culture of accessibility, responsiveness, and employee-centric service delivery, ultimately elevating the overall workplace experience.
Contact us now to learn how you can leverage HR analytics to strategically tap into human capital and turn it into a competitive advantage.
Benefit 7: Stabilize Retention
In the contemporary workplace, stabilizing employee retention is a paramount concern for organizations aiming for sustained success. HR analytics stands out as a pivotal tool in assessing and addressing retention challenges. By meticulously analyzing data, HR professionals gain insights into the factors influencing attrition and, conversely, the factors that contribute to employee loyalty.
These analytics tools provide a granular understanding of the nuances behind employee decisions to stay or leave an organization. From identifying specific skill gaps to pinpointing areas where teams may be facing challenges, hr analytics equips professionals with actionable intelligence. Armed with this information, HR teams can implement targeted strategies to enhance job satisfaction, address concerns, and fortify the factors that contribute to employee engagement and retention.
Benefit 8: Cloud Migration
As corporate systems evolve towards greater consolidation and automation, the role of analytics becomes increasingly pivotal. HR analytics, leveraging cloud-based solutions, emerges as an affordable and efficient option for organizations seeking to migrate critical information. This migration to the cloud offers unparalleled accessibility, enabling stakeholders to access essential data from anywhere, transcending the confines of the traditional office setting. With hr analytics facilitating seamless cloud migration, organizations can harness the power of data-driven decision-making while embracing the flexibility and accessibility that cloud-based solutions provide.
Despite such benefits, many companies still assume that HR analytics, or talent analytics, only deals with gathering data pertaining to employee efficiency. The truth, however, is very different from such naïve assumptions. Such analytics tools aim to provide insights into each process by gathering data and then using it to make relevant decisions about how to improve the processes. A recent survey by MIT and IBM highlighted the fact that companies with a high level of HR analytics had: 8% higher sales growth, 24% higher net operating income, and 58% higher sales per employee.
In conclusion, the myriad benefits of HR analytics underscore its transformative impact on modern workplaces. From enhancing talent acquisition and employee experience to optimizing training programs and financial compensation, hr analytics empowers recruiters with data-driven insights. The ability to unify employee support, stabilize retention, and facilitate cloud migration further solidifies its indispensable role. Embracing these analytics practices not only propels organizations towards greater efficiency but also ensures a strategic and informed approach to human resource management, making it an invaluable tool in the arsenal of every forward-thinking recruiter.