Unlocking the true potential of sales data is unquestionably one of the top ways to make a breakthrough in sales force productivity, returns, business growth, and market position, but this is easier said than done. Leading enterprises often struggle when it comes to structuring and redesigning their sales teams. Challenges such as an inefficient workforce, fragmented sales channels, talent gap, and high attrition rates make sales force productivity initiatives tougher to execute in today's business scenario.
Here's a fable that rightly explains the importance of adopting a modern approach to improving sales productivity- Tim McCarthy returned home scowling. The reason- the stakeholders wanted another 11% increase in sales from his team this year. Gone are the days when he could simply announce a 10% increase in sales and divide the targets among the sales reps from each region or product category and wait for them to deliver it. Today, the procurement teams of Tim's customers use advanced algorithms and analytics tools to identify and collaborate with vendors for routine buys; the result obtained often exceeded manual findings making it the most sought-after approach. For more complex sales processes, his customers wanted customized end-to-end solutions. Considering the complexities involved, it wasn't an easy task, no matter how hard he/she tried to close all the deals. What's needed at times like these, is a team of highly skilled industry experts that possess the knowledge of market know-how and the right skills to drive forward the efforts. The fact was—he knew he'd have to face it sooner or later. Nothing about improving sales force productivity to achieve the new target was as simple or predictable as it used to be. 11% growth? He wasn't even sure if he was on the right track.
We're sure it sounds familiar, it's because sales managers often face such situations in real life. Over the past few years, we've worked with clients facing similar challenges, and this has helped us build better sales strategies to help them thrive in a dynamic environment.
We offer a unique combination of analytics solutions and sales analytics tools to help our clients accelerate growth, improve productivity, and reduce costs, thereby helping them enhance the economic value of their brand. Request for a free proposal for personalized solutions.
Strategies to Improve Sales Productivity
In the current economic landscape, companies face a common challenge: enhancing sales force productivity amidst economic uncertainties. The pressure to meet heightened revenue targets post-crisis exacerbates this struggle. Many businesses, in a bid to recover lost sales and revenue, are expanding their sales teams to chase ambitious goals. However, a critical oversight emerges – the lag in scaling processes, adopting technology, and leveraging analytics tools at a commensurate pace. Consequently, organizations experience a significant downturn in sales force productivity, falling short of their sales objectives.
1. Optimize Sales Force Structure:
A pivotal step in improving sales force productivity is optimizing the structure. Companies must align their sales force with the current market dynamics and customer expectations. This involves evaluating the size of the sales team, assessing territories, and ensuring a balanced workload. An effective structure enhances efficiency and enables sales reps to focus on high-priority tasks, ultimately driving productivity.
Example: Implementing a territory-based structure ensures that sales reps concentrate on specific regions, fostering better understanding and engagement with local customers.
2. Leverage Technology for Efficiency:
Embracing technology is paramount in the quest to enhance sales force productivity. Equip sales teams with advanced tools and platforms that streamline processes, automate routine tasks, and provide valuable insights. Customer Relationship Management (CRM) systems, sales automation tools, and data analytics platforms empower sales reps with the information and resources needed for effective decision-making and targeted selling efforts.
3. Implement Sales Productivity Methods:
Explore proven methods to boost sales productivity. This involves providing ongoing training to sales teams, incorporating sales methodologies that align with customer preferences, and fostering a culture of continuous improvement. By refining selling techniques and staying abreast of industry trends, sales professionals can adapt swiftly to changing market conditions, thereby maintaining high levels of productivity.
4. Set Clear Productivity Goals:
Establishing clear and measurable productivity goals is essential. Define key performance indicators (KPIs) that align with overall business objectives. These KPIs may include conversion rates, customer acquisition costs, and sales cycle duration. Regularly monitor and assess performance against these goals, adjusting strategies as needed to ensure continuous improvement in sales force productivity.
5. Integrate Analytics Tools:
Harness the power of analytics to gain actionable insights into sales performance. Implement analytics tools that provide comprehensive data on customer behavior, market trends, and sales team effectiveness. Analyzing this data enables organizations to make informed decisions, identify areas for improvement, and optimize sales strategies for greater efficiency.
In navigating economic challenges, businesses must recognize the interconnectedness of sales force productivity, technology adoption, and strategic analytics. By aligning these components and implementing targeted strategies, companies can overcome current hurdles, regain lost sales, and position themselves for sustained success in the evolving market landscape.
Contact our analytics experts to learn more about the strategies to improve sales force productivity, contact our sales analytics team.
How to Improve Sales Force Productivity?
The traditional approach adopted by most sales teams to improve sales force productivity involved analyzing historical sales data sets to gauge the number of new sales executives that could be hired given the market potential and the ramp-up time required to meet the set target. Today, successful businesses follow a more scientific, analytics-backed approach to improving sales performance- one that focuses on improving sales force productivity using advanced analytics. On the contrary, they have learned to leverage five levers that make productivity increase both predictable and controllable.
We bring to you five fail proof strategies that'll help you boost sales force productivity & improve revenue acquisition.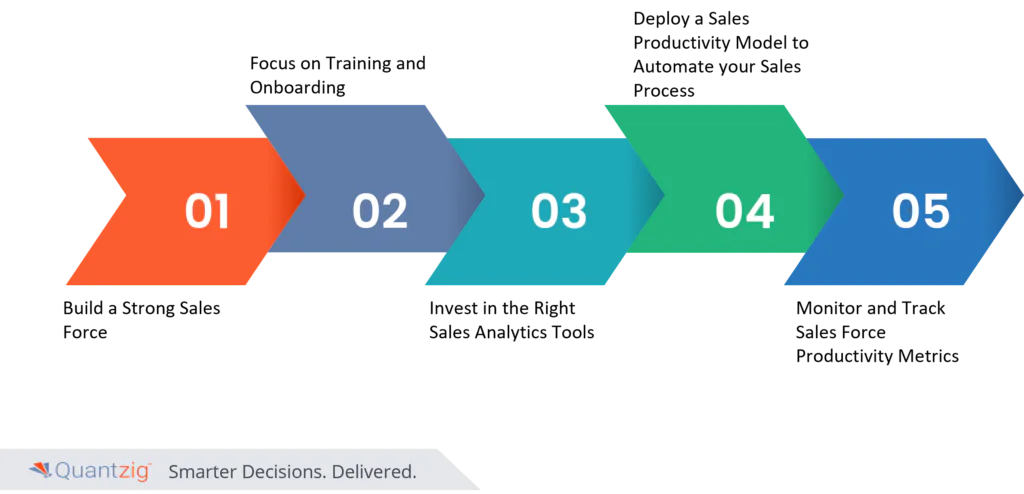 #1 Build a Strong Sales Force
How you go about building a strong sales force defines the failure or success of your sales force productivity initiatives. To meet your business goals, it's crucial to identify and deploy not just the right talent, but identify the right support, marketing channels, and resources that can help your sales teams achieve their targets.
#2 Focus on Training and Onboarding
The basic principle for building a highly-driven, knowledgeable sales team is good onboarding and training. Investing in the right training and onboarding tools is crucial since it leaves a huge impact on the future productivity of your sales force.
#3 Invest in the Right Sales Analytics Tools
We're sure every organization has budgetary restrictions when it comes to investing in such tools, but its crucial to make sure you aren't saving up at the expense of improving sales force productivity. Gathering sales data from disparate sources and analyzing them using traditional approaches can be time-consuming. Investing in the right sales analytics tools can help you achieve a faster time to insight, which in turn, can help you uncover opportunities for improvement.
Request for a free demo to learn more about our sales analytics platform capabilities.
#4 Deploy a Sales Productivity Model to Automate your Sales Process
One most sought after way to boost your sales productivity is to give your reps more time to achieve their targets. And to do so, businesses must automate sales processes, this way they eliminate redundant tasks while providing more time for sales reps to focus on their core selling activities.
#5 Monitor and Track Sales Force Productivity Metrics
Sales force productivity metrics including win rate, sales cycle length, conversation rates, and call rate can help you evaluate the productivity of your sales team. Evaluating outcomes using these metrics is crucial since it defines the success of your sales force productivity strategies, helping you take immediate actions to address key problem areas. Also, the use of advanced sales analytics dashboards to monitor these metrics have helped businesses visualize trends and gain valuable insights to enhance their sales force productivity initiatives.
In conclusion, implementing the identified strategies is pivotal for organizations navigating economic challenges and striving to enhance sales force productivity. The optimization of sales force structure ensures a strategic alignment with market dynamics, fostering efficiency and targeted engagement. Leveraging technology empowers sales teams with tools that automate tasks, streamline processes, and provide valuable insights for informed decision-making. Proven productivity methods, coupled with ongoing training, instill adaptability and continuous improvement within the sales force. Clear goal setting, centered around measurable key performance indicators, establishes a roadmap for success. Finally, the integration of analytics tools enables data-driven decision-making, offering valuable insights into customer behavior and market trends. By adopting these strategies cohesively, businesses can not only overcome economic challenges but also position themselves for sustained success in an ever-evolving sales landscape.