Introduction
In the fast-paced and ever-evolving landscape of modern marketing, the emergence of artificial intelligence (AI) has sparked a revolution that is reshaping the game entirely. The rise of tracking limitations and cookie restrictions has made rule-based traditional marketing methods difficult to implement. This is where AI and ML in marketing come in, as it offers an alternative way for organizations to attribute conversions to effective marketing channels. In this illuminating article, we embark on an exhilarating journey to explore how AI is reshaping marketing attribution, empowering companies to unlock the secrets of customer behavior, and propelling brands to unparalleled heights of success.
Make the most of your data!
Connect with us for tailor-made solutions
Challenges in traditional marketing attribution method:
In traditional marketing attribution, a host of challenges loom large, hindering businesses from unlocking the true potential of their campaigns.
Limited Visibility:
Traditional methods cannot often provide a comprehensive view of the customer journey, leaving crucial touchpoints unnoticed and essential data overlooked.
Single-Touchpoint Bias:
Failing to attribute conversions to multiple touchpoints, traditional attribution methods may credit the last interaction alone, ignoring other crucial decision-making factors in the customer's decision-making process.
Data Fragmentation:
Disparate data sources and siloed systems create a fragmented landscape, making it challenging to analyze and consolidate information cohesively.
Resource-Intensive and Time-Consuming:
In traditional methods, manual data processing is time-consuming and resource-intensive, slowing down the decision-making process and hindering campaign optimization.
AI and ML Transforms Marketing Attribution: Unveiling the Game-Changers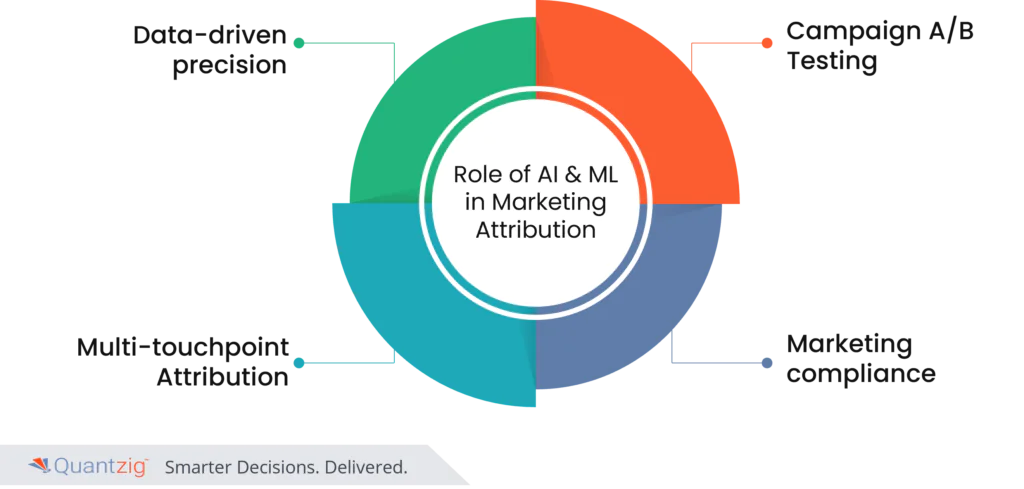 Data-driven precision:
In the fiercely competitive world of marketing, the power of AI in marketing attribution is an unstoppable force that reshapes the game entirely. By harnessing the unparalleled capabilities of AI, small and medium size businesses gain access to a data-driven revolution that revolutionizes decision-making. AI's Machine Learning algorithms shed light on vast amounts of customer data from multiple data sources, attributing conversions with laser precision. This newfound understanding of customer behavior unlocks the Holy Grail of marketing, allowing targeted campaigns tailored to individual preferences. AI and ML in marketing solve all hurdles that traditional marketing attribution faces, particularly the lack of data due to cookie use and tracking regulations.
Multi-touchpoint Attribution:
In the vast landscape of marketing, understanding the customer journey is crucial to unlocking success and AI and ML have elevated the game through multi-touchpoint attribution. This game-changing innovative approach enables businesses to delve deep into the complex web of interactions between marketing channels and customers, providing a holistic view of the conversion path. By leveraging AI and ML in marketing, marketers gain deep insights into the most influential touchpoints, optimizing marketing campaigns to cater to customers' needs at every stage. This cutting-edge approach ensures that resources are efficiently allocated for getting maximum impact, resulting in personalized and seamless experiences that forge long-lasting connections with customers.
Campaign A/B Testing:
AI and ML redefine campaign A/B testing, ushering in a new era of data-backed experimentation for marketers. By leveraging these cutting-edge technologies, businesses can conduct robust A/B tests with precision and speed, gathering real-time insights to optimize marketing strategies. AI's analytical prowess swiftly identifies winning variations, allowing marketers to fine-tune content, design, and targeting for maximum impact. You can now say goodbye to guesswork and hello to data-driven decisions, as AI and ML reveal the most effective elements of a campaign, guiding businesses to achieve exceptional results.
Marketing compliance:
AI and ML in marketing revolutionize marketing compliance, ensuring marketing strategies adhere to legal and ethical guidelines. These game-changing technologies automate compliance checks, verifying that marketing materials and campaigns meet legal and industry standards. ML's advanced algorithms can detect fraudulent activities, preventing businesses from engaging in misleading or deceptive marketing practices that could lead to legal repercussions. Embrace AI and ML to navigate the complexities of marketing compliance effortlessly, instilling trust with customers, and positioning your brand as a responsible industry leader.
Conclusion:
In conclusion, AI and ML in marketing redefine marketing attribution, unleashing data-driven precision that transforms success. Multi-touchpoint analysis reveals the customer journey's intricate details, optimizing strategies for maximum impact. Real-time insights and predictive analytics drive agile decision-making, propelling business ahead. Embracing AI ensures compliance and builds trust through transparent practices. Seize the power of AI and ML, paving the path to unrivaled success, as businesses embrace the dawn of a new era in marketing attribution.
Success Story:
How We Helped a Global Retail Giant Achieve Marketing Attribution Success with AI and ML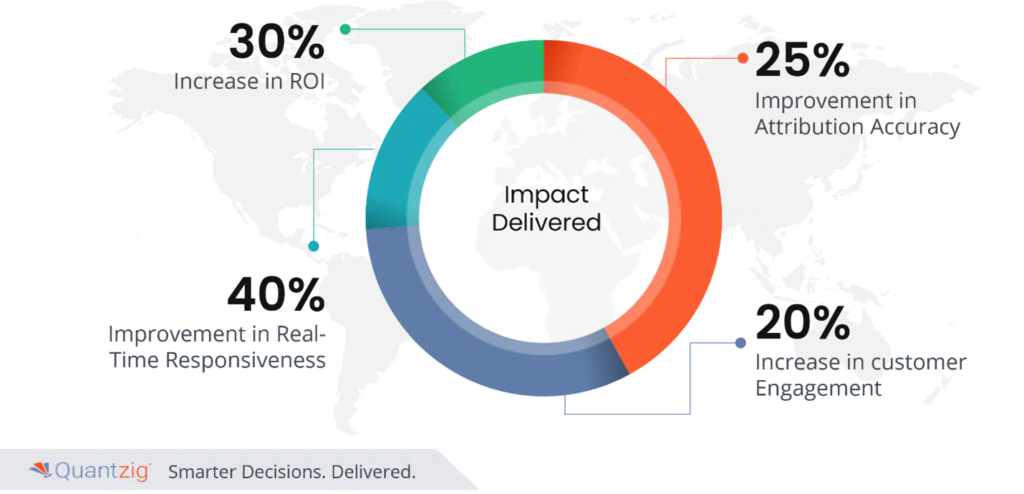 Our recent client, a leading e-commerce retailer with a global presence, faced a crucial challenge in their marketing efforts. Despite substantial investments in diverse marketing channels, they struggled to determine the most effective touchpoints in their customer journey. Lacking the ability to attribute conversions accurately, their marketing strategies lacked optimization, leading to suboptimal ROI and limited customer engagement. They sought a game-changing solution to unravel the complexities of their marketing attribution and drive data-driven success.
Challenges: 
Limited Visibility: They lacked a comprehensive view of their customers' interactions across channels, making it challenging to identify the most influential touchpoints.
Inefficient Resource Allocation: Without accurate attribution, the company struggled to allocate resources effectively, leading to wasted budget and missed opportunities.
Real-time Optimization: The client needed the ability to adapt marketing strategies in real-time to capitalize on emerging trends and customer behavior.
Facing similar challenges?
Connect with us for tailor-made solutions
Solutions:
Quantzig, renowned data analytics, and AI-driven solutions provider, stepped in to revolutionize the client's marketing attribution with AI and ML.
Multi-Touchpoint Analysis: Our team implemented advanced AI algorithms to analyze vast datasets, attributing conversions accurately across multiple touchpoints.
Real-Time Insights: With AI's real-time capabilities, we empowered the client to access actionable insights, enabling agile campaign optimization.
Predictive Analytics: Our ML-driven predictive analytics forecasted customer behavior, guiding them in proactive strategies for better ROI.
Personalization at Scale: Leveraging AL and ML in marketing, we delivered hyper-personalized experiences, enhancing customer engagement and loyalty.
Impact Delivered:
Attribution Accuracy Improved by 25%
ROI boost of 30%
Real-time Responsiveness improved by 40%
Customer Engagement Upsurge by 20%
Are you ready to revolutionize your marketing attribution and achieve extraordinary results like our client? Embrace the power of AI and ML-driven solutions with Quantzig and unlock the full potential of your marketing efforts.