The Business Challenge
Our client wanted to implement a food market mix function to enhance their offerings. As, with the onset of the fourth industrial revolution and the invention of new technologies such as IoT, AI, and VR, the world is slowing shifting into digital platforms. As a result, most consumer and business purchases happen through multiple touchpoints with various factors affecting customer decisions. However, the marketing data can be mined to reveal the decision-making patterns of customers through marketing mix modeling. By adopting an appropriate marketing mix modeling strategy, businesses can find answers to several important questions such as:
What impact does each of my campaigns have?
What is the cost per conversion and ROI?
What should I do to maximize my revenue and profits?
Marketers in the food and beverage industry are constantly faced with the challenge of allocating their fixed marketing budget across various marketing channels. The client, a leading food products manufacturer was facing a similar challenge and was looking at setting up an optimum marketing mix strategy to calculate ROI for their marketing campaigns. The client's marketing spend data was unstructured and scattered across several digital platforms, making it difficult to analyze datasets and draw conclusions. The company approached Quantzig to leverage its marketing mix modeling expertise to understand the market dynamics for specific product categories.
Before you take the leap, it is essential to understand how much each marketing input contributes to sales and how much you should be spending on each marketing input. Request a free proposal to know more about marketing mix modeling.
Food Market Mix Solutions Offered and Value Delivered
In an attempt to help the client, the marketing mix modeling experts at Quantzig adopted a comprehensive approach that revolved around the use of marketing analytics to identify and deploy the ideal marketing mix strategy. As the client was involved in a number of marketing activities it was first essential to gauge the contribution of each marketing vehicle to identify the growth drivers for specific product groups. The marketing mix modeling strategy not only helped them to identify major gaps and new product potentials but also helped them to reallocate their marketing budget to better support their marketing initiatives, resulting in a 35% increase in sales and a 60% improvement in marketing efficiency.
The marketing mix modeling solution also helped the client to:
Drive significant improvements in marketing campaign effectiveness
Balance short-term marketing and promotion tactics with long-term brand building strategies
Quantify the ROI of improving marketing effectiveness in terms of sales, profits, and share
Optimize future marketing investments
Marketers today face a similar challenge which revolves around identifying the activities that actually help drive revenue. Request a free demo to know how marketing mix modeling can help you address this predicament.
Four Ps of Marketing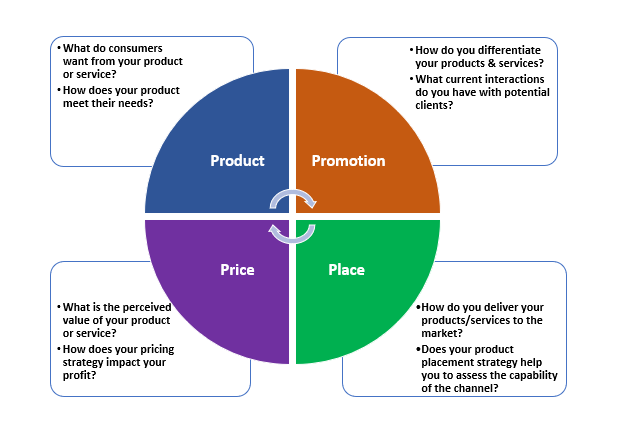 Unable to answer these questions? The problem lies in your marketing mix strategy. Our marketing mix modeling experts can help you; contact us today.
How Does Food Market Mix Modeling Work?
Marketing mix modeling is a combination of attribution modeling and optimization. It revolves around the use of statistical techniques and analytical tools to quantify the impact of past marketing decisions and predict future sales impact for different scenarios. It also helps quantify the impact of individual marketing activities on revenues, volume, and price perceptions.
How Can Quantzig's Food Marketing Strategies Help?
Leading Fortune 500 food and beverage companies have realized the role of analytics in driving profitable business outcomes through comprehensive insights into the market landscape. Quantzig delivers in-depth insights through visually interactive analytics dashboards and marketing analytics solutions to help their clients tackle key challenges. Our marketing mix modeling solutions help businesses to gauge complex customer behaviors at an individual level. Moreover, Quantzig's marketing mix modeling expertise and domain knowledge have helped several leading businesses to build a complete view of individual customers across attitudinal and behavioral dimensions.
Our marketing mix modeling solutions can help you quantify your performance across channels to make smarter marketing spend decisions. Request for more information now.