What You Can Expect from The Marketing Mix Modeling Case Study
About the Client
About the Problem
Our Marketing Mix Modeling Strategy and Why it Was Chosen
The Marketing Mix Modeling Solution and How it Was Implemented
Marketing Mix Modeling – Business Impact
Client Feedback after Implementation of the Marketing Mix Modeling Solution
Highlights of the Marketing Mix Modeling Case Study
Client: A leading biopharmaceutical major headquartered in the US
Need: To quantify the contribution of each media type on incremental sales and MROI, and create a better marketing strategy to reduce marketing spends and increase returns
Impact of Quantzig's marketing mix strategy: 27% increase in customer acquisition, 18% reduction in marketing spending, and 17% increase in MROI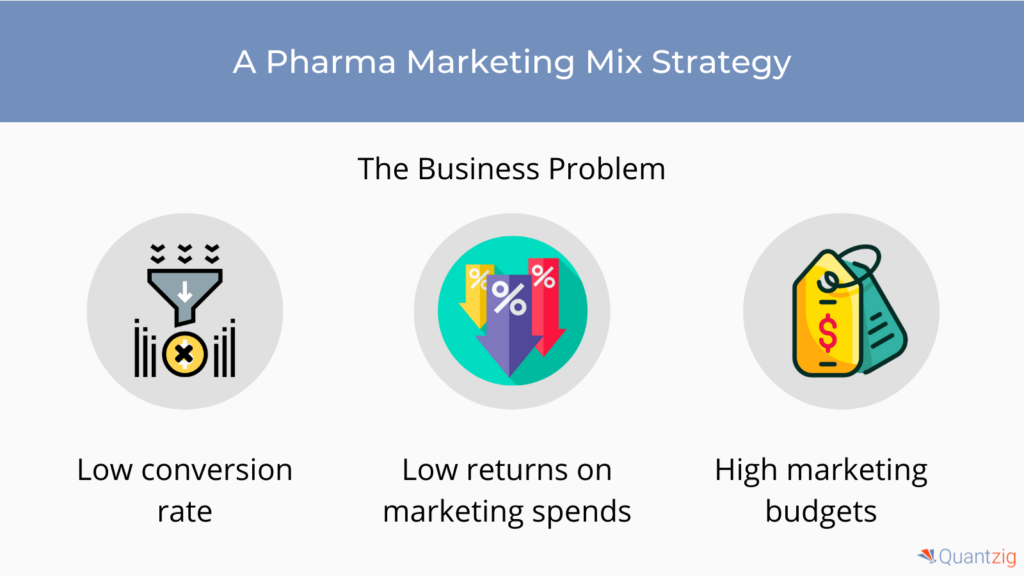 Quantzig's analytics experts can help you create focused, data-driven marketing strategies that optimize your conversions while reducing marketing spends. Contact our experts to know how.
About the Client
The client is a leading is a biopharmaceutical company headquartered in the USA, that researches, develops, and commercializes drugs. The company was established over a hundred years ago and develops and produces vaccines and medicines for oncology, immunology, cardiology, and neurology.
In a bid to implement a superior marketing mix modeling, the client decide to connect with our experts after attending one of our webinars.
About the Problem
The client lacked visibility on marketing ROI assessment and wanted to quantify the contribution of each media type on incremental sales and return on marketing investments. There was a lack of visibility on marketing ROI due to excel-based analysis and reporting across different clinical departments globally.
The client wanted to utilize marketing mix models to simulate potential outcomes – ROI, incremental volumes, revenues; under different spending scenarios. With a growing market share, they needed a solution to evaluate the impact of their marketing strategies for better business planning.
---
Implement our advanced marketing analytics solutions to optimize campaigns, increase conversions, and drive marketing return on investments.
---
Our Marketing Mix Modeling Strategy and Why it Was Chosen
Quantzig's marketing analytics experts created a plan to break down different business metrics to understand different contributions from marketing and promotional activities. The contributions were segmented into drivers – base and incremental – and carried out marketing mix analysis using regression modeling. This strategy was chosen by Quantzig's experts to ensure that the client is able to test out all marketing scenarios during the what-if analysis while changing marketing plans and measuring their impact on sales/value in real-time, to find out the most profitable marketing activities.
The Marketing Mix Modeling Solution and How it Was Implemented
Quantzig's experts divided contributions from marketing and promotional activities into:
Base drivers: Base sales of a product are achieved without any marketing push. The demand for the product is driven by the brand's equity built over the years and usually remains fixed unless there is a major economic/environmental change.
Incremental drivers: The component of sales generated by marketing and promotional activities, both online and offline.
Once this was done, the experts analyzed the following elements to create an effective marketing mix model:
Base and incremental sales volume
Pricing
Competition
Media and Advertising
Marketing Channel Distribution
Trade Promotions
New Product Launches
The experts then created a what-if analysis model that enabled the client to identify:
Contribution by each marketing activity
ROI by each marketing activity
Effectiveness of different combinations of marketing activities
Optimal marketing distribution of spends leading to highest MROI
Optimal implementation strategy
"Quantzig's marketing mix modeling solutions do more than simply allowing you to simulate different marketing scenarios; we use integrated AI and statistical techniques to recommend the optimum marketing mix, designed to give you optimal MROI and conversions."

– Marketing Analytics Expert at Quantzig
Marketing Mix Optimization – Business Impact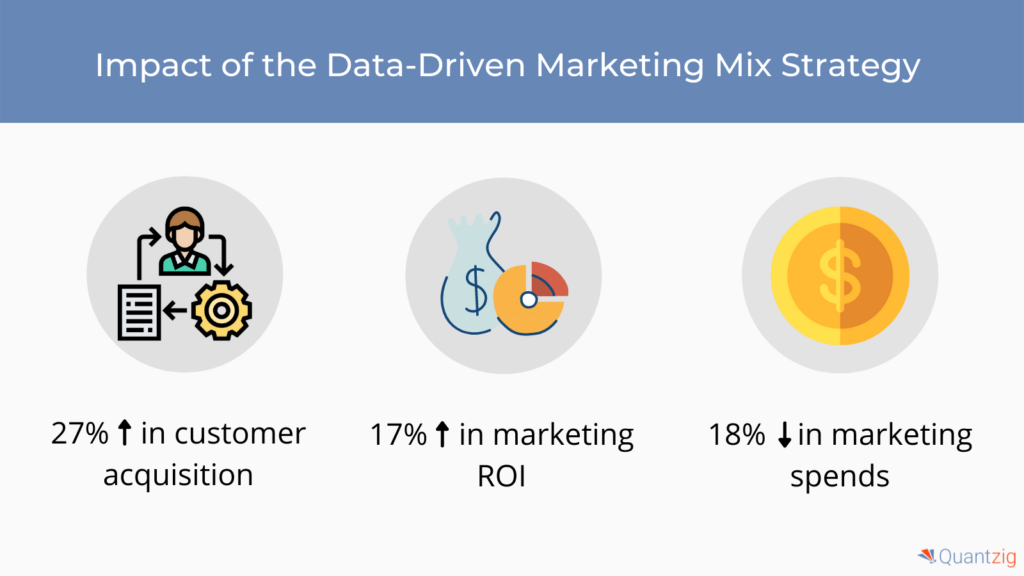 The marketing mix modeling strategy created by Quantzig's marketing analytics experts enabled the client to optimally identify the marketing effectiveness of various channels in terms of ROI, contributions, and incremental sales. This enabled them to identify suitable predictors which resulted in more precise response parameters and an optimized marketing strategy. The business impact of the new strategy over a course of six months was:
27% increase in customer acquisition
18% reduction in marketing spending
17% increase in MROI
Client Feedback after Implementation of the Marketing Mix Modeling Solution
"Quantzig's marketing mix modeling analysis enabled us to compare ROI across media types based on advanced regression models. The what-if analysis and synergy analysis techniques also enabled us to identify the best marketing activities for maximum returns. This enabled us to increase our marketing ROI by 17% in a span of six months – one of the quickest turn-arounds I have witnessed."

– Director, Marketing Effectiveness and Optimisation​