Marketing Mix Modeling in the Industry
With the rising healthcare expenditure, organizations in the medical landscape have started devising an effective go-to-market strategy to be more precise about their marketing budgets. Large businesses across the globe are also relying on marketing mix modeling to assess their impact on topline and bottom-line performance. Marketing mix modeling involves robust analysis that links multiple variables, including marketing, sales activities, operations, and external factors. With the help of marketing mix modeling, companies can better understand the impact of key business drivers and optimally allocate the budgets to maximize revenue and profits. In the healthcare environment, businesses were able to refine their models to evaluate the return on investment on marketing spending effectively. With the help of marketing mix modeling, companies can identify their individual contribution in terms of sales, revenues, and profits generated from each marketing channel.
Quantzig's marketing mix models help the client develop robust simulation models and optimize these models to devise alternative marketing programs. Quantzig's marketing mix models also enable the client to gain an accurate and actionable view of full attribution to drive gains into marketing performance. Moreover, through the marketing mix model, the client will be able to assess individual and granular ROIs at each tactical level to improve the ROI for each channel.
The increasing volatility in the telecom industry is making it difficult for suppliers to identify and attract high-value customers. Implementing a marketing mix model will help organizations analyze the demand trends and allocate marketing budgets that result in improved ROI. The exponential rise in digital platforms and dynamic patterns of consumer preferences are raising the requirement for real-time and customized solutions. Marketing mix model will help telecom organizations to predict future media investments and allocate funds in a more precise manner. The growing importance of consumer-driven data consumption and advancement in technology is encouraging service providers to invest in developing effective marketing strategies that will promote business growth. The marketing mix model assessment by Quantzig helps telecom companies create brand and product awareness to drive infiltration and influence customers to upgrade service and product packages. The study also analyzes the impact of media investments at both national and local levels for products such as the Internet, wireless, and cable television.
The emergence of 5G networks is revolutionizing the telecom industry. The leading service providers are focusing on the development of 5G architecture and initiating their field tests to ensure efficient services. Developing strong marketing and advertising campaigns will help vendors to attract a larger customer base and promote a faster deployment of these services. The launch of 5G services will enable smoother next-generation IoT and M2M applications.
Speak with our analytics experts to learn more about the crucial role of the marketing mix model in the telecom industry, and how it can transform your business.
Marketing Mix Modeling Challenges Faced by the Client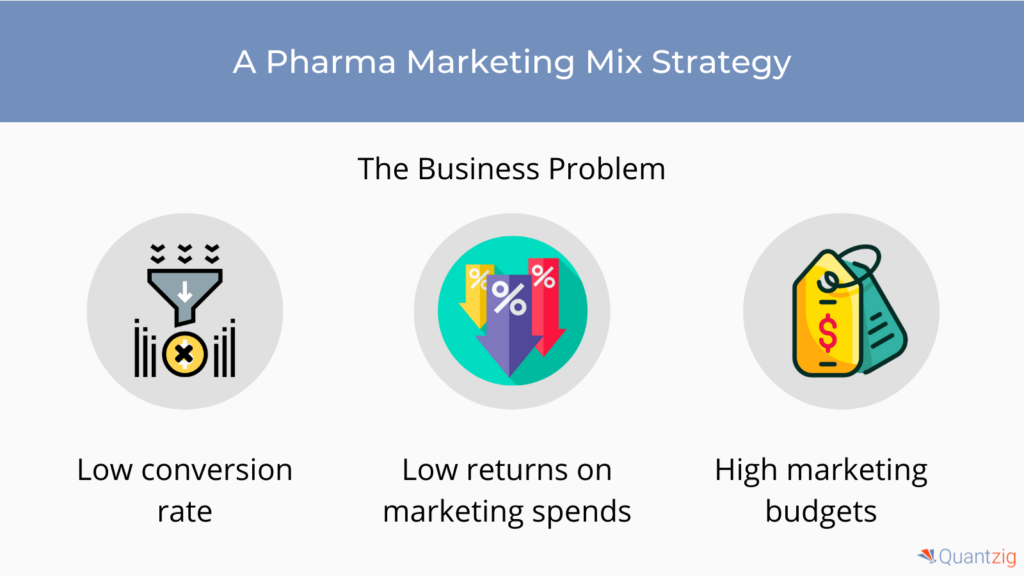 The client lacked visibility on marketing ROI assessment and wanted to quantify the contribution of each media type on incremental sales and return on marketing investments. There was a lack of visibility on marketing ROI due to excel-based analysis and reporting across different clinical departments globally.
The client wanted to utilize marketing mix models to simulate potential outcomes – ROI, incremental volumes, revenues; under different spending scenarios. With a growing market share, they needed a solution to evaluate the impact of their marketing strategies for better business planning.
Growth prospects in the healthcare sector are dwindling with the presence of numerous competitors. Like all other companies in the medical landscape, a leading healthcare and medical products company with a considerable number of branches spread across the globe wanted to establish an optimum market mix model. The client wanted to understand the problems related to marketing spend and further wanted to leverage the use of market mix modeling to stimulate patient outcomes – ROI, incremental volumes, and revenues. The client further wanted to increase long-term sales and their brand awareness. 
Quantzig's analytics experts can help you create focused, data-driven marketing strategies that optimize your conversions while reducing marketing spends. Contact our experts to know how.
Identifying the right marketing platform and deriving the best marketing communication strategy to target customers is crucial for the media industry to gain a competitive advantage. This client lacked an advanced marketing mix modeling strategy that could help them target the right consumers, keep up with the dynamically changing media market space, connect emotionally with their customers, and improve customer satisfaction. The client wanted Quantzig's help in devising an analytics-driven marketing mix modeling strategy that will provide them comprehensive yet in-depth and actionable insights into their marketing efforts. Thus, the client wanted to leverage marketing mix elements to devise an effective marketing mix strategy to improve profit margins. The client was also facing issues with low customer satisfaction levels.
Cost concerns keeping your marketing investments at a standstill? They can adversely impact your bottom-line results too! Get in touch with our marketing analytics experts to learn how we can help you tackle this challenge. 
Revolutionary Marketing Mix Modeling Solutions for the Client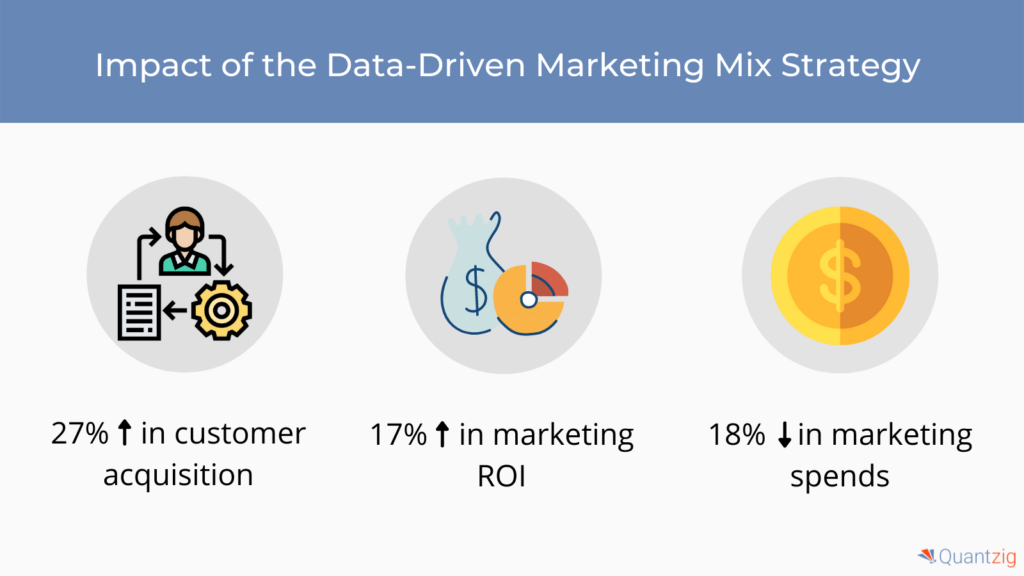 Quantzig's marketing analytics experts created a plan to break down different business metrics to understand different contributions from marketing and promotional activities. The contributions were segmented into drivers – base and incremental – and carried out marketing mix analysis using regression modeling. This strategy was chosen by Quantzig's experts to ensure that the client is able to test out all marketing scenarios during the what-if analysis while changing marketing plans and measuring their impact on sales/value in real-time, to find out the most profitable marketing activities. 
The robust go-to-market research evaluation approach helped the client quantify marketing effectiveness of channels in terms of ROI, revenue, contributions, and incremental sales. The client also gained a 360-degree approach of the market effectiveness and further determined the ROI. Also, with the help of Quantzig's marketing mix modeling solutions, the client optimized their marketing efforts and measured an increment in the revenue and profit. The client leveraged insights on market conditions to further enhance the decision-making process and unlock organizations' potential and drive profits.
Quantzig's team of data scientists and marketing analytics experts designed an innovative three-phase approach to marketing mix modeling to tackle the challenges faced by the client. Quantzig's marketing mix strategy was based on machine learning techniques and advanced algorithms focused primarily on bridging data gaps.
In Phase 1 of this collaboration, our experts focused on identifying gaps in data. They also estimated individual channel spend at a granular level.
After gaining proper domain knowledge, in the second phase of the collaboration, Quantzig's experts started to derive an analytics-driven marketing strategy to reduce marketing expenditure and improve MROI.
In the final phase of this collaboration, the client was provided with actionable insights to cope with the dynamically changing media market space. Further, Quantzig's marketing analytics team helped the client devise an effective marketing mix strategy that could help them meet customer demand and improve customer satisfaction levels.
Quantzig's dedicated 'Analytics Centre of Excellence' with a team of 20+ data scientists, domain experts, and analysts designed an innovative three-pronged approach to marketing mix modeling to tackle the challenges faced by the client. The marketing mix modeling solutions leveraged machine learning techniques, advanced algorithms, and probability theory which focused on bridging data gaps and quantifying the impact of standalone marketing activities on revenue, sales volumes, and price of similar products in the market.
Facing similar challenges?
Request a FREE solution demo to gain comprehensive insights on the business benefits of leveraging marketing mix modeling.
Key-Takeaways 
The marketing mix modeling strategy created by Quantzig's marketing analytics experts enabled the client to optimally identify the marketing effectiveness of various channels in terms of ROI, contributions, and incremental sales. This enabled them to identify suitable predictors which resulted in more precise response parameters and an optimized marketing strategy. The business impact of the new strategy over a course of six months was:
27% increase in customer acquisition 
18% reduction in marketing spending 
17% increase in MROI 
Client Feedback after Implementation of the Marketing Mix Modeling Solution
"Quantzig's marketing mix modeling analysis enabled us to compare ROI across media types based on advanced regression models. The what-if analysis and synergy analysis techniques also enabled us to identify the best marketing activities for maximum returns. This enabled us to increase our marketing ROI by 17% in a span of six months – one of the quickest turn-arounds I have witnessed."

– Director, Marketing Effectiveness and Optimisation​