What you'll find in this case study:
The Client
The Challenge
The Solution
The Business Impact
Continuing the Pursuit of Marketing Mix Modeling Transformation
Quantzig – A Leader in Marketing Analytics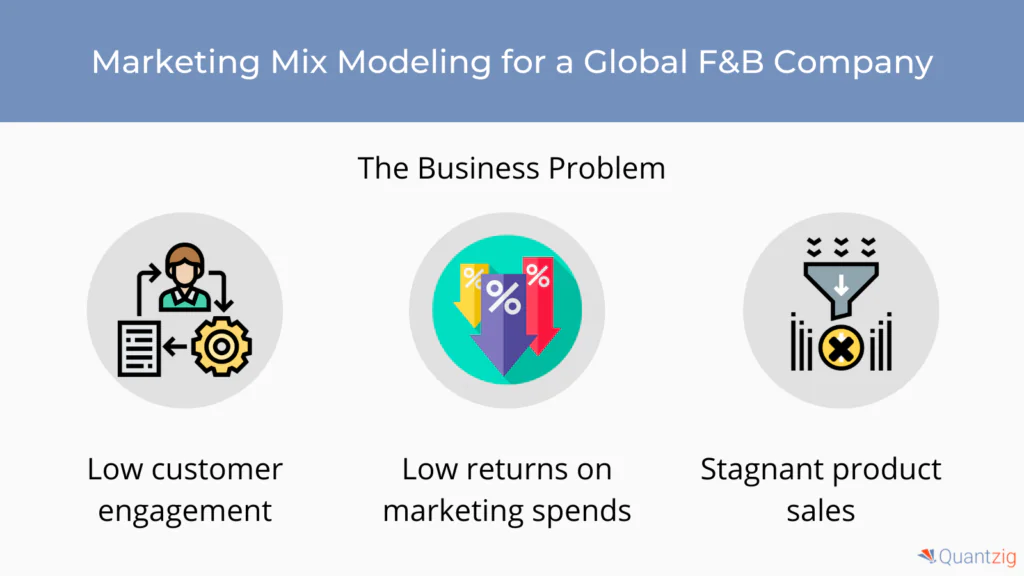 Client Details
Client: A well-known player in the frozen food market, the client has been a leading processor and marketer of frozen foods for over 50 years. The client is headquartered in the United States and has operations spanning across 17 countries. One of the client's strongest suits is their fully integrated, robust supply chain.
The client is looking to expand its overseas presence across EMEA and APAC with innovative product offerings across the next three years.
Region: The United States of America
Sector: Food and Beverage Industry
The Challenge
Even though the client had a resilient global supply chain organization, they could not stand out against the crowd with their existing marketing strategies. Creating a marketing mix modeling strategy that allowed the client to optimize customer acquisition, reduce churn, and drive customer engagement while eliminating unnecessary marketing spends, had become imperative for them to maintain and enhance their market share.
---
Request a no-cost pilot to learn how Quantzig's advanced marketing mix modeling can help you find the optimum marketing mix, designed to give you optimal MROI, and conversions.
---
The Solution
While researching the benefits of applying analytics and AI in marketing, they came across Quantzig's marketing analytics solutions. The client contacted us to optimize their campaign plans and increase their MROI.
Quantzig's marketing analytics experts helped the client create a robust, data-driven marketing mix modeling strategy that enabled them to boost customer acquisition, engagement, and improve marketing returns by over 12%. With the aid of our marketing mix strategy, they were able to vary their marketing activities according to resources, market conditions, and consumer needs. The strategy also helped the client understand their present consumers better and enabled them to uncover innovative ways to reach new consumers.
Business Impact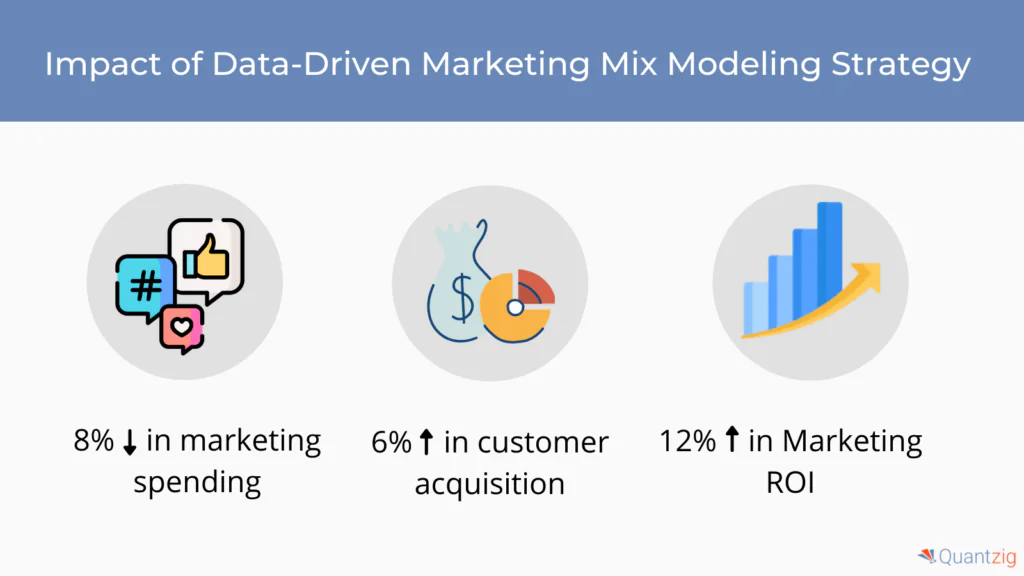 Creation of a robust, data-driven marketing mix modeling strategy
12% increase in MROI
8% reduction in marketing spending
6% increase in customer acquisition
14% increase in customer engagement
Reduction of errors and improved marketing processes
Greater flexibility and agility
---
Optimize your marketing efforts and outcompete your competitors with our marketing mix modeling solutions. Speak with our experts to know more about our marketing analytics solutions and how they can help your organization stay ahead.
---
Continuing the Pursuit of Marketing Mix Modeling Transformation
The driving forces behind any marketing strategy are the four Ps of marketing mix modeling—Product, Price, Place, and Promotion. To better segment and target their customers, the marketing mix modeling strategy has incorporated three additional Ps—People, Processes, and Physical Environment. Accurate marketing mix modeling can save marketers tons of money and optimize campaigns, marketing returns, and increase conversions. Marketing mix modeling also helps companies gauge their past performance and use it to optimize their plans. With marketing mix modeling, marketers better understand the marketing effectiveness of their campaigns and take corrective actions to realign their marketing budgets for better future returns.
Quantzig's data-driven marketing mix modeling solutions enable you to understand the descriptive (what happened?), predictive (what will happen?), and prescriptive (what next?) aspects of all your marketing activities. We use integrated artificial intelligence (AI) and robust statistical techniques to deduce the optimum marketing mix, designed to give you optimal MROI and conversions. Our solutions also enable you to understand the impact of changing your marketing strategies and measure the effectiveness of various marketing channels with multi-channel performance metrics.
Create marketing mix modeling forecast models to understand the future sales impact for different marketing spend scenarios in real-time. Request for more information on how to make use ot data analytics in marketing right away.
Quantzig – A Leader in Marketing Analytics
Quantzig is the world's foremost full-service advanced analytics and business intelligence solution provider, turning clients' complex, unstructured data into intelligent, actionable insights that enable them to solve complex business problems and inspire innovation, change, and growth. Over the past 16 years, our insights have helped over 120 clients spanning across industries and sectors like Pharmaceutical and Life Sciences, Retail and CPG, Food and Beverage, and more. We have successfully delivered 1500 in-depth solutions in areas like marketing mix modeling and analytics, customer analytics, supply chain analytics, and more.
At Quantzig, we firmly believe that the competences to harness maximum insights from the influx of continuous information around us will drive any organization's competitive eagerness and success. Our objective is to bring together the best combination of analysts and consultants to complement food and beverage organizations with a shared need to discover and build those capabilities and drive continuous business excellence through advanced marketing analytics.