Introduction
In the relentless pursuit of market dominance and customer engagement, the quest for marketing optimization has emerged as a strategic imperative for businesses of all sizes and industries. The article delves deep into the intricate web of strategies, data-driven insights, and innovative technologies that are reshaping the marketing landscape as we know it. In this exploration, we embark on a captivating odyssey, navigating through the ever-evolving realms of consumer behavior, digital transformation, and disruptive market forces. As we traverse these pathways, we unearth the hidden treasures of knowledge, innovation, and creativity that hold the key to unlocking marketing's full potential. Join us on this exhilarating voyage, as we decode the strategies and tactics that empower businesses not just to survive, but to thrive, in an era where marketing optimization is the compass guiding the way to unprecedented success.
Benefits of Marketing Optimization: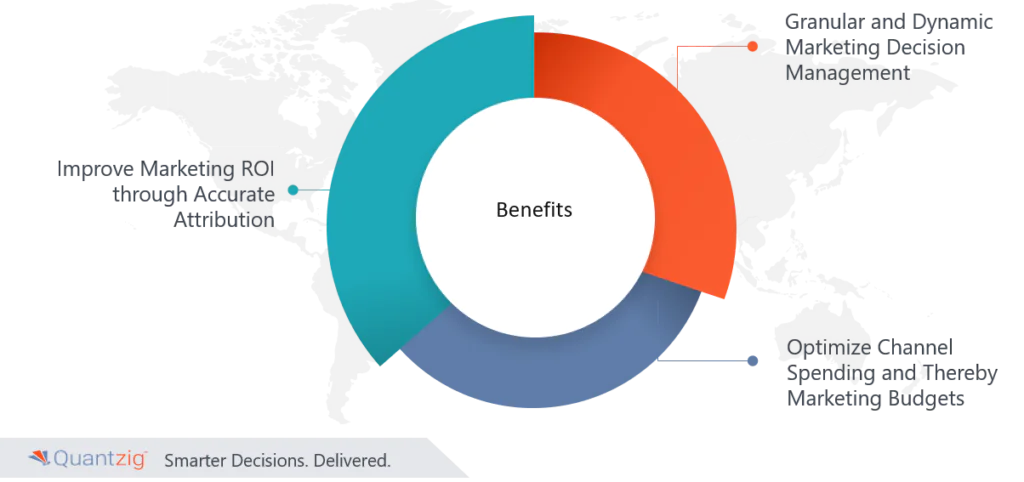 1. Improve Marketing ROI through Accurate Attribution:
Accurate attribution is the cornerstone of effective marketing optimization. It involves identifying and understanding the specific touchpoints and channels that contribute to conversions and revenue generation. By dissecting the customer journey, businesses can allocate marketing resources more intelligently. This precision enables companies to identify high-impact strategies and eliminate or refine less effective ones. Consequently, marketing efforts become more efficient, and ROI increases. When you can attribute a sale or conversion to a specific marketing touchpoint, you gain invaluable insights into what's working and what isn't, allowing you to allocate resources more effectively and maximize returns on investment.
2. Granular and Dynamic Marketing Decision Management:
Marketing optimization requires a granular approach to decision-making. It entails breaking down marketing strategies into small, manageable components and continuously analyzing their performance. By doing so, businesses can make dynamic adjustments in real time. This flexibility is crucial in today's fast-paced digital landscape where consumer behaviors and market trends can change rapidly. Granular decision management allows marketers to adapt their strategies swiftly, seize opportunities, and address challenges as they arise. It ensures that marketing efforts remain aligned with the ever-evolving needs and preferences of the target audience, ultimately leading to more effective campaigns and increased competitiveness.
3. Optimize Channel Spending and Thereby Marketing Budgets:
Optimizing channel spending involves allocating resources to the most effective marketing channels. By analyzing data and performance metrics, businesses can identify which channels yield the best results and which ones may not be delivering the desired outcomes. This optimization not only improves the efficiency of marketing efforts but also allows for better allocation of marketing budgets. By shifting resources towards high-performing channels and reducing investments in underperforming ones, businesses can make the most of their marketing budgets. This not only enhances the return on investment but also ensures that every dollar spent contributes to achieving business objectives.
In summary, marketing optimization is essential for businesses looking to maximize their marketing ROI, make agile decisions, and make the most of their marketing budgets. It's a strategic approach that empowers businesses to thrive in a highly competitive and ever-changing marketing landscape.
Challenges/Problems faced while implementing Marketing Optimization:
1. Poor CTR, CPC, and Conversions for Digital Spends:
One of the primary challenges faced in marketing optimization is achieving satisfactory Click-Through Rates (CTR), Cost-Per-Click (CPC), and conversion rates for digital advertising campaigns. Low CTR suggests that the ad creative or targeting may not be resonating with the target audience, leading to wasted ad spend. A high CPC can quickly erode marketing budgets, especially if it doesn't translate into meaningful conversions. Furthermore, if conversion rates are subpar, it indicates that the landing page experience or the overall customer journey needs improvement. Addressing these issues requires a deep understanding of audience segmentation, ad targeting, ad copy optimization, and continuous A/B testing to refine campaigns.
2. Ineffective Offline Spending and Low ROI:
Optimizing offline marketing spending, such as print media, billboards, or events, presents its own set of challenges. Measuring the ROI for offline activities can be complex compared to digital channels. Without accurate data and attribution models, it's challenging to determine which offline initiatives are driving results. Companies often face difficulty in tracking offline customer journeys and understanding how these interactions contribute to conversions. Solving this problem requires innovative tracking methods like QR codes, custom landing pages, or unique phone numbers. Additionally, businesses should implement comprehensive CRM systems to integrate offline and online customer data, allowing for a more holistic view of customer interactions and attribution across various touchpoints.
3. Inaccurate Marketing Attribution:
Marketing attribution, especially in the multi-channel and multi-device digital landscape, is a persistent challenge. Inaccurate attribution can result in misallocated budgets, as it may not give credit to the channels or touchpoints that genuinely influence conversions. Often, the last-click attribution model is used, which oversimplifies the customer journey and neglects earlier touchpoints that played a significant role in the decision-making process. Implementing accurate attribution models, such as multi-touch attribution, requires advanced data analytics and technology. It involves tracking and assigning value to each interaction throughout the customer journey, providing a more nuanced understanding of how marketing channels work together to drive results. Achieving accurate attribution is crucial for optimizing marketing efforts and maximizing ROI by allocating resources where they have the most impact.
Conclusion
In the realm of marketing, where precision and adaptability are paramount, "Exploring the Pathways to Marketing Optimization" has unveiled the secrets to success. As we draw the curtains on this enlightening journey, it becomes evident that marketing optimization is not merely a choice but an imperative for thriving in today's dynamic landscape. By embracing accurate attribution, astute decision-making, and resource allocation aligned with performance metrics, businesses can unlock their marketing potential. These pathways are the conduits to sustained growth and relevance in an ever-evolving market. The future beckons, and armed with these insights, enterprises are poised to not just survive but to truly thrive.
Success Story
"Revolutionizing Marketing: How Quantzig Transformed Marketing Optimization Strategies"
Client Details:
A leading spirit manufacturer operating business activity in the UK and Europe
The challenges faced by the Client:
The client confronted several significant challenges in their marketing efforts that necessitated a strategic overhaul. Firstly, they struggled with poor Click-Through Rates (CTR), Cost-Per-Click (CPC), and conversion rates for their digital advertising campaigns. Low CTR indicated that their ad creatives or targeting strategies were failing to engage the intended audience effectively, resulting in wasted ad spend. Meanwhile, high CPC indicated inefficiencies in their advertising budget allocation, as the cost of acquiring each click was high relative to the conversion rate. Furthermore, subpar conversion rates implied issues with the overall customer journey, from ad exposure to post-click interactions, requiring a comprehensive review of landing pages and campaign optimization strategies.
Additionally, their offline marketing efforts, such as print media, billboards, and events, were yielding low Return on Investment (ROI). Measuring the ROI for offline activities proved challenging due to the lack of accurate data and attribution models. This made it difficult to determine which offline initiatives were truly driving results, leading to suboptimal resource allocation.
Lastly, the client faced the dilemma of inaccurate marketing attribution. Their existing attribution models often employed simplistic last-click attribution, which failed to account for the complexity of the customer journey in a multi-channel, multi-device digital landscape. This resulted in misallocated budgets, as credit was disproportionately assigned to the last touchpoint, neglecting the critical role of earlier interactions in influencing conversions. To address these challenges, the client needed a comprehensive marketing optimization strategy that encompassed both digital and offline efforts, accurate attribution models, and a data-driven approach to decision-making.
Solutions offered by QZ:
Unified Marketing Decision Management Framework:
Quantzig implemented a unified marketing decision management framework for the client, which provided a centralized platform for budget allocation and operational planning. This solution enabled the client to streamline their marketing efforts by consolidating data from various channels and touchpoints. It allowed for real-time monitoring of campaign performance and resource allocation, ensuring that marketing budgets were optimized for maximum impact. This unified framework facilitated data-driven decision-making, enabling the client to make informed choices regarding marketing strategies and tactics.
Spends Re-Channeling Recommendations:
Our expertise in data analysis and machine learning enabled them to provide the client with spending re-channeling recommendations. By analyzing historical data and campaign performance metrics, Quantzig identified underperforming channels and suggested reallocating resources to higher-performing ones. This optimization strategy led to a significant improvement in ROI as marketing budgets were directed towards channels that delivered better results. The client experienced enhanced efficiency in their marketing spending, resulting in a more effective allocation of resources and improved campaign performance.
Marketing Operations Simulator:
Our team introduced a marketing operations simulator that allowed the client to simulate various marketing scenarios and strategies. This simulation-based approach helped the company assess the potential outcomes of different marketing initiatives before implementation. It provided valuable insights into the expected ROI, customer engagement, and overall impact of each strategy, enabling the company to make data-driven decisions and prioritize high-value campaigns.
Programmatic Buying Algorithm:
We developed a programmatic buying algorithm tailored to the client's specific needs. This algorithm automated the process of purchasing digital advertising inventory, optimizing bids in real time based on performance data and audience insights. As a result, their programmatic advertising campaigns became more efficient and cost-effective, with improved targeting and higher CTR. The algorithm contributed to enhanced ROI and better utilization of digital advertising budgets.
Quantzig's holistic approach to marketing optimization empowered the client to overcome their challenges effectively. By leveraging data-driven solutions and advanced algorithms, we enabled them to achieve improved marketing ROI, efficient budget allocation, and enhanced campaign performance, ultimately leading to sustainable business growth.
Impact Delivered:
The results of implementing these solutions were remarkable: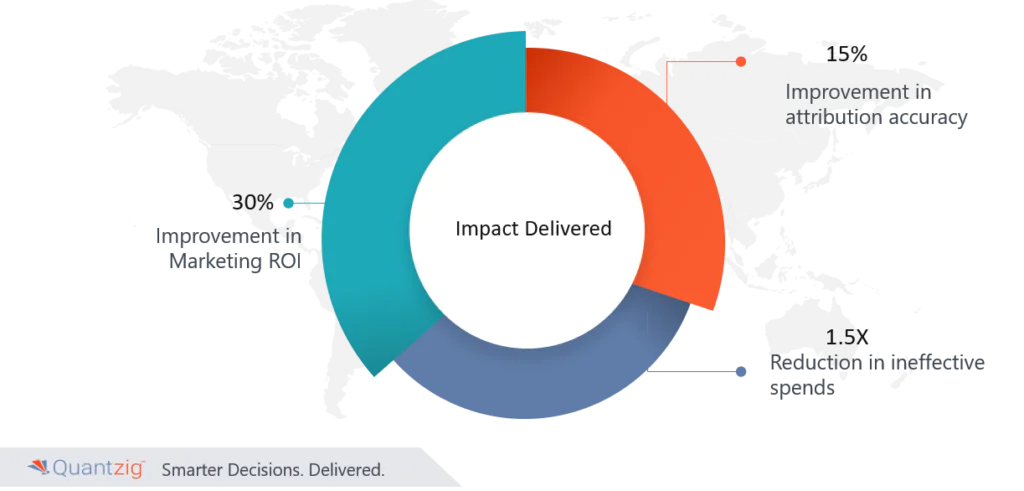 30% improvement in Marketing ROI
15% improvement in attribution accuracy
1.5X reduction in ineffective spends
"Ready to Unlock Your Marketing Potential? Learn how Quantzig can transform your marketing strategies. Read the full case study now!"