The Canadian healthcare system is complex, but it's built on the basic principle that focuses on providing healthcare access based on need rather than the ability to pay. The Canadian healthcare system deploys decentralized administration and service delivery systems that are accessible to all groups of people. However, despite the pros like universal accessibility and special care for special needs, the Canadian healthcare system is facing several obstacles due to changing healthcare landscape in the ageing society. In this article, our healthcare industry experts have highlighted a few critical Canadian healthcare issues that healthcare companies must not overlook.
Challenges Facing the Canadian Healthcare System
Want to learn more about the issues in Canadian healthcare? Request for a free proposal now.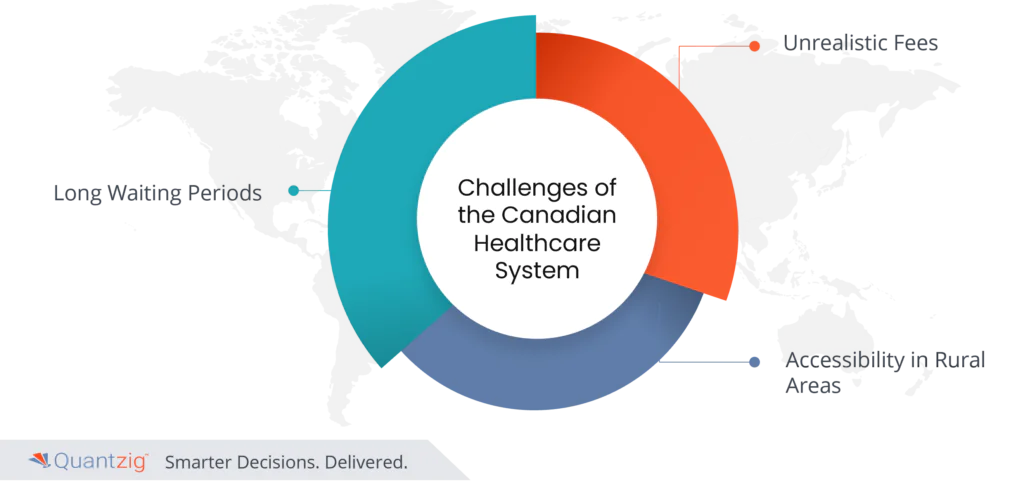 1. Long Waiting Periods
Owing to the universal accessibility of the Canadian healthcare system, the number of patients is always high leading to an increase in wait times. Canadians mostly have timely access to world-class care for chronic problems like heart attacks, strokes, and cancer care. But for many problems that are not urgent, they typically wait as long as many months or even years. For example, patients who need replacements of hip or knee, shoulder or ankle surgery, cataract surgery, or a visit with a specialist for a consultation tend to wait for a longer period of time than recommended. At times, this becomes frustrating and can make a non-emergency situation life-threatening due to negligence and delay. Therefore, policymakers, as well as the management, should look at ways to do away with such long waiting periods.
2. Unrealistic Fees
Healthcare providers are mandated by law to charge a certain fee or amount of money for specific treatments and medical interventions. Unless the fees are practical and they ensure that the healthcare providers can keep operating, the Canadian Medicare system will remain flawed. Most welfare schemes end up burdening the average taxpayer. However, healthcare players bear the brunt of the financial fallout with low fees which is unviable in the long run.
3. Accessibility in Rural Areas
Basically, the funding of the Canadian healthcare system is done based on the location and the demographics. Cities and towns that are more populated get adequate funding, but sparsely populated regions get fewer funds. Due to the scarcity of funds, the scope of growth and development is confined. As a result, people living in rural areas travel to cities for adequate healthcare. Several complicated health conditions cannot be attended to by rural healthcare providers and the pace at which the rural healthcare scenario is changing is not encouraging either.
How to overcome Canadian Health System Problems?
To address the challenges facing Canada's healthcare system, a multifaceted approach is essential. Firstly, reducing long waiting periods requires strategic resource allocation and enhanced efficiency. Investing in technology for streamlined patient management, prioritizing non-urgent cases through better triage systems, and exploring partnerships with private healthcare providers for specific procedures can help alleviate the burden on the public system.
Addressing unrealistic fees necessitates a thorough review of the fee structure to ensure it reflects the actual cost of healthcare delivery. Collaborative efforts between policymakers, healthcare providers, and insurers can lead to a more sustainable model that balances the financial needs of providers with the affordability for taxpayers. This might involve periodic adjustments to fees based on economic factors and the evolving healthcare landscape.
Improving accessibility in rural areas requires targeted investments to bridge the urban-rural healthcare divide. Initiatives such as telemedicine, mobile clinics, and incentives for healthcare professionals to work in underserved regions can enhance healthcare delivery in rural areas. Additionally, reevaluating the funding distribution mechanism to ensure fair and adequate support for less populated regions is crucial for narrowing the healthcare accessibility gap.
In conclusion, tackling Canada's healthcare crisis requires a comprehensive and collaborative effort. Policymakers, healthcare providers, and the community must work together to implement reforms that prioritize patient well-being, address financial sustainability, and ensure equitable access across all regions. By embracing innovation, revisiting fee structures, and investing strategically, Canada can build a healthcare system that meets the diverse needs of its population while maintaining the principles of universality and accessibility.