Demand and capacity planning forms an integral part of any manufacturing business irrespective of its size. Every manufacturing facility benefits from the logistical and financial potential of demand and capacity planning methods. This method includes the systematic use of resources through a proper estimate of production needs. Demand and capacity planning help manufacturing businesses to identify underutilized resources and opportunities. Also, demand and capacity planning enable businesses to manage demand based on business priorities and make smart and well-informed decisions. However, coordinating supply with current demand is a daunting task for manufacturing companies and is influenced by several factors. Here in this article, our team of experts has highlighted a few factors to help companies optimize their production schedule and supply process and excel in the competitive business sphere.
---
Automating demand and capacity planning can help companies share updates across the supply chain and improve demand management. Get in touch with our experts to know more.
---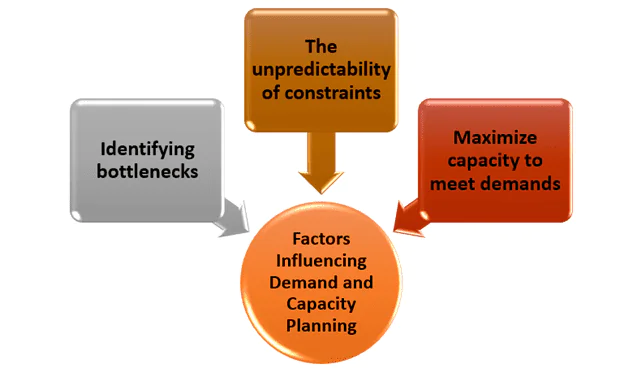 Top factors influencing demand and capacity planning
1: Identifying the bottleneck
For efficient demand and capacity planning, companies need to identify bottlenecks. To do this, manufacturing businesses need to estimate the overall capacity relative to overall demand along with the capacity of individual resources. Also, a skilled workforce is required as it plays a pivotal role in the chain of production and supply. This can further help in improving demand and capacity planning.
Our customizable supply chain analytics solutions can help businesses to synchronize demand planning with production and boost profitability. Request a FREE proposal now to know more about our portfolio of services.
2: The unpredictability of constraints
Demand and capacity planning can be obstructed by the constraints such as inaccurate demand forecast, limited supply of raw material, unrealistic sales goals, and the unavailability of required skills. Therefore, to yield the desired outcome, companies must conduct a thorough analysis of dynamic demand patterns and have accurately predicted the constraints.
3: Maximize capacity to meet demands
Without proper capacity planning strategies in place, it is difficult for businesses to deal with the variability in demand. Therefore, it is essential that capacity should be maximized by adopting measures such as bringing equipment online that is not generally in use, outsourcing work to other suppliers temporarily, or switching workforce from one production area to another. Also, businesses can conduct realistic data analysis utilizing advanced supply chain data analytics solutions to make smart capacity planning decisions.