Highlights of the Telecom Analytics Metrics Article
| | |
| --- | --- |
| S No | Telecom Analytics Metrics |
| 1. | Average Revenue Per User (ARPU) |
| 2. | Minutes of Usage (MOU) |
| 3. | Churn Rate |
| 4. | Subscriber Acquisition Cost (SAC) |
Introduction
Fierce competition, diminishing profit margins, and high churn rates are some of the factors influencing the profit margins of telecom companies. Surviving in such a challenging market isn't a walk in the park. It takes intensive planning and constant innovation to keep the customers happy and the profits flowing in the telecom industry. Although customer service and profitability can be considered as the two extreme sides of the equation, how can telecom companies achieve perfection in both areas? In a bid to remain competitive and highly efficient, telecom companies rely on some critical metrics to measure their performance and plan for the future. Here are some of the most important metrics used in the telecom industry to monitor performance and compare them against industry benchmarks.
Contact us to know more about the metrics used by telecom companies, including average revenue per user (ARPU), minutes of usage (MOU), churn rate, subscriber acquisition cost (SAC), and customer lifetime value (CLV).
Telecom Analytics Metrics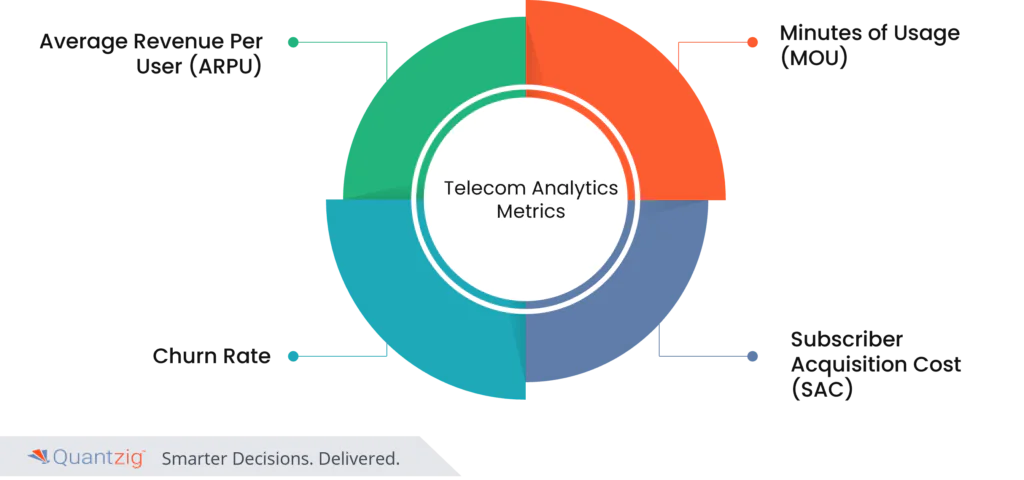 1. Average Revenue Per User (ARPU)
ARPU = Total Revenue/Number of subscribers
As simple as it gets, it is a measure of how much revenue telecom companies generate from each user. It's a measure to illustrate the company's operational performance. This metric is important for telecom companies because they incur a large number of fixed costs, and they need to ascertain whether they are generating revenue that justifies their spending. It also paints a picture for the investors on marginal profits and costs of the company, revealing how they are utilizing the resources. It also acts as a yardstick to measure the revenue generated from high spending customers and customers who are not profitable. Telecom service providers have started offering bundled services in order to increase ARPU metrics. ARPU can be further broken down into revenues from voice and data or prepaid and postpaid. Some companies even consider average revenue per minute (ARPM) as metrics to measure per unit cost versus revenue.
2. Minutes of Usage (MOU)
MOU = Total Usage Time in minutes per month/Number of customers
Minutes of Usage (MOU) is the total time in minutes, used by a customer on their mobile phone, within a particular time frame. MOU can be further segmented into postpaid and prepaid MOU or incoming and outgoing MOU. Since most telecom companies offer package voice services to their customer, it is essential to know the MOU for each customer. Also, knowing the average MOU for a cohort can help telecom companies to design a promotional campaign that can be profitably catered to a group of people. Additionally, it also helps telecom companies ascertain rates for bundled voice packs.
3. Churn Rate
Churn Rate = (Customers end of the month – Customers beginning of the month)/Customers beginning of month x 100 (expressed in percentage)
Churn rate is the metric that measures how many subscribers leave the service provider in favor of competitors. Companies are trying hard to reduce their churn rates, by implementing customer lifetime value (CLV) calculations to customize offerings for each customer. The advent of data analytics has enabled them to build predictive models, which helps them in identifying customers who may churn in the near future so that corrective measures can be taken in time.
Request a FREE proposal to learn how we can help you set up smart analytics programs that deliver meaningful insights using a unique data-driven approach.
4. Subscriber Acquisition Cost (SAC)
SAC = Total Spend/Additional Subscribers
Subscriber acquisition cost is a measure used within the telecom industry to figure out the total average cost of adding a new subscriber to the list. These metrics take into consideration all marketing costs including dealers' commission, sales cost, marketing, and advertising cost, terminal subsidy, and distribution cost that are spent to acquire a new customer. This metric can later be compared to ARPU to figure out if it's worth spending so much on the acquisition or if they can afford to increase the spending to expand the customer base.
In conclusion, the four key metrics in the telecom industry serve as indispensable tools for making informed and strategic decisions. From customer satisfaction and churn rates to network performance and revenue per user, these metrics provide a holistic view of the industry landscape. By leveraging these insights, telecom companies can enhance customer experiences, optimize network efficiency, and drive sustainable revenue growth. The dynamic nature of the telecommunications sector demands continuous monitoring and adaptation to evolving trends. Embracing these metrics not only empowers decision-makers with real-time data but also enables them to proactively address challenges and capitalize on opportunities. As technology advances and consumer expectations evolve, a proactive approach guided by these metrics is essential for staying competitive and ensuring long-term success in the ever-evolving telecom landscape.