COVID-19 has accelerated the adoption of virtual healthcare services by more than five years leading to a 70% increase in demand for digital health services post the outbreak. Evidently, the healthcare industry has fast-forwarded in several areas in the past year, including health-tech, AI, ML, the Internet of Things, Patient Monitoring, and Big Data. While healthcare providers, pharma and life sciences companies, and medical device manufacturers work hand in hand to tackle rising costs and challenges associated with inconsistent outcomes, one cannot afford to ignore the role of evolving healthcare innovations in addressing these issues.
With several new healthcare innovations paving their way into the health tech landscape, our analytics thought leaders got out their crystal balls to predict and share their views on the most promising healthcare innovations and medical breakthroughs impacting the healthcare industry in 2021 and beyond. Speak to an analytics expert to find out how you can innovate and grow using data and analytics.
With COVID-19 vaccination trials rolling out this year, next-gen solutions for patient monitoring and virtual healthcare will witness high demand in 2021, says an analytics expert at Quantzig.
What healthcare innovations are the most promising?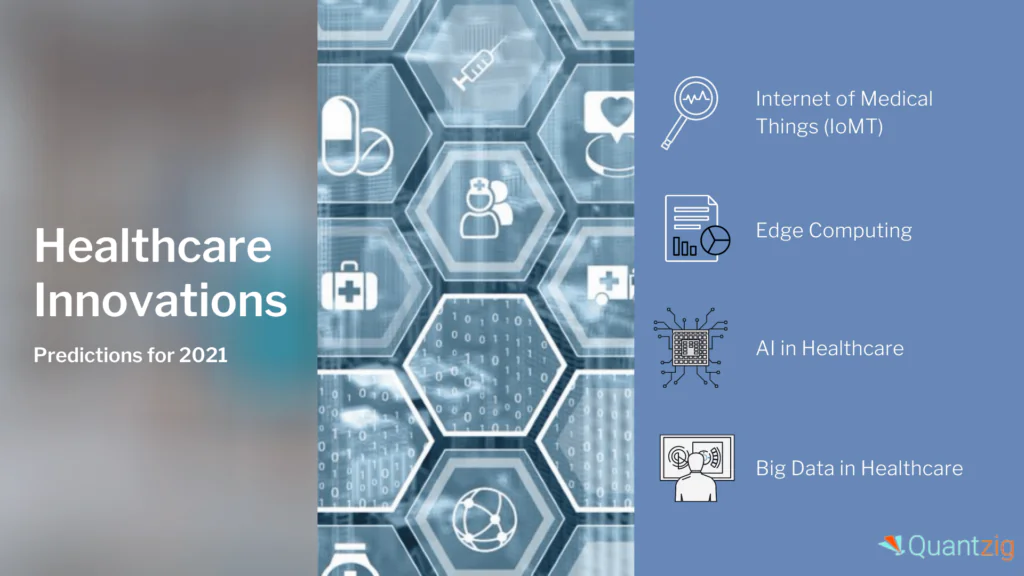 Internet of Medical Things (IoMT)
The explosion of connected devices is a major concern for healthcare service providers, medical device manufacturers, and healthcare payers alike. Internet of medical things serves the interest of global healthcare players and stakeholders, including manufacturers, investors, physicians, and payers and providers. It aids the end-to-end digital transformation of healthcare by accelerating the shift from reactive to proactive healthcare delivery models.
Edge Computing
Ensuring data security and availability of data play a crucial role in driving better outcomes across industries. But in healthcare, these aspects can quite literally mean the difference between life and death situations. Since real-time health data analysis happens on-premises or in the cloud, healthcare firms face issues due to bandwidth congestion, high latency, and low reliability. Even with today's advanced 4G LTE networks, these issues can present a raft of potential data security and accessibility issues. Edge computing will put an end to these issues by bringing data analysis closer to the point where data is collected and stored.
Irrespective of the industry in which you operate, a detailed understanding of market needs and innovative technologies is crucial to drive growth. Request a free proposal to find out how we can help you make the most of new and innovative technologies.
AI in Healthcare
Among all healthcare innovations set to transform health tech in 2021, the impact of artificial intelligence in healthcare is evident. AI has played a crucial role in healthcare with its direct and indirect impact on several aspects of healthcare. From its application to large-scale applications in the supply chain, CPG, manufacturing, and automotive industry, AI knows no bounds and positively impacts industries.
Big Data in Healthcare
With more than half of the global population tracking their health with wearables and portable devices like smartwatches, blood pressure, and heart rate monitors, one cannot ignore the amount of data generated from these devices globally. According to Quantzig, given the huge amounts of data generated by these devices, 2021 will witness new healthcare innovations in how healthcare researchers aggregate and analyze big data, making data a powerful tool for drug development, lifestyle studies, and more.
Few of these healthcare innovations have proven to be a transformative force in reshaping and disrupting the healthcare industry in the past. As such, new healthcare innovations have tremendous potential to drive better healthcare outcomes and improved outcomes by delivering a personalized, spontaneous, and cohesive experience to all payers and providers in the healthcare ecosystem.
Request more information to learn how analytics can help capitalize on medical breakthroughs to drive change in today's ever-evolving healthcare sector.
As technological forces merge to drive healthcare innovations that enable healthcare ecosystems to work together, health innovation leaders are challenged by the following questions:
Can cross-domain expertise and the use of cross-industry technology services enable healthcare to benefit from the evolving healthcare innovations?
Do stakeholders possess the intel, skillsets, analytics capabilities, and know-how of operating models required for managing the infrastructure of future healthcare ecosystems?
How can healthcare providers determine whether to build, collaborate, or acquire new skills to bridge capability gaps?
Finding answers to these questions can open up new avenues for future medical innovation and help healthcare players realize the potential value at stake if they fail to embrace healthcare innovations to improve patient experience, outcomes, and costs, eventually profiting both payers and providers.