The healthcare industry is going through transformations as it moves from a volume-based business to a value-added business. Organizations in the healthcare industry are facing the heat to provide value-based care with optimum outcomes to the patients. With the huge influx of data in the healthcare systems, it is really becoming very difficult for healthcare organizations to draw meaningful insights from it and utilize it to treat patients and improve the quality of services. This is where predictive analytics in healthcare comes into the picture. Also, with the emergence of value-based reimbursement, many healthcare systems have now realized the importance of predictive analytics in healthcare. It has become an important key to manage population health and deliver care more cost-effectively. At the same time, it helps healthcare organizations in reducing readmission rates and predict different types of healthcare trends. In this article, our team of healthcare analytics experts has highlighted a few benefits of predictive analytics in healthcare. Also, they have discussed the challenges that healthcare organizations face in implementing predictive analytics in healthcare.
Request a free proposal to know how our predictive analytics solutions can help you improve clinical trials and interpret patient data accurately.
Benefits of Healthcare Predictive Analytics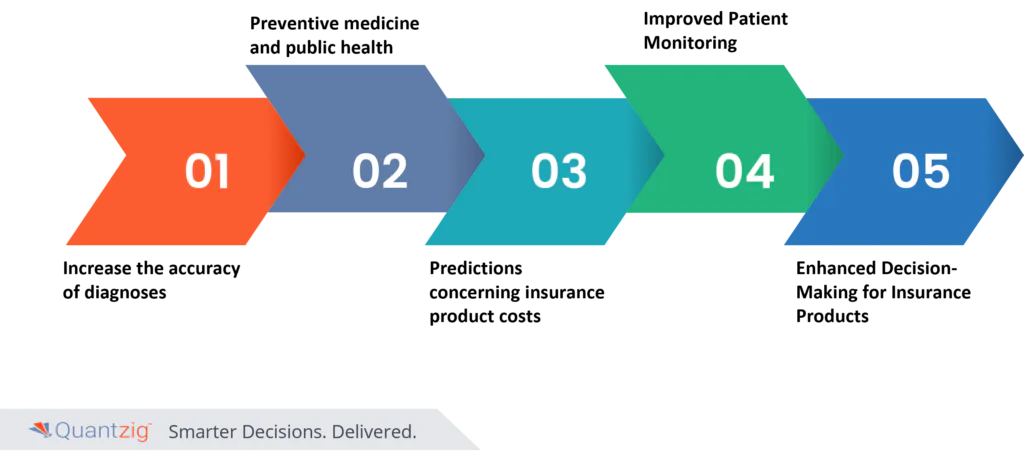 1: Predictive analytics in healthcare can increase the accuracy of diagnoses
By leveraging predictive analytics solutions, physicians can utilize predictive algorithms to make more accurate diagnoses. Predictive modeling and machine learning can provide real-time information to doctors that can fuel the accuracy of predictions and can lead to better patient outcomes. Also, with the use of predictive analytics in healthcare, multiple datasets from hundreds of patients can be analyzed to build tools that find patterns in patient journeys to facilitate early diagnosis and predict negative outcomes. Furthermore, predictive analytics solutions can help in monitoring diagnosed patients and assessing how their disease status progresses in real-time. Such alerts can facilitate early intervention that can make a real difference in helping a patient avoid complications or long-term physical damage.
2: Predictive analytics will help preventive medicine and public health
Predictive analytics in healthcare facilitates early intervention that can help in the prevention or amelioration of many chronic diseases. Predictive modeling, particularly within the realm of genomics, can also help primary care physicians to identify at-risk patients within their practice. With that knowledge, patients can be advised to make changes in their lifestyle to avoid future risks or complications. Also, predictive analytics solutions help to develop a profile for patients at risk of substance abuse and help providers anticipate how their prescription decisions might affect those patients.
Are you finding it difficult to reap clinical and financial rewards from predictive analytics? We can help. Get in touch with our experts right away.
3: Predictive analytics can provide employers and hospitals with predictions concerning insurance product costs
Healthcare organizations providing healthcare benefits to employees can input characteristics of their workforce into a predictive analytic algorithm to predict future medical costs. Such predictions can be based upon the own data of the organization, or the organization may even collaborate with insurance providers to generate the predictive algorithms. Furthermore, healthcare organizations working with insurance providers can synchronize databases and actuarial tables to build predictive models and subsequent health plans. Organizations might also use predictive analytics in healthcare to determine which providers may give them the most effective products for their specific needs.
4. Improved Patient Monitoring:
Predictive analytics solutions play a pivotal role in revolutionizing patient monitoring by offering real-time insights into diagnosed individuals. This continuous monitoring allows healthcare providers to track the progression of diseases with unparalleled accuracy. The deployment of predictive algorithms facilitates the generation of early alerts, equipping healthcare professionals to intervene swiftly. This proactive approach not only aids in preventing potential complications but also minimizes the risk of long-term physical damage to patients. By leveraging real-time data, healthcare providers can tailor personalized interventions, optimizing patient outcomes and enhancing the overall quality of care.
5. Enhanced Decision-Making for Insurance Products:
Predictive analytics emerges as a strategic tool for healthcare organizations, enabling informed decision-making regarding insurance product costs. By harnessing the power of predictive algorithms, organizations can accurately forecast future medical costs. This invaluable foresight aids employers and hospitals in understanding and planning for financial implications related to healthcare benefits. Collaborating with insurance providers, predictive analytics facilitates the development of synchronized databases and actuarial tables, forming the foundation for the creation of tailored and cost-effective health plans. This data-driven decision-making ensures that organizations can align their insurance offerings with the specific needs of their workforce.
Incorporating these advanced healthcare predictive analytics approaches not only enhances patient care but also supports organizational efficiency and financial planning in the complex landscape of healthcare.
---
Our advanced analytics solutions help healthcare organizations to improve patient outcomes and reduce the cost of care. Want to know how? Request a FREE demo.
---
Challenges in the Implementation of Predictive Analytics in Healthcare
1: Developing a comprehensive patient profile
Most healthcare providers already possess the data assets of their patients that are required to build a predictive model. But utilizing such information can certainly be a challenge. The difficulty increases even more when patients move between providers, health systems, or even geographical regions. As a result, healthcare organizations find it difficult to map the profile of such patients. Therefore, implementing predicting analytics solutions becomes challenging.
Request more information to know how our healthcare predictive analytics dashboards can help you identify at-risk patients and achieve desired outcomes.
2: The challenge of clinical application
As predictive analytics in healthcare has become increasingly available for real-world applications, healthcare professionals diagnosing and treating patients encounter multiple data elements apart from classical clinical data. When new data is added into the patient narrative, this information needs to be put into a framework that physicians can understand and recognize as credible. Therefore, it is important that an alert not only states that a patient likely has a certain disease, but also includes a detailed rationale as to why the analysis is making a specific prediction.
3: Data aggregation challenges
Data of patients are often spread across many file cabinets, servers, hospitals, and government agencies. Pulling all these data together and collaborating them all for the use in the future requires a lot of planning. Every participating organization must agree and understand upon the types and formats of big data they intend to analyze.  Also, the quality and accuracy of such data of patients need to be established. This requires not only data cleansing but also a review of data governance processes.
4. Ethical and Privacy Concerns:
The implementation of predictive analytics raises ethical and privacy concerns. Ensuring patient data security, obtaining informed consent, and addressing potential biases in algorithms are crucial aspects that healthcare organizations must navigate.
Predictive Analytics in Healthcare Examples:
Implementing Healthcare Predictive Analytics for Chronic Disease Management
Enhancing Emergency Room Efficiency with Predictive Modeling
Optimizing Medication Adherence through Predictive Analytics
In conclusion, while healthcare predictive analytics holds immense promise in transforming healthcare, overcoming its associated challenges requires strategic planning, ethical considerations, and continuous advancements in technology and data governance. Healthcare professionals must navigate this dynamic landscape judiciously to harness the full potential of predictive analytics in improving patient outcomes and operational efficiency.