Businesses tend to gravitate towards value analysis, value engineering, strategic sourcing, and other benchmarking methods to identify new cost-cut opportunities. Given the rapid pace of development across industries, businesses can no more rely on traditional cost analysis methodologies but adopt newer should cost modeling approaches.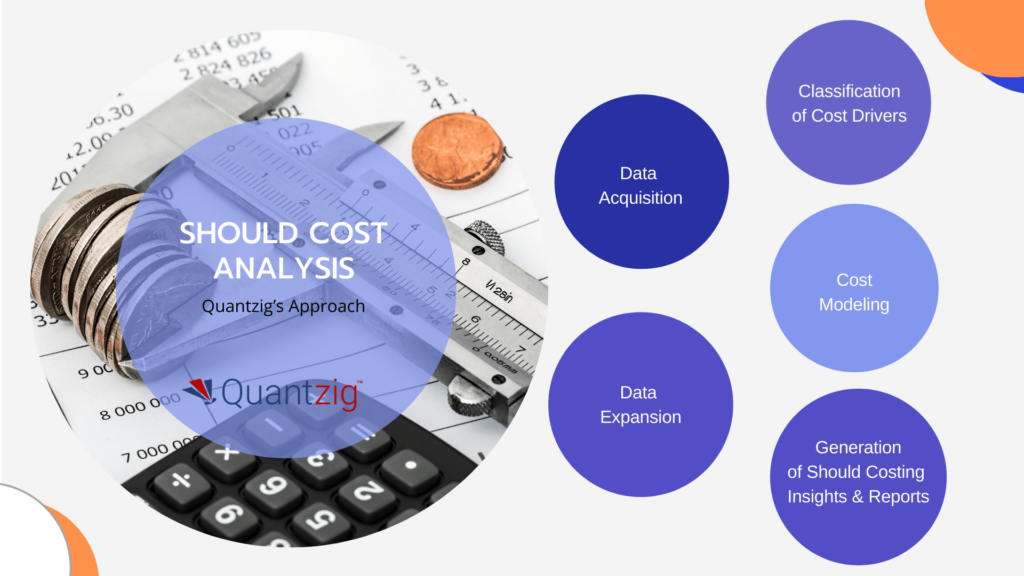 Advancements in technology and analytics have made it possible for businesses to adopt structured cost modeling approaches. Moreover, advanced modeling solutions like should cost modeling also enable companies to identify and optimize cost drivers. Therefore, should costing is a widely accepted approach that helps the procurement and sourcing teams gain actionable insights that aid price negotiation. It also helps designers and product developers achieve their target costs by offering detailed cost and pricing insights early, i.e., in the initial product development phase. To increase competitiveness and gain a leading edge through effective product pricing, contact our analytics experts today.
What is Should Cost Analysis?
Should cost modeling is an advanced analytics methodology that helps determine a product's cost based on different factors that impact pricing. It includes the cost of raw materials, manufacturing and process overheads, and other costs contributing to the overall price.
What is the Purpose of Should-cost Modeling?
Often, product designers do not analyze the cost products themselves but instead bank upon sourcing and procurement teams for pricing information. The lack of should-cost models leads to sourcing teams negotiating with suppliers with minimal information, resulting in price mismatches and high margins. Should cost models empower businesses to analyze design concepts focusing on the target cost during the development phase, i.e., before the negotiation phase, thereby establishing a practical fail-proof approach to sourcing.
A data-driven pricing plan focused on identifying the ideal product costs can help you succeed in the long run. Request a FREE proposal for personalized insights on how should cost modeling can benefit your organization.
Should Cost Analysis Model: Quantzig's Approach
Since should cost modeling primarily focuses on analyzing the elements that make up the cost of a product or service, businesses must have a robust should cost analysis model or cost breakdown analysis model to price their products competitively.
To help our clients address this issue, we've developed a comprehensive approach to should cost modeling, which involves the following phases –
Phase 1: Data Acquisition
The 'data acquisition' phase revolves around gathering data from various sources, including ERP platforms, bill of materials database, spend data, purchasing invoices, and other information on raw materials.
Phase 2: Methodical Data Expansion
The second phase focuses on analyzing the collected data sets and cost drivers, including raw materials costs, manufacturing overheads, logistics, and labor costs.
Phase 3: Classification of Cost Drivers
Once all the data has been analyzed, cost drivers identified in the previous steps are classified into homogenous groups.
Phase 4: Cost Modeling
The cost modeling phase revolves around outlining annual volumes, batch quantities, and unit of measure. In this phase, processes and materials are selected and cost parameters are defined with respect to geographical locations.
Phase 5: Generation of Should Costing Insights
By leveraging the data obtained from the mentioned sources, we develop crucial cost insights using our proprietary cost analysis models and price analytics platforms.
Phase 6: Reporting
The final stage in should cost modeling revolves around generating reports with a detailed breakdown of processes, material costs, non-recurring engineering costs (NRE), and authorization costs.
Request more info to learn how Quantzig's should cost modeling solution helped a Fortune 500 industrial manufacturing company realize 15% percent savings.
Quantzig's team of 550+ seasoned analytics experts have the expertise and skill it takes to design and build should cost models tailored to your business's needs and equip you with data-driven, actionable insights for prudent decision-making. Our approach to should cost modeling also helps clients reverse engineer product costs to accurately estimate the price of components. Equipped with detailed pricing insights, businesses will be well-positioned to forge better, more effective contractual agreements and boost overall market competitiveness