What You Can Expect from the Fast-Food Industry Challenges Article
Introduction
Fast Food Industry Challenges
Highlights of the Fast-Food Industry Challenges Article
| | |
| --- | --- |
| S No | Fast Food Industry Challenges |
| 1. | People's Shift to Healthier Lifestyles |
| 2. | Rising Competition |
| 3. | The Threat of Being Sued |
Introduction
The changing lifestyle of people and the increasing pace of living have inspired the birth and popularity of the fast-food industry. Companies in the fast-food industry have carved for themselves a special place in our hearts to such an extent that despite rumors and reports of the health impacts that fast food can have on our bodies, our love for fast food continues to remain strong and unaltered. Players in the fast-food industry are minting money owing to the growing demand for food products around the globe. Fast food chains, such as McDonald's and Domino's Pizza, have given rise to the franchising revolution around the world, which has proved to be a smooth medium of expansion and profitability for players in the industry.
However, like every other industry, the fast-food industry is not free of setbacks and challenges. Let us discuss a few of them here to see the bigger picture of the hindrances awaiting companies operating in this industry:
Implement our solutions to solve your complex business challenges at no cost with our 4-week complimentary pilot. This offer bears no hidden clauses and serves as a perfect opportunity to explore our comprehensive portfolio of advanced BI and business analytics solutions.
Key Challenges in the Fast-Food Industry
The fast-food industry faces several challenges in the current landscape, and understanding these key issues is crucial for sustainable growth and adaptation to evolving consumer preferences.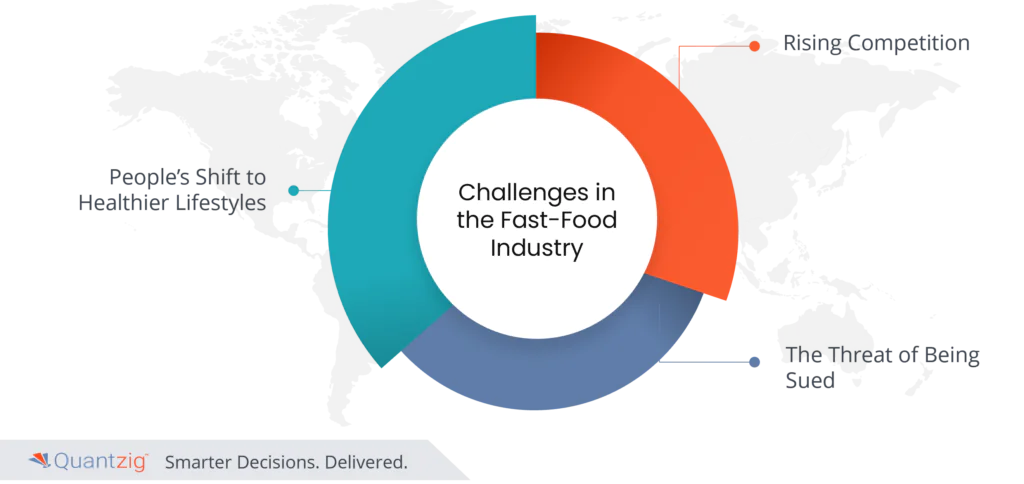 1. People's Shift to Healthier Lifestyles
Firstly, the shift towards healthier lifestyles poses a significant challenge for fast-food chains. Traditionally synonymous with indulgence and convenience, fast food has been labeled as 'junk food,' contributing to concerns about its impact on health. However, as individuals become more health-conscious, there is a noticeable trend of limiting or completely avoiding fast food in favor of healthier alternatives. This shift is driven by increased awareness of fitness and a growing emphasis on adopting healthier dietary habits. Fast-food chains must navigate this changing dynamic by introducing healthier menu options to cater to the evolving tastes of consumers.
2. Rising Competition
Additionally, rising competition within the fast-food industry amplifies the challenges faced by businesses. The intense rivalry among industry players is heightened by aggressive expansion strategies, with each brand striving to differentiate itself in a crowded market. This saturation leads to increased competition and forces fast-food companies to continually innovate and find unique selling points to maintain their market share. Understanding consumer preferences and staying ahead in terms of taste, convenience, and pricing becomes imperative for survival in this fiercely competitive environment.
3. The Threat of Being Sued
The threat of legal action further complicates matters for fast-food chains. With nutritional disclosure laws becoming more stringent, companies must make substantial alterations to their menus to comply with regulations. The risk of lawsuits from customers who attribute health issues to fast-food consumption adds another layer of challenge. Examples of legal actions related to obesity and unhealthy eating habits have prompted the industry to adopt a more cautious approach, emphasizing the need for transparency and promoting a healthier image. This shift requires fast-food businesses to proactively address concerns related to nutrition and take measures to align with evolving legal standards.
In conclusion, the fast-food industry is grappling with significant challenges, including the evolving preference for healthier lifestyles, heightened competition, and the ever-present threat of legal action. Adapting to these challenges requires strategic innovation, a commitment to transparency, and a proactive approach to meeting consumer demands. Fast-food chains that successfully navigate these challenges will not only survive but also thrive in an industry that demands continuous adaptation to changing consumer expectations and regulatory landscapes. By addressing these challenges head-on, the fast-food sector can position itself for sustained success in the dynamic and competitive world of fast food.
Contact our analytics experts today to know more about the challenges faced by the fast food industry and how to overcome them.