Visual merchandising is a concept in the retail business that promises to improve the aesthetic appeal of a product or store. This helps in seeking the attention of customers and increase sales, which means if you want the performance of your store to improve, you cannot afford to have a store with ineffective and unappealing in-store displays. But, it is also essential to understand that visual merchandising is also about different retail designs. Some of the fundamental ways through which retailers can attain success in visual merchandising are window displays, impactful store layout, informative display of products, and much more. In this article, we have highlighted a few critical elements of visual merchandising that can help you optimize your store's layout and product displays for maximizing revenue.
What is Visual Merchandising?
Visual merchandising is a marketing technique that uses lighting, color, displays, technology, floor plans, and other elements to display products in a way that makes them visually appealing and desirable. Visual merchandising makes use of artistic product displays to capture the attention of shoppers and ultimately generate sales.
The Importance of Visual Merchandising
1. Captures Attention:
Eye-catching displays and arrangements grab the attention of customers, making them more likely to explore the store.
2. Enhances Brand Image:
Thoughtful visual merchandising reflects the brand's personality and values, contributing to a positive brand image.
3. Encourages Purchase Decisions:
Well-designed product displays can influence customer decisions and drive impulse purchases.
4. Creates a Memorable Shopping Experience:
A visually appealing store creates a memorable and enjoyable shopping experience, fostering customer loyalty.
5. Differentiates from Competitors:
Unique and creative visual merchandising sets a store apart from competitors and attracts a diverse customer base.
6. Optimizes Store Layout:
Strategic placement of products and displays optimizes the store layout, improving navigation and customer flow.
7. Seasonal and Theme Integration:
Visual merchandising allows for seamless integration of seasonal themes and promotions, keeping the store dynamic and relevant.
8. Showcases Product Features:
Highlighting key product features through displays helps customers understand product benefits and functionalities.
9. Promotes Cross-Selling and Up-Selling:
Thoughtful product placements encourage customers to explore related items, promoting cross-selling and up-selling opportunities.
10. Creates Instagram able Moments:
A visually stunning store design encourages customers to share their experience on social media, providing free promotion.
Want to know how? Get in touch with us.
Elements of Visual Merchandising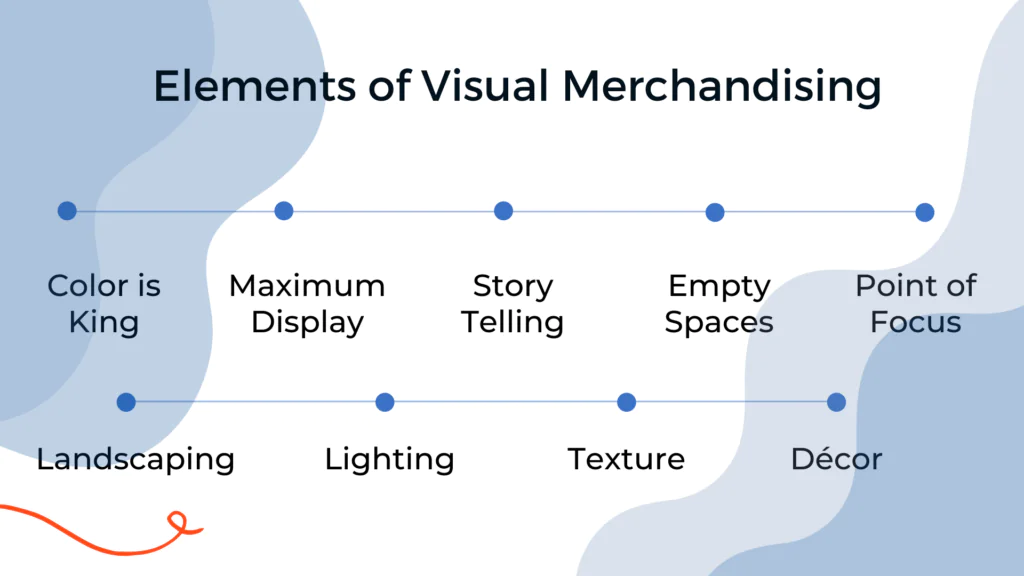 1. Color is King
As per the principles of in-store retail analytics, color is considered to be a powerful element that can drive sales. Color has the potential to make or break your visual displays. Therefore, retailers should ensure that the colors are well-coordinated and are visually appealing to their customers. Combining contrasting colors can be helpful in creating eye-catching displays.
2. Maximum Display
This is another significant element of visual merchandising. If all your merchandise is displayed well, they can provide the customer with a variety of options to choose from. A circular store layout is more powerful than the traditional one. This is because it exposes customers to a variety of merchandise than traditional aisles. Therefore, it is recommendable that you should have as many displays as possible, and present as much merchandise as possible.
---
Quantzig's retail analytics solutions help businesses to optimize merchandise assortment and store-front layout. Request a FREE proposal now to know more about our portfolio of services.
---
3. Storytelling
A story always helps when it comes to marketing. So, this is treated as one of the powerful elements in visual merchandising. You should focus on using a powerful, sales-enabling story that can improve the visual display and tell the benefits of buying a particular product to the customers. By doing so, you can understand your customers better and this, in turn, can trigger the sale.
4. Empty Spaces
Visual merchandising also focuses on the underutilized space in the store. Generally, it is the area between the displayed merchandise and the ceiling. This space many retailers ignore but you should use it wisely for a variety of things. You can use these underutilized spaces for displaying information about specific products or brands. Also, it can be utilized for displaying customer testimonials with the name of the customer and their picture.
5. Point of Focus
If you are into the retail store business, it is important that you create a focal point for capturing shoppers' interest. This can increase sales dramatically and is one of the main reasons why it is looked upon as a crucial element of visual merchandising. You should always check the displays at your store to ensure that the hotspots and merchandise are easily visible to your customers.
6. Landscaping
The process of elevating the prime offerings to make them stand out is referred to as landscaping. Retailers can make use of landscaping to catch the customer's interest and highlight certain items. Landscaping can also be implemented in the form of asymmetrical arrangements to showcase the entire offerings to customers.
7. Lighting
The correct lighting and illumination will bring a retail store's colors to life and highlight important product features. Lighting can be used to improve the store's ambiance, create spotlights to illuminate certain products to drive sales, and more.
8. Texture
A contrast in texture that works well enables retailers to enhance their displays. Retailers must assess their products and what textures work best against them, in order to enhance customer interest and sales.
9. Décor
The final step in visual merchandising is the furnishing and decoration of the retail space. A good décor is one that enhances the overall display theme without creating any distractions.
Request a demo to gain a limited-period complimentary access to our advanced analytics platforms.
Visual Merchandising for Business
Retailers can make use of visual merchandising in many shapes and sizes. Visual merchandising can promote brand recall by placing multiple brand signages across the retail premises. Signages can also be used to communicate key messages to customers.
Another way that retailers can effectively use visual merchandising is with the help of window displays. Creating a visually striking display of products can gain people's interest and build a positive brand image. These displays can also be customized to events or seasons.
Visual merchandising is of the utmost importance in floor plan designing and layout. All the elements of visual merchandising must be taken into account to create a visually appealing experience for customers. Impactful displays, coupled with price promotions will attract customers and add to sales.
By understanding the importance of visual merchandising and incorporating these elements, retailers can create a compelling and immersive shopping environment that resonates with customers and drives business success.