Enterprises today choose to outsource a huge chunk of their core operations to third-party vendors. To make the most of these investments, businesses must evaluate vendors against a well-defined set of vendor evaluation criteria.
As the name suggests, vendor performance evaluation is a basic process of evaluating new and old vendors using a quantifiable approach. It holds a top spot in the agenda of every business irrespective of its sector since businesses have a huge portfolio of suppliers, and it's essential to gauge their performance based on factors like contract compliance, cost reduction, and risk management. Moreover, as businesses expand their global footprint, vendors are handled by an increasingly large number of purchasing executives. In such a scenario, the lack of a vendor performance evaluation framework may intensify the challenge of fostering relationships with the right vendors, leading to huge losses.
In addition, the COVID-19 pandemic has shed light on the need to evaluate vendors' ability to deliver the services and products you need to maintain critical operations under emergency conditions. Hence, while establishing a framework or while creating a vendor evaluation scorecard businesses must include factors that help gauge a vendor's disaster and pandemic preparedness.
---
Building strong vendor-business partnerships depends on having a reliable vendor evaluation process in place to identify and gauge the potential of vendors. We can help you build such processes and track events in real-time, request a FREE proposal to know more about our capabilities.
---
To make vendor evaluation a cakewalk for our clients, we have developed easy to follow steps to create and establish a vendor evaluation framework. Adopting this vendor performance evaluation framework can help you compare the capabilities of different vendors to determine the best fit.
Why Vendor Evaluation Is Important?
Organizations recognize the pivotal role of vendor evaluation in ensuring a resilient and efficient supply chain. Here's why it is indispensable:
1. Strategic Vendor Selection Process:
A structured vendor evaluation framework guides the vendor selection process, ensuring that it aligns with the organization's strategic goals and requirements.
2. Risk Mitigation:
Thorough evaluation of suppliers helps identify potential risks, allowing organizations to implement proactive measures and build resilience against disruptions in the supply chain.
3. Comprehensive Supplier Assessment:
The vendor evaluation process goes beyond cost considerations, encompassing a comprehensive analysis of suppliers. This includes assessing financial stability, product quality, delivery timelines, and adherence to ethical standards.
4. Operational Efficiency:
By systematically evaluating vendors, organizations can streamline procurement procedures, reducing inefficiencies and costs associated with suboptimal supplier relationships.
5. Long-term Partnership Building:
Vendor analysis contributes to building enduring partnerships by considering factors such as performance history and market reputation. This fosters collaboration that extends beyond immediate needs, creating sustainable relationships.
6. Adaptability to Business Needs:
A dynamic vendor evaluation framework enables organizations to assess suppliers' adaptability to evolving business requirements. This ensures that suppliers can grow and evolve alongside the organization, contributing to long-term success.
7. Regulatory Compliance and Ethical Standards:
Vendor evaluation is essential for ensuring that suppliers comply with regulatory requirements and adhere to ethical standards. This safeguards the organization's reputation and mitigates legal and compliance risks.
A well-executed vendor evaluation process, supported by a robust framework, is instrumental in selecting, assessing, and maintaining supplier relationships that contribute to the overall success and resilience of the supply chain.
Top Vendor Evaluation Criteria
A successful vendor evaluation framework relies on a comprehensive set of criteria to ensure the selection of suppliers aligned with organizational objectives. Here are key criteria for effective vendor analysis and selection:
1. Financial Stability:
Assessing the financial health of potential vendors is crucial. It includes scrutinizing financial statements, credit ratings, and overall fiscal stability to ensure the supplier can meet contractual obligations over the long term.
2. Product/Service Quality:
Evaluating the quality of products or services offered is paramount. Organizations must scrutinize samples, assess product specifications, and ensure that the supplier's offerings meet or exceed required standards.
3. Delivery Performance:
Timely delivery is critical for maintaining seamless operations. Vendor evaluation should include an analysis of historical delivery performance, lead times, and the supplier's capacity to meet demand fluctuations.
4. Compliance and Ethical Standards:
Compliance with regulations and adherence to ethical standards are non-negotiable. A robust vendor evaluation process should include a thorough examination of a supplier's commitment to legal and ethical business practices.
5. Vendor Reputation and References:
Consideration of a vendor's reputation in the market is essential. This involves checking references, gathering feedback from current clients, and assessing the supplier's standing within the industry.
6. Capacity for Innovation and Adaptability:
A forward-looking vendor should demonstrate innovation and adaptability. Organizations benefit from suppliers capable of evolving alongside technological advancements and adapting to changing business landscapes.
7. Risk Management and Contingency Plans:
Evaluate a vendor's risk management strategies and contingency plans. This ensures that the supplier has measures in place to address potential disruptions, mitigating risks to the supply chain.
8. Cost Competitiveness:
While not the sole criterion, cost remains a significant factor. A thorough analysis should go beyond initial pricing, considering total cost of ownership, potential hidden costs, and the value offered in relation to the cost.
A holistic vendor evaluation process integrates these criteria, providing a structured approach to vendor selection that aligns with organizational goals and contributes to the overall success of the supply chain.
What is Vendor Evaluation Process?
The vendor evaluation process is a systematic and strategic approach to assessing and selecting suppliers to ensure alignment with organizational objectives. This process, embedded within the broader vendor evaluation framework, involves several key stages:
1. Define Objectives and Requirements:
Clearly articulate the organization's goals and requirements, establishing the criteria against which potential vendors will be evaluated.
2. Pre-screening of Vendors:
Conduct an initial review to pre-screen vendors based on fundamental criteria such as financial stability, regulatory compliance, and core capabilities.
3. Develop Evaluation Criteria:
Formulate a comprehensive set of evaluation criteria that cover aspects like product/service quality, delivery performance, innovation, and ethical standards. Tailor these criteria to align with specific organizational needs.
4. Vendor Identification and Shortlisting:
Identify potential vendors through market research, recommendations, or existing partnerships. Shortlist candidates based on the predefined evaluation criteria.
5. Request for Proposal (RFP) or Quotation:
Issue RFPs or RFQs to shortlisted vendors, outlining project details, expectations, and evaluation criteria. This step provides vendors with an opportunity to showcase their capabilities.
6. Vendor Analysis:
Evaluate received proposals through a rigorous analysis, considering factors such as financial viability, past performance, and the ability to meet the specified requirements.
7. Site Visits and Audits:
Conduct on-site visits or audits to assess the vendor's facilities, production processes, and quality control measures. This step provides firsthand insights into the supplier's operations.
8. Reference Checks:
Contact references provided by the vendor to gather feedback on their performance, reliability, and adherence to contractual agreements.
9. Final Selection and Contract Negotiation:
Based on the accumulated data and analysis, make a final selection of the preferred vendor. Initiate contract negotiations, ensuring all terms and conditions are clearly defined and agreed upon.
10. Continuous Performance Monitoring:
Implement a system for ongoing performance monitoring to ensure that the selected vendor consistently meets expectations. This includes periodic evaluations and feedback sessions.
The vendor evaluation process is dynamic, requiring adaptability to changing business landscapes and continuous improvement. By following this structured approach, organizations can effectively navigate the complexities of supplier selection, fostering successful and enduring partnerships.
What Is the Do's in the Vendor Evaluation Process?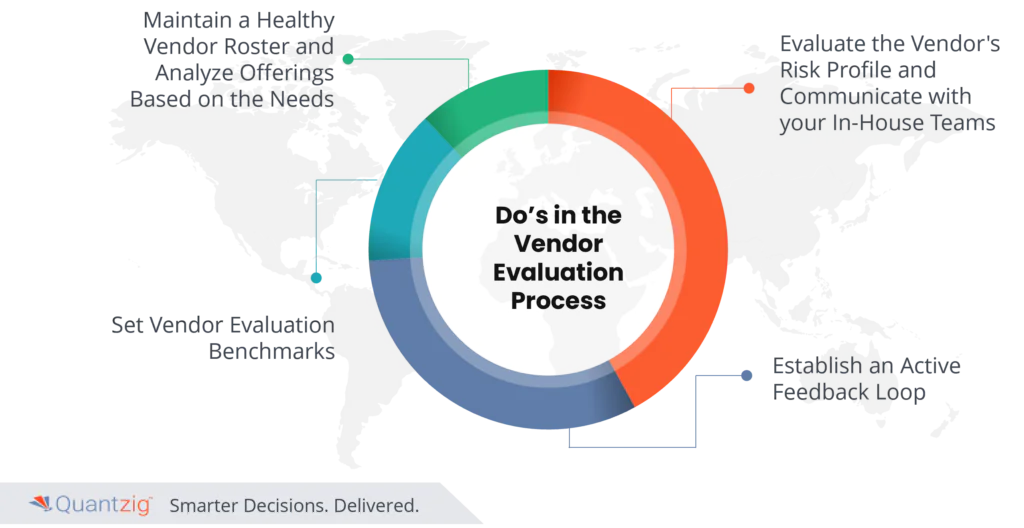 1. Maintain a Healthy Vendor Roster
Vendor categorization is the first step in developing an effective vendor evaluation system. Categorizing vendors into homogenous groups based on their offerings can help distinguish vendors based on the products and services offered.
2. Analyze Offerings Based on the Needs
The most crucial step in vendor performance evaluation is to understand what you can expect from a particular vendor. Once you're fully aware of the capabilities of the vendors, you can identify the vendor that best meets your enterprise's needs.
3. Evaluate the Vendor's Risk Profile
The third most crucial step in vendor performance evaluation revolves around evaluating the vendor's risk management ability. Since data security plays a pivotal role in all vendor relationships, it's crucial to conduct periodic reviews, onsite visits, and audits on a regular basis. Doing so can help you evaluate the vendor's performance against your company's goals.
4. Communicate with your In-House Teams
To maximize success, its crucial to streamline processes. Since internal teams will be working with the vendors when the need arises, its crucial to communicate with your executives regularly regarding the importance of the relationship and how they can help support your efforts.
5. Set Vendor Evaluation Benchmarks
Businesses must establish vendor performance evaluation benchmarks while working with third-party vendors. Setting thresholds can also help you track and evaluate the performance of your vendors on an ongoing basis. Whether you decide to perform this evaluation on a monthly, quarterly, or annual basis, you need to perform your analysis based on previously established goals.
6. Establish an Active Feedback Loop
By establishing a feedback loop, businesses can continually monitor and take necessary steps to improve vendor performance regularly. To obtain the best results, companies must begin by generating performance requirements and then set up multiple options for feedback.
Using a vendor selection scorecard or a vendor rating system for your vendor roster is crucial and helps discern vendors based on the abilities. Request a FREE demo to know how we help businesses in establishing a robust vendor evaluation process.
What Is the Don'ts in the Vendor Evaluation Process?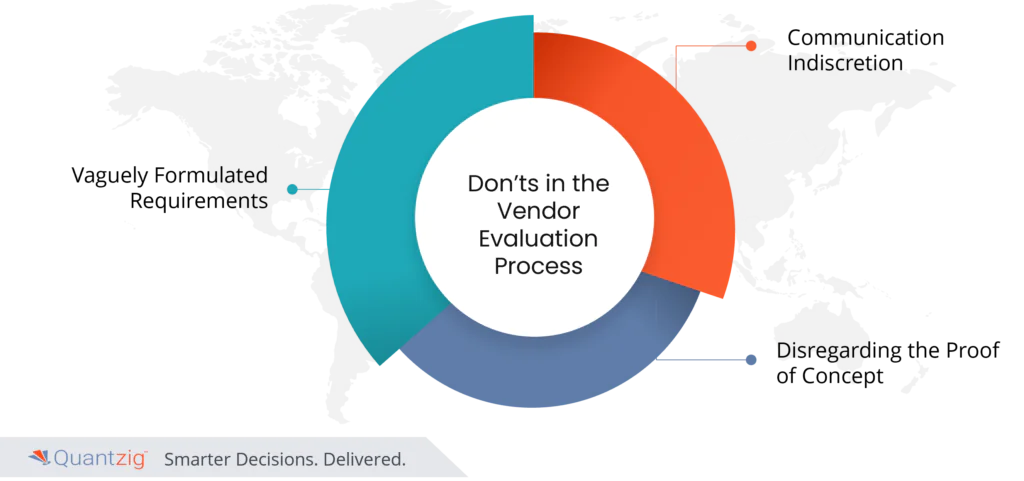 1. Vaguely Formulated Requirements
Unclear requirements leave room for interpretation. As such, vendor responses will be based on assumptions, which will further aggravate your challenges in evaluating vendor responses.
2. Communication Indiscretion
Whether a deliberate attempt to provoke conflict or not, giving out information about a competitor's pricing strategy to another vendor can jeopardize the whole process and severely harm your credibility in the long-run.
3. Disregarding the Proof of Concept
A common mistake is to gauge a vendor's capability solely on the proposal and not their ability to meet your business requirements. Hence, analyzing the proof of concept must hold a top spot in your vendor evaluation checklist.
Boost effectiveness and profits by building powerful, automated vendor performance evaluation systems. Speak to an expert for detailed insights.
Based on the criteria mentioned above, it is quite evident that setting standards for vendor evaluation can benefit both your organization and the vendors by helping build stronger business-vendor relationships. However, businesses must keep abreast of the current market trends and monitor the vendor landscape periodically to find new vendors that comply with guidelines and meet specific requirements.