What You Can Expect from This Case Study
Overview of Pharmaceutical Product Pricing Strategy
Importance of a Robust Pharmaceutical Pricing Strategy
The Client
How the Client Found Quantzig
Business Challenge
Solution Offered
Business Outcome
Why Choose Quantzig's Pharmaceutical Pricing Analytics Solutions?
Highlights of the Pharmaceutical Pricing Strategy Case Study
Client: One of the largest pharmaceutical companies in the world headquartered in the USA
Need: To create a robust analytics-driven pharmaceutical pricing strategy to navigate the industry's competitive landscape and capture optimal revenue.
Impact of Quantzig's pricing analytics solution: improved profit margins by 8% over three months, improve drug pricing transparency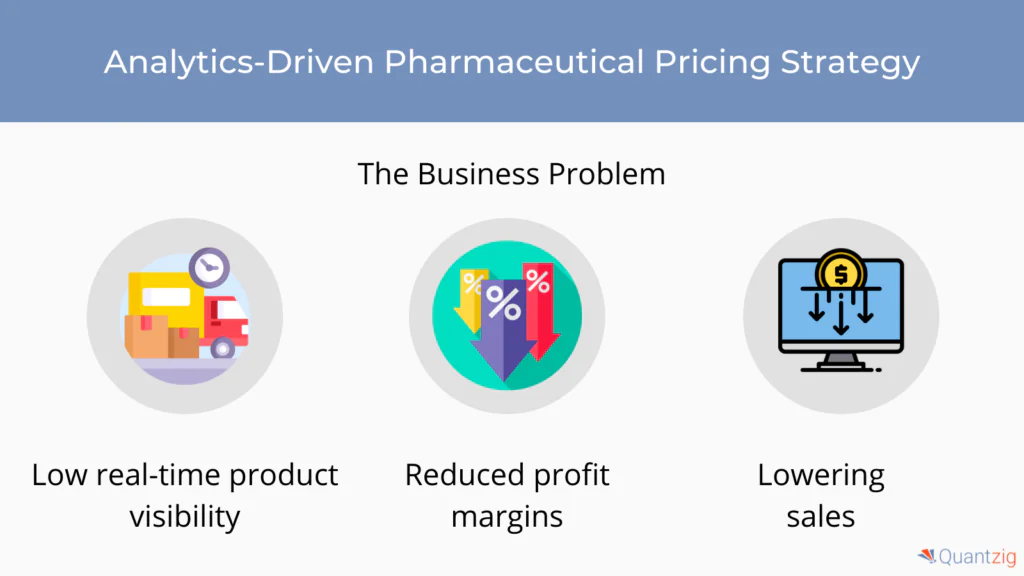 Overview of Pharmaceutical Product Pricing Strategy
Pricing strategy is one of the essential marketing mix components and is the key ingredient in driving customer buying decisions for pharmaceutical players. However, stringent regulatory norms leave little room for experimenting with various pricing strategies in pharmaceutical products. Pharmaceutical companies, thus, need innovative pricing models and analytics-driven strategies to successfully navigate the changing global pharmaceutical market.
---
By leveraging pricing analytics solutions, pharmaceutical companies look at transactions and the occurring contracts. Request a free pilot to know more.
---
Importance of a Robust Pharmaceutical Pricing Strategy
The pandemic has brought on a flurry of new pharmaceutical pricing regulations and practices that are changing the way medicines are bought and sold across the globe. It is imperative that pharmaceutical companies balance product prices and value with the costs of innovation, R&D, affordability, and access.
In an industry where pharmaceutical product pricing models have become highly segmented and nuanced in order to reflect patient needs, product characteristics, and navigate the competitive landscape, the creation and implementation of a robust, data-driven pharmaceutical pricing strategy can ensure steady growth for pharmaceutical players.
The Client
The client is a multinational healthcare company that operates worldwide under two divisions, Pharmaceuticals and Diagnostics. Headquartered in the USA, the client is one of the largest pharmaceutical companies in the world. The client is strong in the field of active pharmaceutical ingredients, pharmaceuticals for the treatment of cancer, viruses, and metabolic diseases. With operations spanning across the globe, the client is one of the largest worldwide spendings in R&D and holds over 50 patents.
How the Client Found Quantzig
The client contacted Quantzig after going through one of our press releases highlighting our pricing analytics expertise.
---
We help organizations track and monitor competitors' pricing strategies in real-time with the help of our customized pricing analytics dashboards. Request a free proposal to know more about our pricing analytics solutions and how they can help you always stay ahead of the competition.
---
Business Challenge
Dynamically changing market trends and rapid shifts in customer expectations are posing significant challenges for the client's pharmaceutical companies. Stringent regulatory laws are also causing disruptions on a global scale. To tackle such challenges, organizations in the pharmaceutical industry are constantly looking to implement the best pricing strategy possible.
The client was looking forward to launching a new line of products, and they were facing predicaments with devising a pricing strategy. The client approached Quantzig to leverage its value-based pharmaceutical pricing strategy to analyze the impact of different price points on their sales volumes across various channels, improve their existing cost-based pricing strategy and capture optimal revenue. They also wanted to assess the impact of regulatory norms governing the US pharma market on their product pricing.
---
Speak with our experts to know more about the different pricing strategies that pharmaceutical companies can use to increase profit margins and the strategy that best suits them.
---
Solution Offered
To help the pharmaceutical client tackle their pricing challenges, Quantzig deployed a dedicated team of pricing analytics experts who offered customized pricing strategy solutions aimed at improving profit margins. The pricing analytics experts conducted holistic research to understand the factors such as the price of raw materials, cost of excipients, existing marketing mix, and other organizational and market considerations that play a crucial role in deriving a pharmaceutical company's existing product pricing strategy. The experts then analyzed all the factors missing from their current list but are crucial for the determination of the right product prices. As a result of this exercise, the client was able to find the gaps in their current pricing strategy. Quantzig's analytics experts then created a roadmap to bridge the gaps and take into account other internal and external factors as well as data-driven forecasts while deciding their product pricing. This exercise enabled the client to penetrate much deeper into the US market and develop a value-based pricing strategy.
Quantzig's experts also analyzed the complete impact of various price points and existing cost-based pricing. This enabled the client to improve their cost-based pricing strategy, increase sales volumes, and perform well in a dynamically competitive environment.
Business Outcome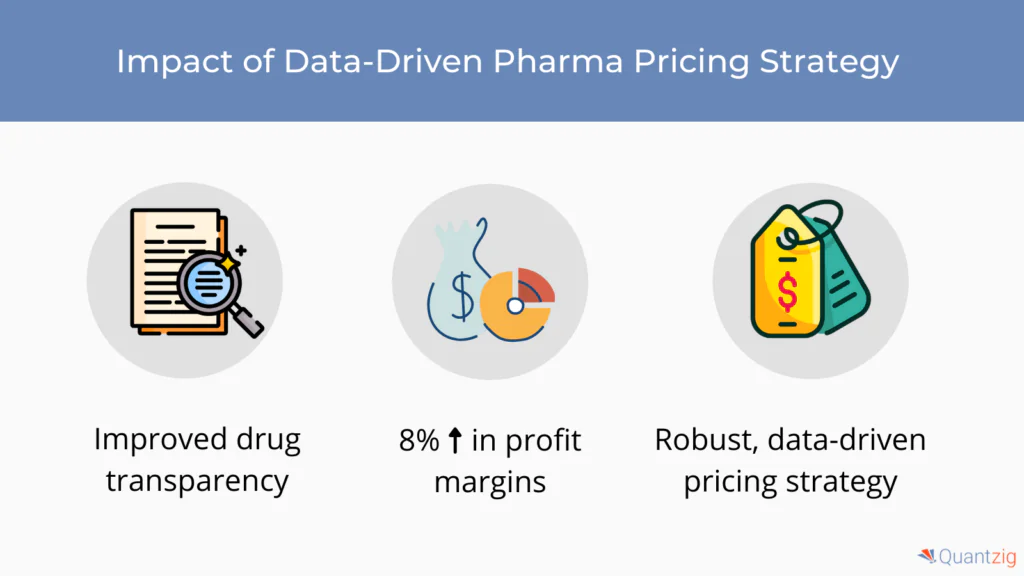 Quantzig's pricing analytics solutions enabled the pharmaceutical company to:
Increase sales volume and improve profit margins by 8% over three months
Improve drug pricing transparency
Derive an analytics-driven value-based pricing strategy across the globe
Key Takeaways of This Pricing Analytics Engagement
Gained comprehensive insights into the pricing strategies adopted by pharma market leaders
Learned to improve sales performance by leveraging pricing analytics
Understood the role of pricing analytics in simulating scenarios to gauge the impact of price changes on profit margins
Established a consistent approach to monitor price changes effectively
Learned how a pricing strategy based on data-driven insights can help you improve MROI
---
Quantzig has helped many Fortune 500 companies to improve sales volumes and gain market leadership. Request for more information to know about our advanced analytics solution portfolio and how we can help your organization solve complex business problems and drive innovation, growth, and excellence.
---
Why Choose Quantzig's Pricing Analytics Solutions?
We are one of the world's foremost full-service advanced analytics and business intelligence solution providers. We turn clients' complex, unstructured data into intelligent, actionable insights that enable them to solve complex business problems and inspire innovation, change, and growth. We take on a wide range of projects, ranging from business intelligence and reporting, AI, IoT, and automation, to advanced analytics. For more than a decade now, Quantzig has successfully offered customized pricing strategies and pricing analytics solutions that drive overall performance.
Our insights have helped over 120 clients spanning across industries and sectors like Pharmaceutical and Life Sciences, Retail and CPG, Food and Beverage, and more. We have successfully delivered 1500 in-depth solutions in areas like Marketing Analytics, Customer Analytics, Supply Chain Analytics, and more.