What You Can Expect from the Customer Lifetime Value Analysis Case Study
Telecom Industry Overview
About the Client
The Business Challenge
The Customer Lifetime Value AnalysisSolution
The Customer Lifetime Value AnalysisBusiness Impact
Highlights of the Customer Loyalty Analysis Case Study
| | |
| --- | --- |
| Particulars | Description |
| Client | A leading telecommunications company |
| Business Challenge | To ascertain the total value of the customers by channel, source, and campaign |
| Customer Churn Reduction | 14% |
| Increase in Monthly Recurring Revenue | 11% |
| Increase in Customer Lifetime Value | 9% |
Begin your journey from data to insights today.
Telecom Industry Overview
The global telecom industry consists of establishments that make communication possible on a global scale, through either the Internet or phone. The most significant companies in this sector are internet service providers, cable companies, wireless operators, and satellite companies. The telecom industry is mainly driven by ongoing technological innovations and developments, which help to offer a wide range of communication services at low-cost margins. Additionally, with the advent and increase in the use of internet services globally, the telecom industry is witnessing major disruptions due to an increase in demand for internet-based services.
Want to know more about our services? Get in touch with our analytics experts to gain detailed insights.
However, certain factors are expected to pose a challenge to the growth of the telecom industry. They include:
Rise in competition: According to a recent research report, it is estimated that nearly 2.5 billion people across the globe are using messaging apps, which is increasing the level of competition. Additionally, there has been a substantial increase in the level of competition among major telecom service providers. This is because several firms are offering better service levels while being cost-effective.
Technological developments: With the integration of the Internet of things (IoT) services, connecting devices are estimated to reach 21 billion by 2020. These technological developments are pressurizing telecom industry players to develop a platform that supports the latest technologies.
Such factors are compelling telecom industry players to leverage the use of customer lifetime value prediction. Customer lifetime value or CLV, predictions help companies determine the value of money they spend on acquiring new customers and worthy customers over a specific period.
We can help you leverage actionable insights to drive profits by targeting customers with the right tactics. Request a FREE proposal to get started.
About the Client
A leading telecom industry player with business operations spread across the globe.
The Business Challenge
The client wanted to ascertain the total value of the customers by channel, source, and campaign. This would help them identify profitable customers and determine their average revenue per user. The client, with the help of customer lifetime value analytics, wanted to smartly spend their resources to acquire new customers and retain the most profitable ones with customer lifetime value analytics engagement. With the help of customer lifetime value, they also wanted to seek ways to enhance business decisions about product development, sales, marketing, and offer reliable customer service to the customers; thus, helping them to maintain a long-term relationship with customers.
Have analytics need to solve your complex business challenges?
Wondering how our customer lifetime value engagement can benefit your business? Request a FREE demo.
The Customer Lifetime Value Analysis Solution
With the help of Quantzig's customer lifetime value study, the telecom industry client identified the necessary marketing efforts to reduce churn rates and ensured the right amount of marketing investments toward profitable customers. With the help of customer lifetime value analytics, the client was also able to profile the potential customers and develop a marketing strategy that maximized retention, net profit, and minimized the acquisition and re-marketing costs. This helped them achieve a higher retention rate and build long-term relationships with customers. The customer lifetime value prediction study offered by Quantzig helped the client optimize interactions and conversations to drive repeat purchases, customer referrals, and reduce support costs. These customer lifetime value analytics solutions also offered real-time and actionable insights into customers based on future cash flows, which helped the client efficiently distinguish customers in terms of profitability.
The Customer Lifetime Value Analysis Business Impact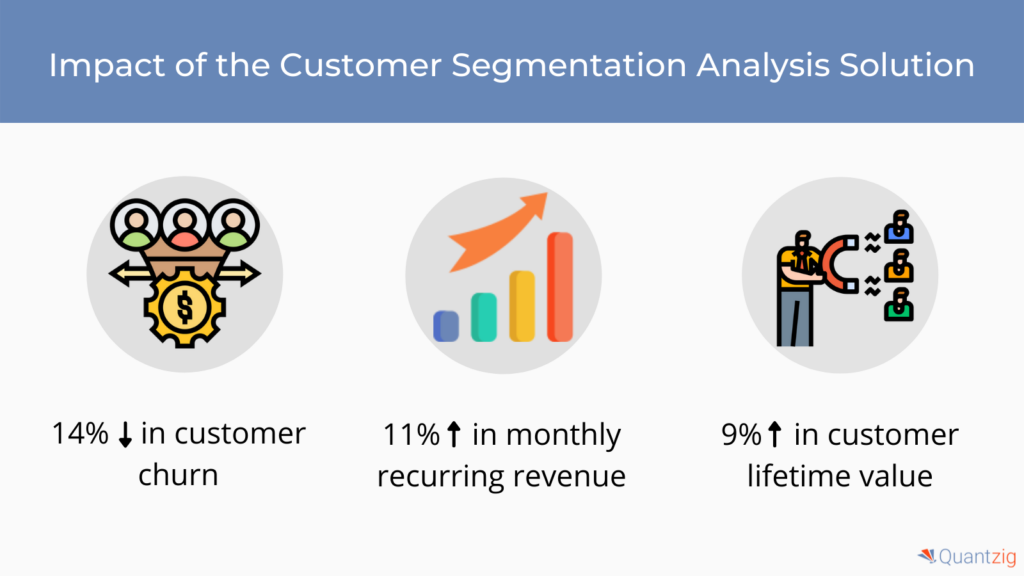 The impact of customer lifetime value analysis on the client's business over a period of six months:
14% reduction in customer churn
11% increase in monthly recurring revenue
9% increase in customer lifetime value