Highlights of the Customer Segmentation Analysis Case Study
| | |
| --- | --- |
| Particulars | Description |
| Client | A global warehouse logistics solution provider |
| Business Challenge | To identify global, vertical, and horizontal customer segments |
| Reduction in customer churn | 8% |
| Increase in monthly recurring revenue | 11% |
| Increase in customer engagement | 16% |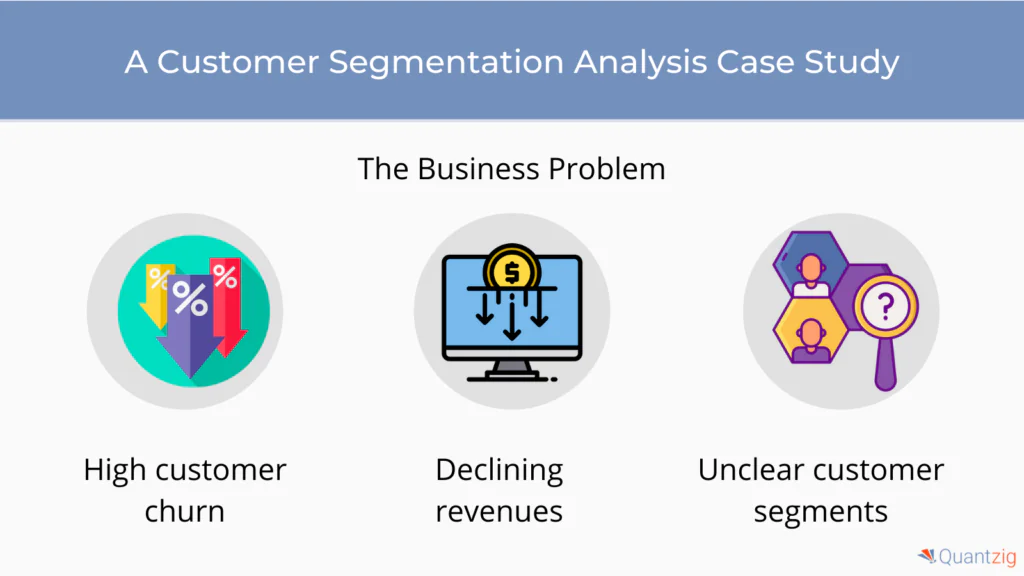 Business Benefits of Customer Segmentation Analysis
As with any other business initiative, the end goal of 'Customer Segmentation' will ultimately depend on an organization's objectives, market conditions, and a myriad of other such factors. While a majority of market players possess the market knowledge to anticipate the profitable customer groups, market leaders are aware that scaling a business is best not left to instinct or guesswork. That's why in a customer segmentation analysis engagement, it is necessary to devise customer segment hypotheses and variables by validating them with a well-defined analytical approach.
However, if done right, the business benefits are innumerable, and it will tangibly impact your business operations by:
Enabling you to pursue higher percentage opportunities
Improving your product/service portfolio
Focusing your marketing message
With the rise in digital transactions and changes in customer behaviors, businesses have a great opportunity to capture, analyze, and leverage data for better decision-making. However, capturing a complete view of customers seems to be daunting when data has to be integrated from several online and offline channels. Today, customer segmentation plays a key role in targeted marketing, lead generation, and conversion, which is one of the main reason that is compelling businesses to implement a customer segmentation framework. In this case, the technology company was facing a decline in the sales volume of its flagship wearable devices, which accounted for over $2 million of its overall annual sales revenue. It recognized that this area of their business was underperforming. But, to address these challenges and performance issues they required in-depth customer insights, which required them to implement robust customer segmentation models.
A compelling opportunity to use existing enterprise data to answer key strategic questions about its customers, products, geography, and sales channels is what made them approach Quantzig. The client wanted to leverage customer segmentation and data visualization to predict customer behaviors and effectively engage them well in advance for improving sales.
The rising skepticism over the ever-escalating prices on pharmaceutical products is compelling organizations to innovate by increasing their investments in R&D. As people are gaining more access to healthcare, prominent businesses are planning to manage healthcare funding and tender effective measures to narrow the price gaps between local and international brands. Along with urbanization, the rise of the aging population, changing lifestyles, and increasing incidences of chronic diseases will drive the growth of the pharmaceutical product space.
The client wanted to stay ahead of the competitors and identify new products to meet customer expectations. The client wanted to segment their customers based on their needs, behaviors, and demographics. Moreover, through an effective customer segmentation engagement, the supplier of the product wanted to develop value-based segmentation to understand the revenue they generate. The primary concern of the client was to create and communicate targeted marketing messages to resonate with a specific group of customers.
Customer Segmentation Models
Personalized marketing interactions are those that resonate with the end-users considering their individual preferences and requirements. But without the implementation of appropriate customer segmentation models, nothing can be customized. Customer segmentation models are generally based on the following four factors – geographic, behavioral, psychographic, and demographics. However, the way each category is utilized to build segments that propel the customer retention strategy adopted by a firm may be a key differentiator. Here are a few examples of customer segmentation models that are built around the key factors mentioned above:
Customer segmentation based on touchpoint engagement
Customer segmentation based on buying patterns
Customer segmentation based on customer goals
Client Profile
The client is a leading US-based warehouse logistics solution provider. The client is a well-known warehouse logistics and distribution company that specializes in handling import and export cargo.
After attending one of our webinars, the clients connected with one of our experts to learn what they can achieve with a superior customer segmentation analysis.
Revolutionary Solutions for the Client
The efficiency of warehouse logistics services has become a key differentiator between businesses in the market space. However, significant challenges exist relative to the development of warehouse logistics services for different customer segments. They include factors such as longer lead times, diversity in the regulations across borders, and the dynamic nature of transportation costs; all of which contribute to the difficulty in handling such services worldwide.
Moreover, as a service offering, the warehouse logistics solutions are characterized by extensive customizations, intensive customer contact, and dependence on cues from customer segments for enhancing service efficiency. Owing to such factors, the client wanted to leverage customer segmentation analysis and identify the global, vertical, and horizontal customer segments.
To learn more about the value of customer segmentation and how it can transform warehouse logistics firms, request a FREE proposal.
Quantzig worked with the client to determine the specific challenges that they wished to address. Once this analysis was complete, we worked with them to source the relevant data, which came from disparate data sources. The solutions offered were designed to identify key drivers for unique customer segments and key product attributes. This helped the client to develop new products and promote existing products to trade-up low-tier consumers. By leveraging customer analytics businesses are revolutionizing the way they operate. We have created entirely new methods for engaging customers—illustrating the disruptive power unleashed by comprehensive customer segmentation models.
To address the challenges faced by the client the analytics experts at Quantzig adopted a comprehensive approach which consisted of the following three phases:
Phase 1
In the initial phase of this customer segmentation engagement, we built a consolidated data visualization platform and leveraged the use of analytical dashboards for effective customer segmentation analysis and decision-making.
Phase 2
Phase two of the customer segmentation process revolved around the integration of disparate sources of structured and unstructured business information, including customer data obtained from product billing information, campaign data, and promotions, as well as net promoter scores (NPS), panel surveys, and competitor research data.
Phase 3
Using data visualization techniques we empowered the client to forecast performance at granular levels and assess risk factors to strategic goals. The use of robust customer segmentation models further improved their ability to mitigate risks and achieve desired results.
Impact Analysis of Customer Segmentation Analysis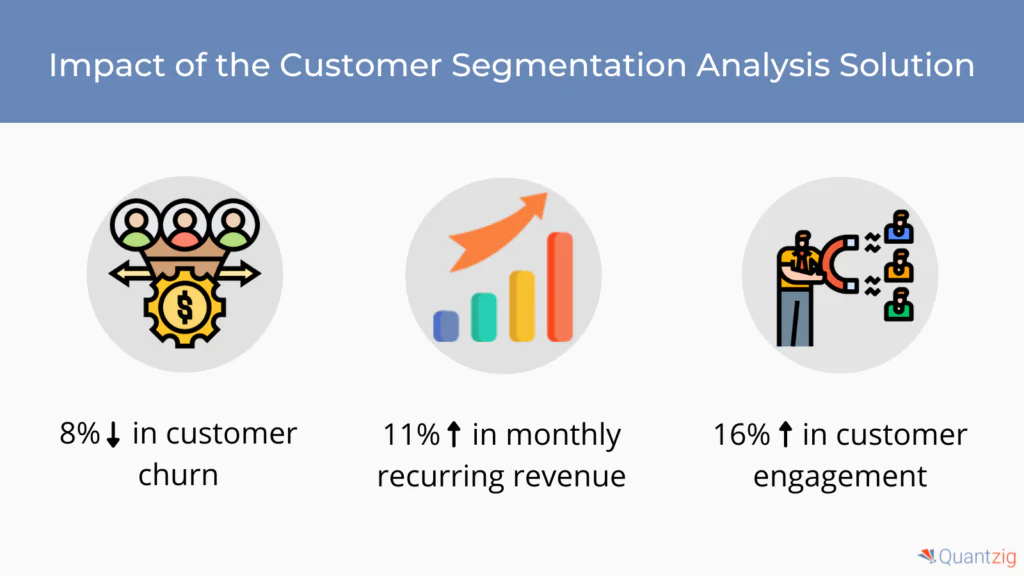 Quantzig's customer analytics experts worked as an extension of the warehouse logistics firm to devise suitable models that helped them enhance revenue by grouping customers into different segments – a few of which transcended borders. The adopted customer segmentation models helped them develop a well-aligned business plan to deliver sustained growth. Quantzig's customer segmentation analysis also empowered the client to attract and win over global customers in search of solutions that integrate different logistic solutions.
Identification of key brand-drivers across markets revealed opportunities for global campaigns and product innovation, along with market-specific customization needed in communication strategies. This customer segmentation engagement was completed in a short span of time, starting with conceptualization and planning phases, to customer segmentation strategy development, and the rollout of the new dashboards to track customer behavior.
Based on the key drivers that emerged for each of the customer segments, our experts identified the winning product proposition for the market and developed a customer segmentation framework which helped them trade-up the low-tier customers towards high-tier products and increase revenue for the business.
The customer segmentation solution offered by Quantzig helped the pharmaceutical products supplier to identify ways to improve product and service opportunities and establish a better relationship with the customers. The solution also sought ways for the client to differentiate customers based on their economic value. Moreover, the client was able to predict and anticipate the most profitable customers and allocate their capital resources efficiently. The client was able to differentiate their products with that of the competitors' offerings and improve the overall market share.
The business impact of the customer segmentation analysis solution is:
8% reduction in customer churn
11% increase in monthly recurring revenue
16% increase in customer engagement via marketing activities
The customer segmentation framework offered a 'one source of truth' that resulted in a 50% reduction in cost
Analyzed the key drivers of customer satisfaction
Devised suitable strategies to counter the decline in sales
---
See how we can help you bridge the gap between analytics insights and business logic to witness the impact of our solutions.
---