What You'll Find in this Case Study:
Highlights of the Case Study
Game-changing Solutions for Specialty Chemical Industry
Optimized Customer Experience Challenges Faced by the Client
Data Analytics Approach Adopted by Quantzig
Impact Analysis of the Solutions
Key Outcomes
Broad Perspective on Optimized Customer Experience in the Chemical Industry
Key-Take Aways
Highlights of the Case Study:
| | |
| --- | --- |
| Particulars | Description |
| Client | A leading specialty chemicals manufacturer that wanted to achieve a better understanding of client needs so as to increase customer satisfaction. |
| Business Challenge | To understand customer needs and deliver products catered to those requirements. |
| Impact | Helped in aligning products with customer expectations, enabled customized product offerings, and boosted customer satisfaction. |
Game-changing Solutions for Specialty Chemical Industry:
Owing to the rapid pace of technological advancements and the ongoing digital shift related to big data in chemical industry, the chemical industry has been witnessing a phase of tremendous disruption, especially after the COVID-19 pandemic hit. To thrive in this complex business scenario, players in the chemicals industry need specific analytics tools at their disposal to keep a tab on all aspects of the business, right from manufacturing operations to customer demand and end-use industries. Chemical plants generate a large volume of data but discard most of it. Managers need to leverage this data to identify ways to optimize the yield, reduce operational costs and lessen downtime. These are potentially easy wins that can be attained using basic analytics and can reveal immense growth opportunities.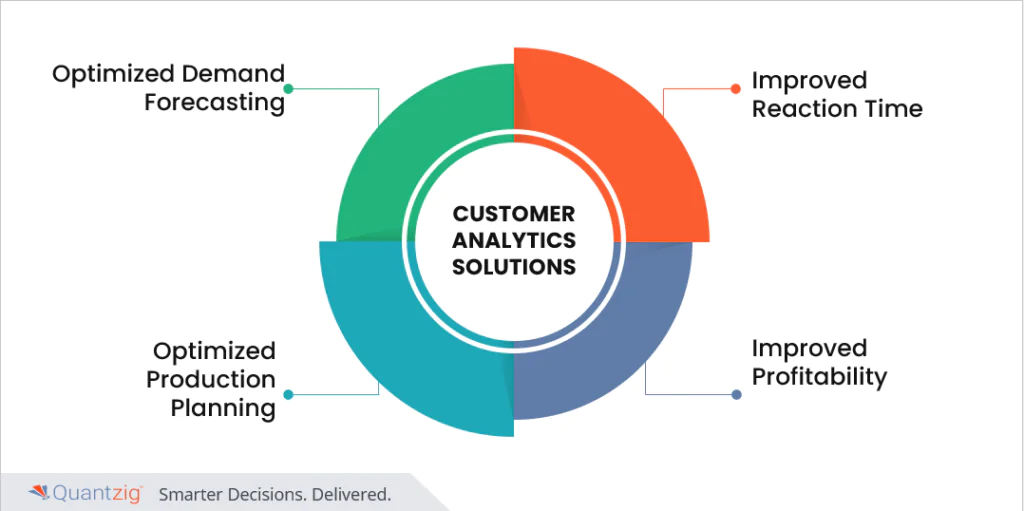 Optimized Customer Experience Challenges Faced by the Client:
An organization's growth is dependent entirely on the satisfaction of its key customers, which in turn is dependent on many economic, political, cultural, and legal factors. It can be challenging to accurately identify and understand these factors without a thorough understanding of the picture painted by numbers. This chemical manufacturer did not clearly understand its customers' needs and what they valued the most. They often overestimated or underestimated the importance of certain attribute-related products and services compared to what their customer wants/needs. Moreover, there was a gap between this chemical manufacturer's offerings and the preferences/needs of its customers, which consequently resulted in customer dissatisfaction. Quantzig provided an end-to-end analytics solution that helped this chemical manufacturer adopt a customer-centric approach in this hyper-competitive business world.
This enabled our specialty-chemical company to rely on advanced analytics to reset prices for hundreds of thousands of product-customer combinations in seven core countries, based on willingness to pay and individual risk. By bringing together capability building, analytics, and change management, the company was able to achieve significantly higher price increases as compared to previous years.
Data Analytics Approach:
Quantzig's customer analytics team helped this chemical manufacturer better understand its customers' needs by grouping their customers into different clusters through the role of big data in chemical industry. This clustering was done by analyzing the patterns in the data. Quantzig used raw data to form clusters based on common factors among various data points. Meanwhile, Quantzig also checked on intra-segment homogeneity and inter-segment heterogeneity. With this approach, Quantzig was able to label their buyers' preferences as mentioned below:
The customer analytics solutions provided by Quantzig helped this specialty chemical manufacturer to understand the essential product and service attributes that were needed and valued most by their customers/buyers. This reduced the gap between what the chemical manufacturer offered and what was needed most by its customers and helped the company provide customized services to their customers, which, in turn, resulted in increased customer satisfaction.
Impact Analysis of Data Analytics Solution:
With access to macro-variables along with transactional data and weather data, our engagement helped our partner get an accurate forecast for the next 3, 5, as well as 10 years. This helped our partner in:
Budget planning – Set their budget for the next one year, which they could utilize for their marketing, promotions CAPEX
Inventory/demand planning – Set targets for the demand planner as per CAGR and YoY
Market evolution – CAGR predicts how the overall industry is spanning, which helped our partner to evaluate themselves in terms of market share
Important drivers contributing their forecast
Scalable models that can be replicated for multiple geographies
Key Outcomes:
This exercise helped the partner gain a better understanding of the overall industry and modify its business operations to cater to the needs and growth of the industry at large. It also helped them realize that utilizing technology is the way forward to understanding market dynamics.
Over the next couple of years, this specialty chemical manufacturer plans to expand this framework across geographies while adding a more rigid feature selection mechanism and complex models like Deep ML, automation, etc.
Broad Perspective on Optimized Customer Experience in Chemical Industry:
The diverse customer base in the chemical industry helps to insulate this industry from volatility in consumer demand. However, what is required is for companies to augment traditional methods of forecasting, market evaluation, and demand with the use of big data in chemical industry. The information captured through data analytics can be used to optimize plant operations and efficiently cater to the needs of the customers providing what they need and when they may need it, without delay and wasteful inventory. The chemical industry is an essential supplier to plenty of other industries, and hence, the way this industry can capture growth opportunities will set the pace for its clients to grow.
Key Take Aways:
In partnership with our Quantzig team, our client was able to augment its operations, thus achieving operational and functional excellence.
Second, it was able to gauge demand more effectively, which has a direct impact on the industry's value chains.
Our intervention helped the chemical manufacturer to initiate changes in its business model, which helped it to create value for its customers.
This also enabled it to identify ways to adjust operations that increased the plant's output by 15% without making any capital investments and generated cost savings by cutting the plant's high-pressure steam use.
In addition, the improvement in customer satisfaction had resulted in upturn in revenue of this chemical manufacturer by over 9%.