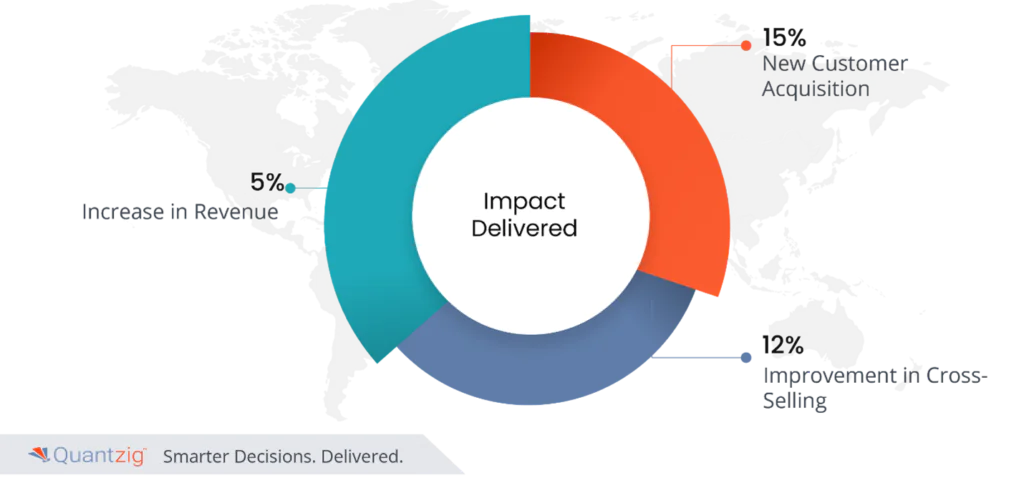 Summary:
Client: Our recent client was a nicotine product manufacturer, based in India, who wanted to improve their customer engagement and retention rates by personalizing their customer offers.
Challenge: Despite having a strong presence in the marketplace, the client struggled in obtaining comprehensive insights into their customers' preferences.
The client was unable to identify the most profitable customer segments and personalize offers based on their preferences.  
Solution: Quantzig collected data from various hyperlocal networks and then aggregated it with a diverse range of data sets, including point-of-sale data, marketing data, sales data, social media data, and other relevant data sources. Using machine learning algorithms, our team used dynamic targeting techniques and segmented customers based on their preferences and buying behavior, allowing the nicotine manufacturer to identify the most profitable customer segments and personalized offers based on their preferences.
Impact Delivered:
5% increase in revenue
15% new customer acquisition
12% improvement in cross-selling
Industry overview:
Nicotine is a highly addictive chemical compound found in Tobacco, which is used in various forms, such as cigarettes, chewing tobacco, and vaping. According to Quantzig experts, the global nicotine market is expected to reach a valuation of over USD 656.1 million by 2028, with a CAGR of 9.1% from 2022 to 2028.
The growth of the nicotine industry is primarily driven by factors such as the rising prevalence of smoking, and tobacco consumption, increasing awareness about the health hazards associated with tobacco use, and the growing popularity of e-cigarettes and other forms of nicotine delivery systems.
The tobacco industry, which is a major source of nicotine, is facing increasing regulatory scrutiny and public backlash due to health concerns associated with smoking. In response to the changing regulatory landscape, the nicotine industry is also witnessing a shift towards nicotine delivery systems such as e-cigarettes, and nicotine patches.
About the client:
The nicotine product manufacturer, based in India, aimed to enhance their marketing strategy by personalizing their offers for both their new and existing customers. They recognized the importance of targeting their customers in a more targeted and contextualized manner to improve their sales and build brand loyalty. However, one of the primary obstacles that they faced in achieving this goal was the difficulty in obtaining timely and accurate sales data from their extensive network of hyperlocal stores.
Despite having a widespread presence with numerical local outlets, the manufacturer struggled to obtain comprehensive insights into their customers' buying behaviors and preferences. This lack of visibility into customers' purchasing patterns posed a significant challenge in devising effective marketing strategies that would resonate with their targeted audience. As a result, the manufacturer was unable to provide personalized offers that would cater to their customer's individual needs.
To address this challenge, the manufacturer needed to develop a robust data collection and analysis framework that would enable them to gather and interpret sales data in real-time from their network of hyperlocal stores. With this enhanced visibility, the nicotine manufacturer could then tailor their marketing strategies and offers to individual customers based on their preferences and purchasing history, thus improving customer engagement and driving sales growth.
Challenges faced:
The India-based nicotine product manufacturer had previously attempted to leverage advanced data analytics to improve their marketing strategy. However, despite their efforts, the client was not satisfied with the results as they didn't see any significant improvement in sales. Recognizing the need for a more comprehensive approach, the client aimed to adopt a more data-driven approach to their marketing efforts.
To achieve their goals, the client identified several key areas to focus on. Firstly, they aimed to better understand the customer journey by analyzing customer behavior across various touchpoints, such as the manufacturer's website, social media platforms, and hyperlocal stores. This would enable the manufacturer to gain a more in-depth understanding of their customer's preferences, behavior, and pain points, allowing them to tailor their marketing efforts accordingly.
Secondly, the client wanted to develop targeted offers that would be more likely to resonate with customers depending on the specific stage of the customer journey they were in. By analyzing customer behavior and preferences, the manufacturer could create more personalized and relevant offers, improving customer engagement and driving sales growth.
Lastly, the client aimed to increase their revenues from existing customers by identifying opportunities for cross-selling and upselling. They recognized the importance of customer retention in driving long-term growth and aimed to develop targeted loyalty programs that would incentivize customers to remain loyal to the brand and increase their lifetime value.
Solutions
Using the image provided in the chat, we leveraged actionable customer segments and delved into the customer journey within each segment. Our analysis focused on studying the key drivers influencing their behavior, particularly their experience, trust, and value they derived from the image. By identifying the most relevant customer segments, we were able to tailor our targeting efforts and craft compelling messages that resonated with their specific needs and preferences.
Additionally, we determined the appropriate value proportion to communicate, ensuring that our messaging effectively conveyed the benefits and value the customers sought. Through the framework we developed, we achieved precision in targeting the right audience, delivering the right message, and emphasizing the right value proposition to maximize engagement and drive positive customer responses.
Quantzig, a leading provider of advanced analytics and market research solutions, engaged in extensive market research activities to collect data from various hyperlocal networks. The collected data was aggregated with a diverse range of data sets, including point-of-sale data, marketing data, sales data, social media data, and other relevant data sources. The purpose of this extensive data collection was to gain valuable insights into the market landscape and consumer behavior and to enable clients to make informed decisions and devise effective marketing strategies.
To understand the existing customers' behavior and characteristics, Quantzig employed a range of sophisticated statistical techniques, including K-means, C-means, and multiple other methods, to segment customers into multiple groups. This enabled them to gain a more comprehensive understanding of the different customer segments and tailor their strategies to meet the unique needs of each group. Additionally, we conducted a likelihood analysis to help clients devise effective product bundling and discounting strategies, which in turn helped to drive sales and revenue growth.
For new customers, Quantzig developed an advanced autonomous prediction engine that combined the results of separate machine learning algorithms. This cutting-edge engine was able to classify new customers into existing customer segments with remarkable accuracy, enabling clients to better target and engage with these customers. Furthermore, we created a sophisticated mechanism to continually recalibrate the propensity scores of new customers as and when purchases happened, ensuring that the latest and most accurate data was always being used to inform decision-making.