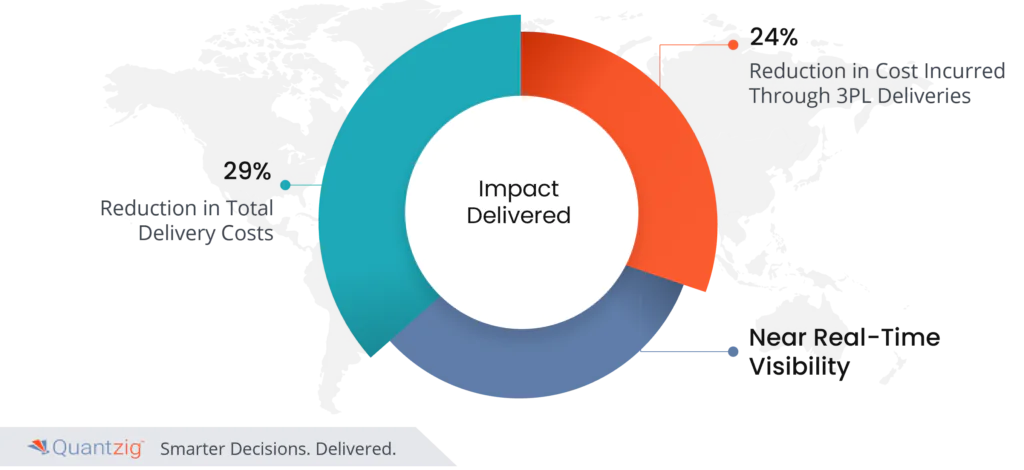 Summary
Client: This case study examines how a leading material spirit manufacturer successfully optimized their distribution planning to reduce costs while maintaining efficient and timely delivery of their products.
Challenges: The spirit manufacturer faced challenges related to inefficient distribution planning and rising transportation costs. They struggled with suboptimal route planning, lack of visibility into their distribution network, and limited resources to analyze and optimize their operations effectively.
Solutions: By leveraging advanced analytics, Quantzig implemented distribution cost optimization strategies to optimize production schedules and align distribution plans accordingly. We optimized delivery routes and identified load consolidation opportunities that helped the client to minimize transportation costs and reduce the number of trips required. A real-time tracking system implemented by our team provided dynamic targeting and end-to-end visibility into the distribution process. It enabled the manufacturer to monitor shipments, identify bottlenecks, and proactively address any issues, ensuring timely and accurate deliveries.
Impact Delivered
All of the above initiatives resulted in:
29% reduction in spike order costs
24% reduction in cost incurred through 3PL deliveries
Near real-time visibility
Industry Overview
The European spirits manufacturing industry combines tradition, innovation, and a commitment to quality, contributing significantly to the economy and cultural heritage of Europe.
The industry is highly regulated, with strict quality standards, and regulations in place to ensure consumer safety and product integrity. Sustainability and environmental concerns are gaining importance, leading to the implementation of eco-friendly practices in distilleries.
About the Client
Our recent client was a European spirits manufacturer with a staggering revenue of approximately $1 Billion. To ensure efficient distribution, the client employed a hybrid strategy, utilizing both their fleet and trusted 3PL vendors.
However, the client's existing allocation practice, based on partial cost calculations, resulted in costly leaks at various stages of the process. These cost leakages impacted the client's profitability and hindered their ability to maximize revenue potential.
Moreover, the lack of accurate cost visibility hindered the client's ability to make informed decisions regarding resource allocation and dynamic targeting. They were unable to ascertain the most cost-effective distribution channels, the optimal mix of utilizing their fleet versus engaging 3PL vendors, and the potential for consolidating shipments or optimizing routes to minimize costs. Without a comprehensive understanding of the true expenses involved, the client's distribution strategy was vulnerable to financial pitfalls.
Challenges
The client utilized both an in-house delivery fleet and contracted external delivery services, adapting their approach based on demand fluctuations. However, their demand management system and capacity planning procedures lacked a forecast or cancellation system, which posed significant challenges. Without accurate demand forecasting, the client struggled to anticipate future requirements and allocate resources efficiently. This deficiency led to suboptimal order consolidation and palleting, resulting in excess costs during demand spikes. Inefficient consolidation processes led to underutilized space and increased transportation requirements, further driving up expenses.
Additionally, the absence of a cancellation system hampered the client's ability to adjust delivery schedules promptly when demand changes, resulting in unnecessary deliveries and associated costs. These challenges hindered the client's ability to optimize their logistics operations, leading to financial losses and reduced overall efficiency.
In the realm of supply planning, the client's supply chain team relied on a simplistic and outdated approach to calculate the cost of their fleet. Their approach was rooted in the analysis of past delivery data, but little did they know the grave consequences that awaited them. Their calculations failed to capture the dynamic nature of their operations, leaving them blind to the ever-changing landscape of costs that could make or break their profitability. The simplistic approach taken by the supply planning team neglected the need for real-time data, predictive analysis, and comprehensive insights into the various cost drivers involved. Consequently, their allocation decisions were based on incomplete information, resulting in inefficient resource allocation, a lack of dynamic targeting, and missed opportunities for optimization. 
Within the client's supply chain strategy, a crucial element was overlooked- the calculation of order consolidation and staggering as part of their comparison strategy. By neglecting this aspect, the client's team missed out on significant cost-saving opportunities that could have propelled their efficiency and profitability to new heights. Their failure to consider order consolidation and staggering meant that they were unable to unlock the full potential of their fleet resources and were left vulnerable to inefficiencies and unnecessary expenses.
The client needed a solution that can help them effectively compare and identify the best approach for delivery. To meet the client's requirements, a comprehensive solution was required that can identify patterns and trends in the data, enabling the client to make data-driven decisions on the best delivery approach and focus on dynamic targeting.
Solutions
To address the challenges faced, we developed a comprehensive demand management and fleet utilization system. This system incorporated order forecasts, allowing us to accurately anticipate demands and allocate resources accordingly. By identifying delivery plans, we optimized their operations and minimized excess capacity utilization. Moreover, the system predicted cancellations, enabling us to make proactive adjustments and prevented overbooking of resources or unnecessarily blocking third-party capacity, which can result in higher costs.
By implementing a dynamic order management system, we enhanced order consolidation and palleting efficiencies. This system analyzed the orders received and intelligently consolidated them based on factors such as proximity and delivery routes. By grouping orders with similar destinations or along the same route, we minimized the distance traveled, reduced transportation costs, and optimized resource utilization. Additionally, this system ensured a balanced distribution of orders among delivery routes, preventing overloading on certain routes while others remained underutilized. By leveraging a dynamic reverse logistics system, the company promptly responded to incorrect deliveries and efficiently managed the return process
We developed a framework to calculate the total cost of shipment for self-deliveries. This framework provided the client with a comprehensive understanding of the expenses associated with managing their delivery operations. It enabled the business to perform cost-benefit analyses, comparing the expenses associated with self-deliveries against alternative delivery models such as outsourcing or a hybrid approach. As a result, the client was able to make more data-driven decisions based on accurate and detailed cost assessments, optimize their delivery strategies, focus on dynamic targeting, and enhance overall operational efficiency. 
Further, leveraging the rich data obtained from their delivery management system, Quantzig harnessed the power of advanced analytics to revolutionize delivery prioritization. Through in-depth analysis, Quantzig identified key patterns and trends in the delivery data, enabling businesses to prioritize their deliveries more effectively. By uncovering order consolidation opportunities, the framework facilitated the optimization of delivery routes, reducing redundant trips, and maximizing resource utilization. With the help of order consolidation opportunities, the client was able to consolidate multiple orders into a single shipment, reducing transportation costs and minimizing environmental impact.
In response to the need for swift decision-making between using its fleet or engaging a third-party logistics (3PL) provider for delivery operations, Quantzig developed a cutting-edge comparative platform. This platform enabled the client to evaluate and compare the advantages, disadvantages, and cost implications of using their fleet versus outsourcing to a 3PL provider. By leveraging real-time data and advanced analytics, the platform delivered actionable insights, empowering businesses to make informed decisions regarding the most suitable delivery approach. The platform incorporated key metrics such as cost per delivery, delivery timeframes, service level agreements, and customer satisfaction ratings to provide a comprehensive evaluation of each option.
Quantzig developed advanced order dicing algorithms specifically tailored for self-deliveries, revolutionizing the way businesses optimize their order delivery costs. The sophisticated algorithms analyze various factors, including order sizes, delivery distances, and time constraints, to identify the most efficient and cost-effective way to fulfill orders. By breaking down orders into smaller units based on specific criteria, the algorithms determine the optimal combination of deliveries that minimizes transportation costs while meeting delivery deadlines.