In the dynamic landscape of the food and beverage industry, staying ahead requires more than culinary excellence – it demands astute business strategies. This case study delves into the transformative journey of a Food and Beverage (F&B) client who harnessed the power of sales forecasting to elevate not just their operational efficiency but, more crucially, their bottom line. Navigating the intricate nuances of consumer preferences, market trends, and external variables, the F&B client sought a solution that could offer foresight into their sales trajectory. The implementation of forecasting food and beverage sales solution emerged as the catalyst for increased margins and strategic prowess.
What You'll Find in this Case Study
Highlights of the Case Study
Game-changing Sales Forecasting Solutions for Food & Beverage Retailing
Sales Forecasting Challenges Faced by the Client
Sales Analytics Approach- Forecasting Food & Beverage Sales
Sales Forecasting Steps Taken by Quantzig
Impact Analysis of Sales Forecasting Solution:
Key Outcomes
Broad Perspective on Sales Analytics in the F&B Industry:
Key Take-Aways of Effective Sales Forecasting
Highlights of the Case Study:
| | |
| --- | --- |
| Particulars | Description |
| Client | A leading manufacturer from the food and beverage industry was facing issues with revenue generation which in turn was impacting its margins. |
| Business Challenge | To reign in overspending on inventory, streamline production with the help of effective sales forecasting. |
| Impact | Enabled to effectively forecast future sales activities which in turn led to efficient demand and capacity planning. |
Game-changing Sales Forecasting Solutions for Food & Beverage Retailing
It is a well-accepted and frequently proven fact that food and beverage manufacturers can significantly improve their bottom-lines with the help of analytics. The use of forecasting food and beverage sales can help derive insights that can lead to informed business decisions leading to an improvement in sales and thus profit margins of a company. The food and beverage industry generates a large volume of data which can be used to help business managers estimate the number of products their consumers would consume in the forthcoming period which will lead to better inventory management and optimized production processes. These are potentially easy wins that can be attained using sales analytics and can lead to phenomenal growth. 
Sales Forecasting Challenges Faced by the Client
Sales forecasting is essential for companies operating in the F&B industry. Identifying a scientific methodology to accurately predict future food and beverage sales volumes is a very challenging task yet it is necessary for Food and Beverage manufacturers. It is only when manufacturers have a steady grasp over sales projections that they can put a strategy in place which will set the pace for all the different aspects of their business leading to higher revenue and improved bottom-lines. A clear understanding of future sales will determine important decisions about financing, hiring, product research and development, and production planning.
Our client, a leading manufacturer in the F&B industry was facing certain problems with respect to accurately forecasting food and beverage sales volumes because of the complexity, volatility as well as dynamic nature of the business. The client was facing challenges related to overspending on the inventory, labor, production process, etc. This resulted in poor inventory management and sub-optimal production. This was hampering the revenue growth of the client which in turn led to shrinking margins. To tackle these challenges, our client approached Quantzig to optimize their production planning process as well as to implement effective sales forecasting.
After facing the revenue growth challenges, the client decided to contact us to understand how analytics can help them tackle this challenge.
Sales Analytics Approach- Forecasting Food & Beverage Sales
The predictive sales analytics solution from Quantzig helped the client with a better understanding of the market. It also helped to identify upcoming risks and design appropriate risk mitigation strategies. Quantzig developed a robust predictive sales forecasting model through aggregation as well as statistical analysis of present and historic sales data. Quantzig experts also made use of the clients' internal data such as marketing performance, trade promotions, and pricing strategies, as well as their external data such as leads, customers, and competitors to recognize the correct triggers that move customers from one step in the sales process to the next. Quantzig's demand analytics solutions were then used to help the client estimate the number of products that their consumers would consume over a period, which could then be used for effective inventory and production management.
Sales Forecasting Steps Taken by Quantzig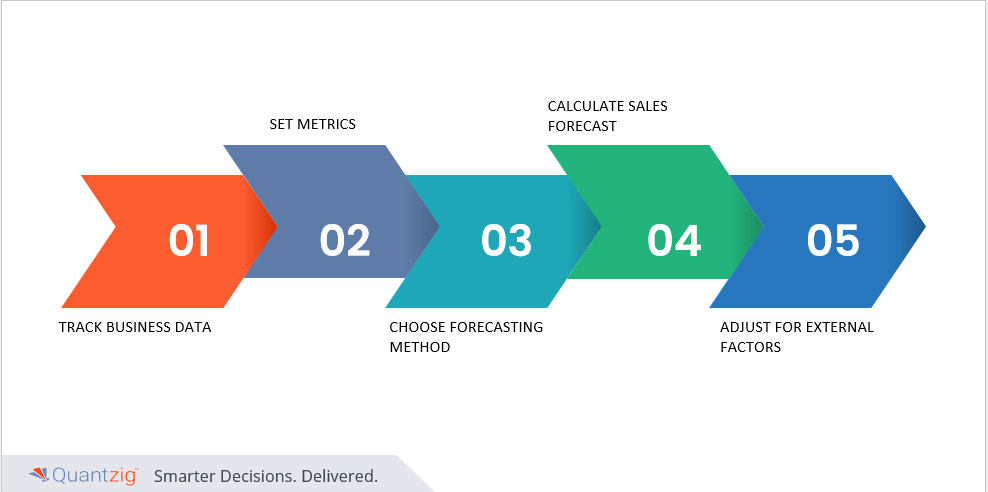 The sales analytics solutions provided by Quantzig helped this food and beverage manufacturer to improve sales force effectiveness, reduce costs, and mitigate risks to outperform competitors. Our tailor-made solutions cater to the organization's goals of forecasting food and beverage sales. With the use of artificial intelligence, machine learning, and advanced analytical tools we offered the best, data-backed insights which helped the company to achieve its short and long-term goals. 
Impact Analysis of Sales Forecasting Solution:
The implementation of a robust sales forecasting solution brought about transformative changes for our partner, offering profound insights and strategic advantages.
1. Budget Planning Excellence
Access to comprehensive macro-variables, coupled with transactional and weather data, empowered our partner to set precise budgets for the upcoming years. This one-year outlook became a cornerstone for allocating resources effectively, spanning marketing initiatives, promotional activities, and capital expenditures (CAPEX). The ability to plan budgets accurately enhanced the overall financial strategy.
2. Precision in Inventory/Demand Planning
One of the pivotal outcomes of the sales forecasting solution was the precision it brought to inventory and demand planning. Setting targets for demand planners based on Compound Annual Growth Rate (CAGR) and Year-over-Year (YoY) projections became more nuanced and accurate. This not only streamlined operational efficiency but also ensured optimal inventory levels, preventing understock or overstock scenarios.
3. Strategic Market Evolution Assessment
The CAGR insights derived from the forecasting solution extended beyond internal operations to offer a holistic view of the market evolution. Our partner could evaluate their positioning in the industry concerning market share. This strategic perspective allowed them to align their growth plans with the overarching industry trends, fostering a proactive approach to market dynamics.
4. Unveiling Important Forecast Drivers
Understanding the driving forces behind the forecasts became a key advantage for our partner. The solution unraveled the intricate web of variables influencing sales projections, providing actionable insights into consumer behavior, market trends, and external factors. Armed with this knowledge, our partner could make informed decisions and adapt strategies based on the identified forecast drivers.
5. Scalability Across Geographies
The success of the forecasting models was not confined to a singular geography. The scalability of these models allowed our partner to replicate the success across multiple regions. This standardized approach ensured consistency in forecasting accuracy, irrespective of geographical nuances, contributing to a cohesive and synchronized global strategy.
In essence, the impact analysis of the f & b forecasting underscores its role as a transformative tool. From precise budget planning and demand forecasting to strategic market evaluation, the solution has equipped our partner with a comprehensive toolkit for navigating the intricacies of the business landscape. The scalability feature further extends the benefits to diverse geographic landscapes, cementing the solution's position as a catalyst for strategic growth.
Key Outcomes:
The predictive sales analytics solutions provided by Quantzig enabled the client to forecast their future sales activities by identifying potential customers, and by making demand as well as capacity planning more efficient. Also, Quantzig helped the client analyze their previous data to derive an estimate of upcoming demand that was crucial for appraising their future sales. This process also enabled the client to identify gaps in their existing system, monitor missed opportunities, and formulate efficient ways to optimize their current sales process.
Broad Perspective on Sales Analytics in the F&B Industry:
The food and beverage industry is a highly competitive industry which makes it absolutely essential for key players to continuously explore ways to stay ahead of the competition. However, this is an enormous task as the industry is beset with a variety of challenges in the form of disparate data across various facilities, varied product lines and multiple stakeholders. Understanding the business dynamics and creating a winning strategy is possible by following a systematic approach.
The information captured through sales analytics can be used to optimize plant operations and efficiently cater to the demands of the customers by providing what they need and when they may need it, without missed opportunities and wasteful inventory.
Key Take-Aways of Effective Sales Forecasting
Improved supply chain management
Improved inventory projections and capacity planning
Mitigated risk and reduced unnecessary expenditures
Reduced customer acquisition cost by 10%
Reduced labor cost owing to efficient staff planning by 15%
Increased margins
Identified the key events and causal factors that impact sales
Improved decision making through structured scenario analysis
In the ever-evolving realm of F&B, the case study of our client stands as a testament to the profound impact of data-driven decision-making. By leveraging advanced sales forecasting, the client not only optimized their operational processes but also witnessed a tangible increase in profit margins. The strategic insights gained from accurate projections empowered the client to align their resources effectively, adapt to market dynamics, and foster a proactive approach to growth. As we conclude this case study, it echoes a fundamental truth – in the F&B industry, the marriage of culinary artistry with data-driven precision is the recipe for sustained success and increased profitability.