What You Can Expect from the Marketing Mix Modeling Case Study
Industry Overview
The Client
The Business Challenge
Marketing Mix Modeling Solutions Benefits
Marketing Mix Modeling Solutions Predictive Insights
Highlights of the Marketing Mix Modeling Case Study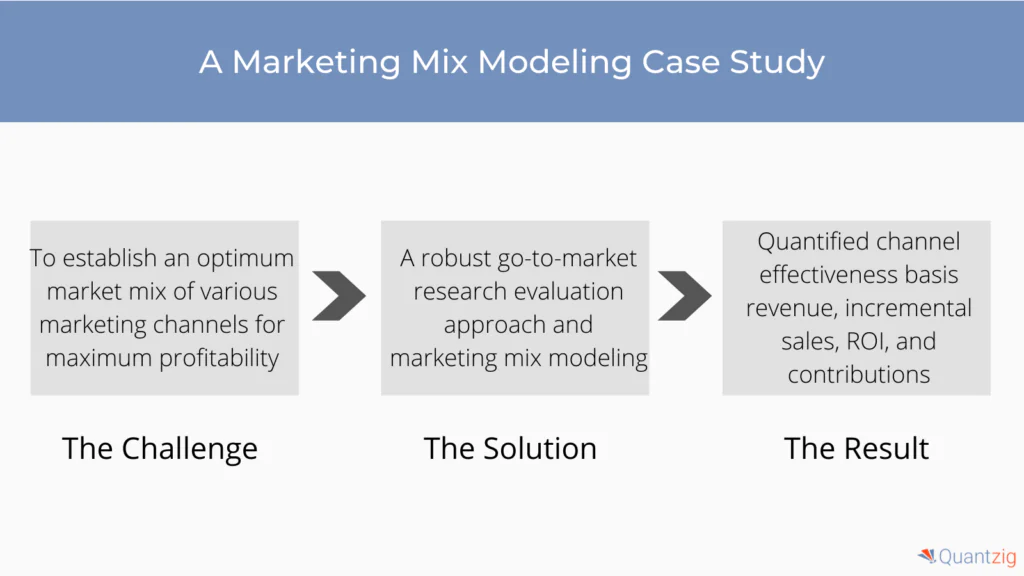 | | |
| --- | --- |
| Particulars | Description |
| Client | A leading electronics retailer |
| Business Challenge | To establish an optimum market mix of various marketing channels for maximum profitability |
| Benefits of Solution | Quantified effectiveness of marketing channels in terms of revenue, incremental sales, ROI, and contributions |
Industry Overview
Over the past few years, the pricing of products and services has been the area of concern for establishments, especially in the electronics retailer landscape. Today, with the increasing penetration of technology, the customers are more informed and are relying on online retailing to ease their experience. Additionally, establishments across the globe have started adopting marketing mix modeling studies to evaluate their impact on the top-line and bottom-line performances. With the help of marketing mix modeling solutions, electronics retailer companies can understand the impact of the major business drivers better and accordingly allocate the budgets to maximize profits and revenues. Marketing mix modeling also involves the robust analysis of multiple variables including marketing, sales, and operational activities.
Quantzig's marketing mix models help the electronics retailer client devise robust simulation models to optimize marketing plans. Quantzig's marketing mix models also assist clients to gain accurate and actionable insights to drive profits into marketing performance. Additionally, the client will be able to evaluate ROI at each level to reduce marketing spending.
The Client
A leading electronics retailer with several branches spread across the globe.
The Business Challenge
Like all other establishments in the retail landscape, the client wanted to establish an optimum market mix model. Additionally, the client wanted to understand the difficulties associated with marketing spending to stimulate ROI, incremental volumes, and revenues. This would help the client gain a superior competitive advantage over their competitors in the market space.
Marketing Mix Modeling Solutions Benefits
The client was able to quantify the effectiveness of marketing channels in terms of revenue, incremental sales, ROI, and contributions with the help of a robust go-to-market research evaluation approach. Also, with the help of Quantzig's marketing mix modeling solutions, the client optimized their marketing efforts and gained an increase in revenue and profit. The client leveraged the 360-degree approach to market effectiveness to enhance the decision-making process further and unlock the organization's potential.
Marketing Mix Modeling Solutions Predictive Insights
Measure the performances of various channels at specific time intervals with the presence of negative media publicity
Identified drivers of consumption and content preferences to tailor advertisements and recommendations
Measure the impact of customer experience and long-term sales
Compare ROI across different media types
Gain insights to drive profits into the marketing performance