What You'll Find in This NLP Sentiment Analysis Case Study
Engagement Summary
The Client
Business Challenge
The NLP Sentiment AnalysisSolution
The NLP Sentiment AnalysisBusiness Impact
Highlights of the NLP Sentiment Analysis Case Study
In response to the dynamic pharmaceutical landscape, a renowned pharmaceutical and biotechnology firm in the U.S. partnered with Quantzig to revolutionize their customer sentiment analysis. This collaboration aimed to address multifaceted challenges and enhance customer satisfaction through advanced Natural Language Processing (NLP) sentiment analysis.
Particulars
Description
Client
A leading pharmaceutical and biotechnology firm based out of US
Business Challenge
To capture customer sentiments accurately
Customer churn reduction during FY 19-20
57% reduction
Other Benefits
Trained and advanced chatbots
Adaptive customer service
Redefined digital marketing strategy
Efficient crisis management
Engagement Summary
With the advent of technology across all industries, business leaders and decision-makers are now revamping their approach to serve their consumers. The pharmaceutical industry is one of the industries trying to stay up to date with technological advancements and new approaches to reach customers. Enhancing customer experience and satisfaction is crucial for pharma companies. Natural Language Processing (NLP) sentiment analysis in such situations helps with data mining, identifying, and quantifying the strings of texts on social media or the web.
A pharmaceutical industry giant approached Quantzig with one such issue and wanted to leverage our expertise in NLP sentiment analysis in healthcare to reduce customer churn rates.
The Client
The client, headquartered in Boston, is a prominent name in the American pharmaceutical and biotechnology sector, specializing in generic drug manufacturing. Focused on treating cardiovascular diseases, arthritis, and various medical conditions, the client sought Quantzig's expertise to optimize their customer engagement strategies.
Request a free proposal to gain in-depth insights into our portfolio of NLP sentiment analysis solutions and learn how they can help you solve your business challenges and drive innovation, growth, and market excellence.
NLP Sentiment Analysis Challenge
This drug manufacturer was using social listening tools for social analysis but with the increased amount of data generated through social media, they were failing at capturing and analyzing the correct sentiment. They approached Quantzig to leverage its expertise in NLP sentiment analysis, and opinion mining and sentiment analysis to analyze their social media data. The key problems included-
Problem statement 1
Identify key emotional triggers – With Quantzig's opinion mining and sentiment analysis, this US generic drug manufacturer wanted to identify the messages and conversations that act as emotional triggers that may change customer behavior.
Problem statement 2
Enhance customer service – This US generic drug manufacturer was facing challenges with identifying the best approach for each segment of customers. With NLP sentiment analysis the client wanted to help their human agents to easily identify the best approach for adaptive customer service.
Problem statement 3
Crisis management – The client had recently made changes in their customer service strategy and their customers did not seem too happy with the new approach. Thus, with NLP sentiment analysis, opinion mining, and sentiment analysis, the client wanted to monitor their social media networks to mitigate brand damage.
In a bid to tackle these challenges, the client was already on the lookout for an effective NLC Sentiment Analytics solution provider, when one of their teams connected with our experts.
The NLP Sentiment Analysis Solution
By collaborating with Quantzig, the client was able to gain access to social media reactions and responses that allowed them to gain a better understanding of the actual interaction between customers and their products. This client was also running several digital marketing activities. NLP sentiment analysis combined with opinion mining and sentiment analysis helped the client refine their digital marketing communication strategy by providing better support and transparency through up-to-date information. Quantzig's excellent sentiment analysis and specially curated sentiment analysis of pharmaceutical products helped the client quickly analyze and visualize the KPIs.
Our experts can help you validate your marketing success using NLP sentiment analysis. Request a free demo to know more.
The NLP Sentiment Analysis Business Impact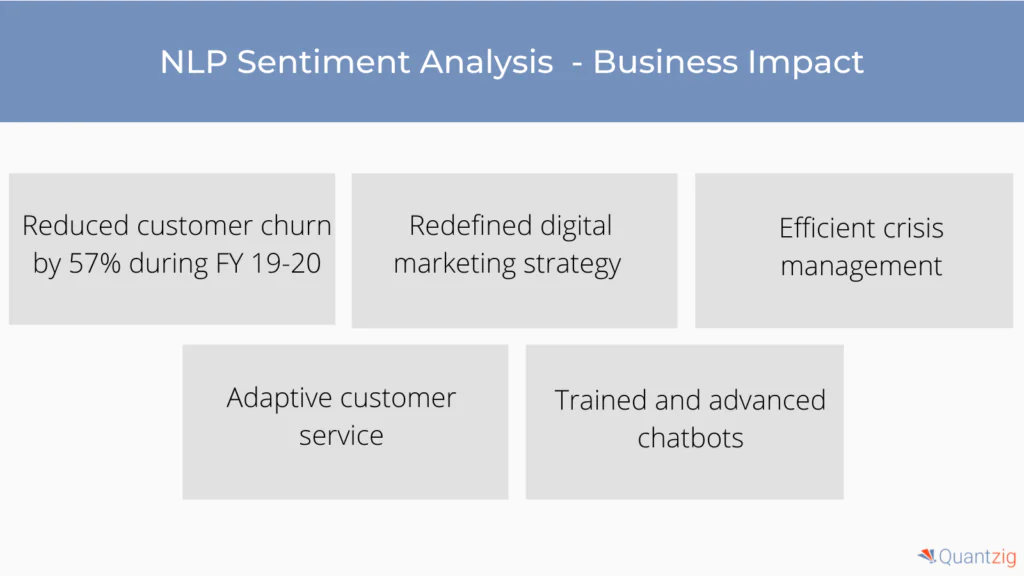 Quantzig's sentiment analysis of pharmaceutical products helped the client go beyond reframing the human agents. With NLP sentiment analysis, the client was able to redesign and train their chatbots to recognize and respond according to the customer's mood. The key business outcomes of this NLP sentiment analysis were-
Trained and advanced chatbots
Adaptive customer service
Reduced customer churn by 57% during FY 19-20
Redefined digital marketing strategy
Efficient crisis management
With experience spanning decades, Quantzig has proven our mettle multiple times! Through our customer-first policy and advanced analytics solutions, here's what the client had to say about us:
Quantzig's customer-centric approach and advanced analytics solutions received accolades from the client, who noted, "Quantzig's experts, along with their superior data analytics solutions, helped us realize an outstanding reduction in customer churn without leaving a huge dent in the budget!"