Highlights of the Case Study:
| | |
| --- | --- |
| Particulars | Description |
| Client | A leading bank in APAC with multiple ATMs across the globe. |
| Business Challenge | The client faced issues of prolonged off-time at its ATMs, led to the loss of business and goodwill among its customers. It also incurred direct costs in the form of billable technician hours. |
| Impact | Quantzig's predictive maintenance solution enabled the client to identify and resolve a problem before operational failure. |
Game-Changing Solutions for Banking Industry
Why's there a need for predictive maintenance analysis? Banks across the globe are installing ATMs in large numbers to increase their service footprint and meet the rising customer demand for self-service. The increase in the installation of ATMs will lead to a proportional increase in machine outages. Therefore, it is not enough to maintain an ATM installed base by responding to outages as and when they occur because uncontrolled outages prevent end-users from receiving the services they seek. With the decline in the concentration of branches, ATM availability is perhaps the only difference between a happy client and a lost one.
Quantzig's predictive maintenance analysis help predict equipment failure and adopt preventive measures to ensure there is no equipment downtime. Experts design our predictive maintenance analytics solutions with a comprehensive understanding of the industry, which equips them with the ability to deliver superior insights and efficiencies. By harnessing our extensive expertise in predictive maintenance analytics, we help our clients to thrive and have a leading edge in the new business era.
Predictive Maintenance Analysis Challenges of the Banking Client
Our client, a leading bank in APAC with multiple ATMs across the globe, was incurring losses due to prolonged off-time of ATMs resulting from uncontrollable outages. The client was unable to address the needs of its customers, due to which a whopping 35% switched banks. In addition to this massive loss in customer goodwill, the difficulty in maintaining the ATM installed base was incurring direct costs in billable technician hours. Therefore, the client approached Quantzig to help it rectify this situation and redeem its place in the market.
Without predictive maintenance solutions, our client was unable to maintain regular uptime of its ATMs spread across the globe, and not only that, the client also faced a customer attrition rate of 35%.
Quantzig's Predictive Maintenance Solution for Banks
Quantzig provided a robust solution to the client for its ATMs maintenance through an end-to-end predictive maintenance solutions portfolio that leveraged advanced technologies, such as natural language processing and machine learning. Our solution facilitated data analysis from various sources, including ATMs and maintenance logs. Quantzig implemented its data-driven predictive maintenance solutions to get the relevant data (observations) combined with historical data (outcomes) to predict any service outrages of the client. Quantzig also applied maintenance scheduling optimization solutions to reduce reactive maintenance and maintenance backlogs. With the help of our interventions, the client was able to identify the root cause of outages and eliminate them ahead of time, which was instrumental in enhancing customer satisfaction.
Impact Analysis of Quantzig's Predictive Maintenance Solution for the Banking Industry
Quantizg's predictive maintenance solution enabled the client to monitor and analyze each ATM system's functions and observe patterns that helped them identify and resolve a problem before operational failure. The following are the impacts of Quantzig's solutions on the client's business:
Enhanced prediction (up to 40%) of potential ATM failures before their occurrence
Witnessed nearly 1.50% increase in ATM availability
A single ATM location can serve customers for an additional 7,000 minutes per year
Prevented machine downtime by 30%
Improved rate of failure elimination
Increased customer satisfaction
Efficient management of tickets
Reduced operating costs
Reduced average queuing times at the ATM
Improved inventory management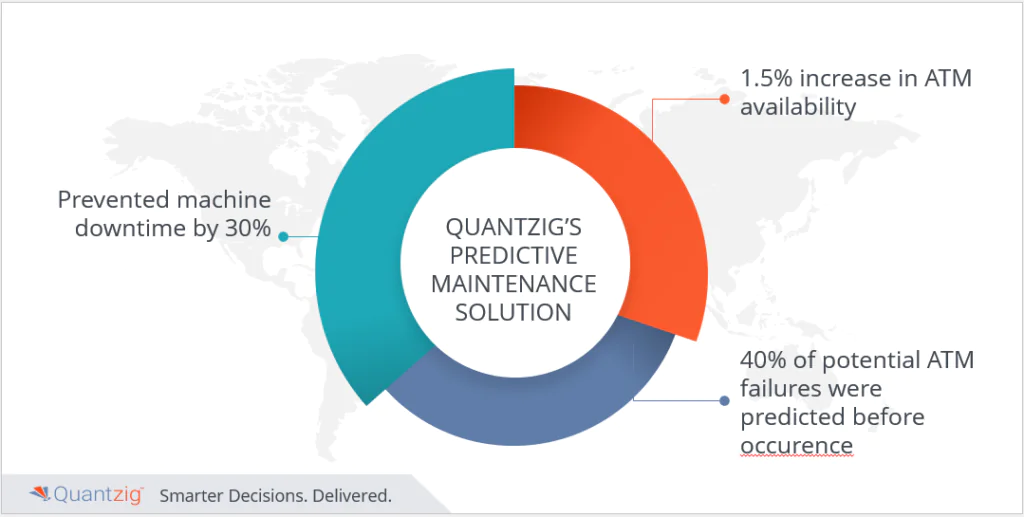 Key Outcomes
Banks across the globe rely on ATMs to cater to the banking needs of their customers and improve their experience. Hence, reducing ATM downtime and optimizing uptime with a broader bouquet of services is essential to winning and retaining customers. The predictive maintenance solution of Quantzig's team helped our client predict up to 40% of potential ATM failures before they occurred to the extent that a single ATM location could serve customers for an additional 7,000 minutes per year. Our intervention translated into a 1.50% increase in ATM availability, which, in turn, would reap long-term rewards for our client.
Broad Perspective on Customer Analytics in BFSI Sector
ATMs have been instrumental in transforming the role of banks across the world. These days, consumers expect to see an ATM at all public places such as convenience stores, clubs, petrol stations, malls, and even local bars. ATMs are essential because they play a vital role in providing consumers with easy access to cash without traveling miles for purchases that do not operate through digital means. ATMs are also of prime importance for travelers as knowing where the nearest ATM is reassuring and reduces the need to carry too much foreign currency. ATMs benefit businesses by helping to increase footfall and basket spending and ensure customer loyalty.
Key Takeaways
Up to 40% of potential ATM failures predicted before they occur
Nearly 1.50% increase in ATM availability
A single ATM location can serve customers for an additional 7,000 minutes per year
Prevention of machine downtime by 30%
Increased customer satisfaction