In the fast-paced realm of business, understanding the intricate dynamics of product cannibalization is imperative for sustained success. Quantzig's latest success story delves into the realm of "Detection and Analysis of Factors Impacting Product Cannibalization Using a Time Series Cannibalization Modeling Approach." This case study unravels a strategic approach to decipher market complexities, focusing on the nuanced methodology of product cannibalization analysis. Join us in exploring how Quantzig's innovative time series modeling approach unveils crucial insights, aiding businesses in navigating the intricate landscape of product cannibalization.
Engagement Summary
Working with a major FMCG retailer based out of the United States, Quantzig was able to rapidly deliver a product cannibalization measurement framework for analyzing the promotions and discounting strategies that impact the sales of existing products.
The product cannibalization analysis framework not just empowered them to gauge the promotions and the ROI generated from various product categories but offered a unified view of its impact, thereby offering deeper insights into customer buying patterns and cross-product cannibalization. The new framework also improved data capture and offered significant benefits by driving sales and aiding product launch benchmarking.
Request a free proposal for comprehensive insights into how advanced analytics can help analyze factors impacting product cannibalization.
The FMCG industry is a competitive one and in the modern retail environment the effective exploitation of data is turning out to be crucial for the success of a product launch. Although FMCG retailers have pioneered the concept of capturing and analyzing data, information from several key areas within the FMCG industry remain unanalyzed as it extends beyond the control and capabilities of FMCG retailers. Another factor that determines success within the FMCG space revolves around analyzing promotions and discounts. As factors such as social media and digitization alter the way consumers spend, FMCG retailers are now looking for ways to drive outcomes by analyzing the impact of their marketing efforts using advanced statistical techniques.
However, the practices known to FMCG retailers lag behind when it comes to identifying information sources that can bring in a huge impact. Also, it has been observed that the next generation of FMCG retailers will be those who can leverage FMCG analytics to bring about a huge impact on their overall business operations.
The Business Challenge
In the fiercely competitive landscape of Fast-Moving Consumer Goods (FMCG), our client, a prominent retailer in the United States, grappled with a daunting sales decline attributed to product cannibalization. The intricacies of their challenges became apparent through a meticulous analysis, exposing inaccuracies in product categorization and the absence of a robust product cannibalization analysis framework. Recognizing the urgency to mitigate these issues, the client turned to Quantzig, inspired by insights gained from our experts' illuminating webinar.
Key Challenges:
Sharp decline in sales linked to product cannibalization.
Inaccurate product categorization contributing to sales challenges.
Lack of a robust product cannibalization analysis framework.
Quantzig's Approach:
Leveraged FMCG analytics for precise demand transference insights.
Developed a comprehensive product cannibalization analysis framework.
Mitigated out-of-stock issues and optimized ROI across product portfolios.
Client Impact: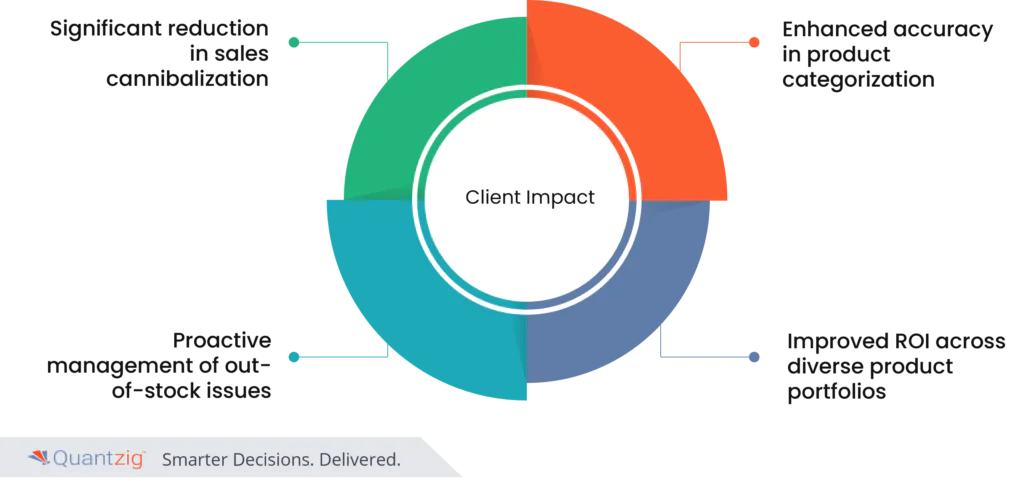 Significant reduction in sales cannibalization.
Enhanced accuracy in product categorization.
Proactive management of out-of-stock issues.
Improved ROI across diverse product portfolios.
By aligning with Quantzig, the client not only addressed their immediate sales challenges but also gained a strategic edge over competitors in the FMCG sector. Our tailored approach to product cannibalization analysis proved instrumental in revitalizing their sales strategies and fostering sustainable growth.
Looking for tailored solutions? Contact our analytics experts right away.
Solution Offered
Challenges Breakdown:
Strategic Deconstruction: FMCG analytics experts meticulously broke down challenges into three distinct units.
Thin Coordination Layer: A slender yet robust coordination layer interconnected each challenge unit.
Empowering Framework: The resulting framework empowered the client to gauge demand transference intricacies and their direct impact on overall ROI.
Enhancing Sales Execution Levers:
Pricing Optimization: Fine-tuning pricing strategies for maximum ROI.
Promotion Planning: Strategic adjustments to promotional activities.
Distribution Optimization: Enhancing distribution strategies to optimize portfolio ROI.
Time Series Cannibalization Modeling:
Historical Data Dive: In-depth analysis of historic sales data sets.
Pattern Recognition: Identification of recurring sales patterns.
Customer Behavior Analysis: Deeper insights into customer buying behavior across categories.
Bounce-Back Rate Assessment: Accurate modeling of product launches' implications on marketing efforts.
Quantzig's Proprietary Solutions:
Advanced Time-Series Models: Utilized proprietary time-series product cannibalization analysis modeling solutions.
Historical Pattern Identification: Uncovered recurring patterns in historic sales data.
Customer Behavior Insights: Analyzed customer buying behavior for strategic decision-making.
Bounce-Back Precision: Accurately gauged bounce-back rates post-product launches.
Strategic Tweaks for Maximized ROI:
Optimized Pricing Strategies: Fine-tuned pricing for enhanced portfolio ROI.
Strategic Promotional Adjustments: Tweaks in promotional activities for greater impact.
Distribution Optimization: Enhanced distribution strategies for maximizing overall ROI.
Quantzig's holistic approach empowered the client to not only comprehend the complexities of product cannibalization but also strategically tweak sales execution levers for maximum ROI. By leveraging advanced time-series modeling, recurring patterns were identified, providing deeper insights into customer behavior and bounce-back rates post-product launches. This comprehensive strategy enabled the FMCG retailer to make informed, data-driven decisions and maximize the impact of their marketing efforts.
Value Delivered
The devised product cannibalization framework empowered the FMCG retailer to:
Devise a roadmap to gauge demand transference within product portfolios
Estimate sales impact results with bounce-back rates
Design data-driven pricing and promotional strategies to drive sales
Leverage time-series cannibalization modeling to gauge the real dollar impact of new product launches on the existing products
Accurately model the short- and long-term implications of new product launches on the generated ROI
Request a free solution demo to gain limited period access to our advanced analytics platforms.