What You Can Expect from the Retail Sentiment Analysis Case Study
Industry Overview
The Client
Area of Engagement
The Business Challenge
The Sentiment Analysis Solution and Business Impact
Sentiment Analysis Solution Predictive Insights
Highlights of the Retail Sentiment Analysis Case Study
| | |
| --- | --- |
| Particulars | Description |
| Client | A leading retail chain with global operations |
| Business Challenge | Difficulty understanding the sentiments of their customers in real-time |
| Solution Impact | Understood customer opinions about products and how to align quality and features with the customer needs |
Retail Industry Overview
A retail chain, or chain stores, are retail outlets that are centrally managed and usually follow standardized business processes. In the global retail sector, retail chain businesses have started dominating the market across several categories. Additionally, there are two different types of chain stores depending on the kind of products developed by the company.
It includes business retail chains and restaurant retail chains. Business retail chains encompass several industries including clothing, music, and electronic stores; whereas, restaurant retail chains operate under different guidelines and are involved in creating different kinds of consumer products when compared with the traditional business chains.
Retailers across the globe are using sentiment analysis to benchmark products, develop new marketing strategies, and drive positive business outcomes. Get in touch to find out how sentiment analysis can help your business.
The latest retail industry trends affecting the growth rate of retail chain business can be categorized as below:
The omnichannel dilemma: Consumers these days have a number of options when it comes to how they want to shop – be it via television, in-store, mail catalogs, and so on. It is essential for any retail chain to have a robust merchandising strategy that supports this initiative. Such firms should also ensure they make use of all tools to streamline their processes and offer a seamless experience for their customers.
Sales and service strategies: One of the key retail industry trends is the use of new sales and service strategies. Retail chains dealing with similar products should necessarily differentiate themselves from their competitors by implementing customer service strategies. Such strategies are aimed at promoting customer loyalty, repeat sales, and offering free returns. The retail chains should ultimately weigh the potential loyalty benefits against their costs to provide better services to their customers.
Evolving customer profile: The changing preferences of the customers is one of the key retail industry trends affecting the market space. The consumers of today are well informed owing to the technological advancements and the availability of tools that offer unprecedented access to pricing data, product reviews, and other such information. This, combined with the fact that the universe of retail options for many products is seemingly endless given online alternatives, makes it very challenging for retailers to win consumers' spending dollars.
The Client
A leading retail chain business with outlets spread across the globe.
Area of Engagement
Sentiment Analysis
Retail Sentiment Analysis Challenge
The client, a leading retail chain firm was facing difficulties in understanding the sentiments of their customers in real-time. Since customers are increasingly expressing their thoughts, desires, and preferences online, the retail chain client was looking at leveraging sentiment analysis to better analyze the needs of their customers. The client was also interested in combining quantitative and qualitative methods to measure the exact ROI of marketing campaigns. The client also wanted to revamp their marketing strategies and identify new retail industry trends to drive sales and improve business performance.
The client decided to connect with us after attending one of our webinars on sentiment analysis.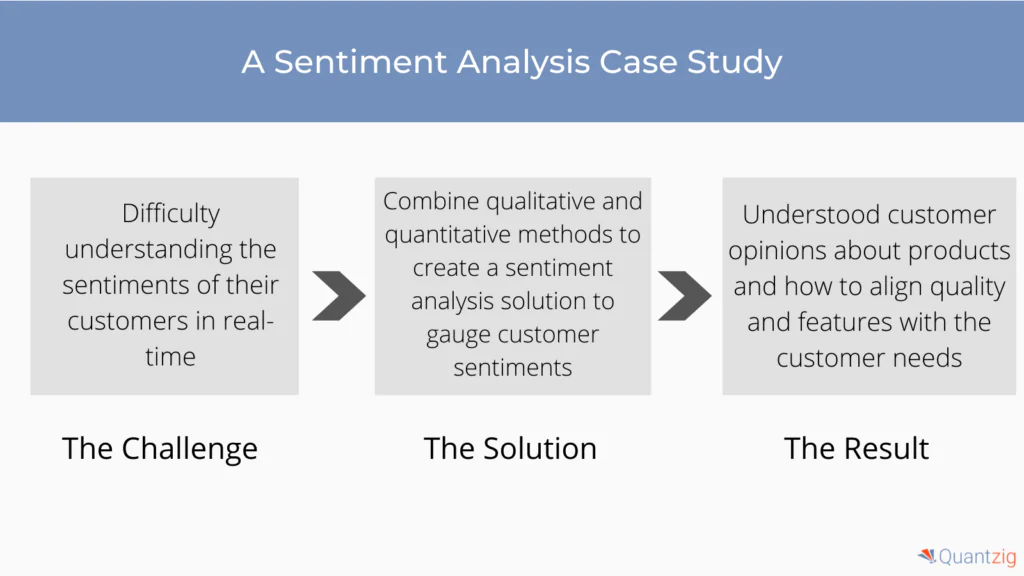 Want to know more about our approach to sentiment analysis and how we help retail chain companies identify the latest retail trends? Request a FREE solution demo.
The Retail Sentiment Analysis Solution and Business Impact
The sentiment analysis solutions offered by our experts helped the retail chain client in optimizing their marketing strategies by listening to what their customers felt about the brand. It also enabled them to implement a short-term marketing campaign to better address the need of the customers and stay updated with the latest retail industry trends. The sentiment analysis solution also allowed the client to leverage social listening and receive real-time updates on negative discussions to respond and address issues immediately.
Implement our solutions to solve your complex business challenges at no cost with our 4-week complimentary pilot. This offer bears no hidden clauses and serves as a perfect opportunity to explore our comprehensive portfolio of advanced BI and business analytics solutions.
Retail Sentiment Analysis Solution Predictive Insights
Quantzig's sentiment analysis solutions are highly customizable, iterative, and workflow-oriented and are designed to help your organization achieve overall business success. Our solutions combine both qualitative and quantitative methods to help you measure the ROI of your marketing campaigns. Moreover, sentiment analysis serves as a one-stop solution by assisting firms in completing their market research by getting to know what their customers' opinions are about the products and services and how they can align the quality and features with the needs of their customers.
Sentiment analysis may seem tricky because of the involvement of complex data. Also, it becomes difficult for technology-oriented systems to interpret this complex data within the right context. If you don't have an accurate sentiment analysis service in place, you may be using the incorrect data to formulate and adjust your marketing campaigns. Thus, pointing out the fact that human intelligence still provides the most accurate analysis of people's sentiment.
Testimonial
Quantzig's sentiment analysis solution helped us gather real-time sentiment insights, ultimately allowing us to enhance our customer service in such a short period of time! – Chief Experience Officer, Global Retail Giant