Sales analytics salesforce is one of the most effective channels to engage with customers. It helps companies to improve their sales performance and sales revenue, thereby ensuring the best possible return on investment. Although the sales force is expensive and constitutes nearly 10% of the revenue in a company, it can be improved in numerous ways. Sales analytics salesforce initiatives help in identifying, prioritizing, and then closing gaps in the sales strategy and executing capabilities to capture specific growth opportunities. Although the sales force plays a vital role in the growth of the companies, robust investments should be made to generate revenue growth.
Quantzig's sales force effectiveness analytics help healthcare and medical device companies identify gaps in the sales force to optimize the overall sales performance of the company. We help clients devise new strategies to accelerate lead generation, gain a thorough understanding of their funnel sales, identify potential factors that generate and drive sales.
Contact us to learn more about how our analytics solutions help medical device manufacturers to optimize sales.
Objective of Medical Device Companies in Salesforce:
The primary goal of medical device companies in utilizing Salesforce is to bolster their sales force effectiveness. This involves optimizing the performance of the sales team, streamlining processes, and leveraging data-driven insights to make informed decisions.
The Business Challenge
The growth and sales revenue were consistently declining for five years which impelled the client to analyze their sales performance based on quantitative and measurable inputs and improve the effectiveness of their sales force across various regions.
Our Approach
The Quantzig team worked closely with the company to identify growth drivers, address structural and organizational changes, and revisit marketing and sales strategies. By analyzing the information obtained from various sources such as sales data, account data, product data, and revenue data, our analytics team developed a detailed customer targeting model to refocus and support the sales team. A roadmap guided the transition from a competitive sales force approach to an integrated model of coordinated marketing and sales plans.
Want to know more about sales force effectiveness analytics solutions? Request more info.
Sales Force Effectiveness Analytics Benefits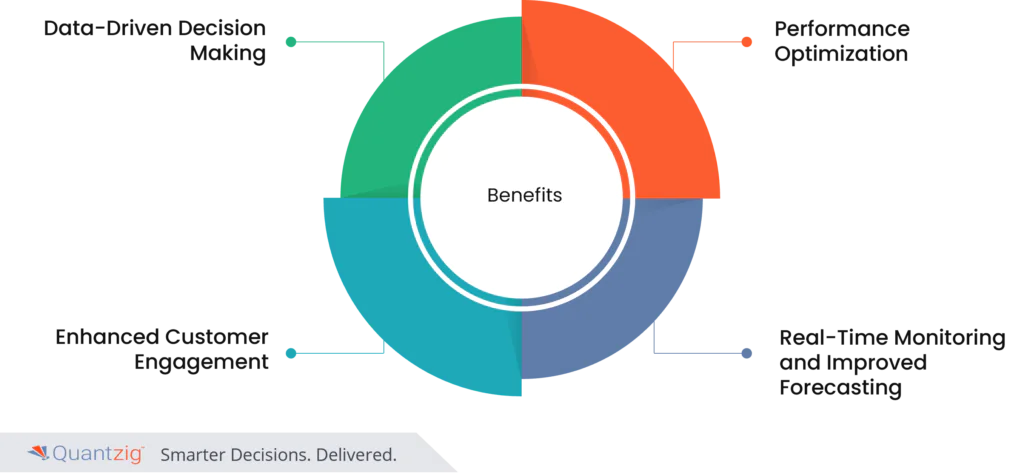 Data-Driven Decision Making: Sales analytics salesforce empowers medical device companies with data-driven insights, enabling informed decision-making at every level.
Performance Optimization: By analyzing sales data, companies can identify strengths and weaknesses in their sales force, allowing for targeted training and performance optimization.
Enhanced Customer Engagement: Salesforce analytics facilitates a deeper understanding of customer preferences and behaviors, enabling tailored engagement strategies.
Real-Time Monitoring: The ability to monitor sales activities in real-time allows for proactive adjustments to strategies, ensuring agility in a dynamic market.
Improved Forecasting: Accurate forecasting based on historical data and current trends enhances planning and resource allocation.
Sales Force Effectiveness Predictive Insights
Helped increase sales by 10 percent as a result of improved sales methods
Analyze customers and identify new target products
Boost the productivity of sales representatives through better business strategies
Devise new incentive plan to encourage the sales force to drive better results
Role of Manufacturer's Salesforce:
Streamlined Sales Processes: Salesforce allows manufacturers to streamline sales processes, reducing redundancies and increasing efficiency.
Effective Territory Management: By leveraging analytics, manufacturers can strategically allocate resources and manage territories more effectively.
Customer Relationship Management (CRM): Salesforce serves as a robust CRM tool, enabling manufacturers to maintain and nurture customer relationships.
Sales Performance Optimization: Analytics-driven insights enable manufacturers to optimize the performance of their sales force, ensuring maximum effectiveness.
In conclusion, sales analytics salesforce is a pivotal tool for medical device companies aiming to enhance sales force effectiveness in Salesforce. The benefits, ranging from data-driven decision-making to improved forecasting, underscore its transformative impact. Manufacturers leveraging Salesforce can streamline processes, manage territories effectively, and optimize the performance of their sales force. This holistic approach positions Sales Force Analytics as a cornerstone for success in the competitive landscape of the medical device industry.