In the dynamic landscape of the telecommunications industry, maintaining customer engagement is paramount for sustained growth and success. This case study delves into the transformative journey of a Telco company that harnessed the power of advanced sales forecasting to elevate its customer engagement strategies. By leveraging cutting-edge predictive analytics and data-driven insights, the Telco company achieved a remarkable 15% increase in customer intimacy. The case study explores the intricacies of implementing an effective sales forecasting solution tailored to the telecom sector, shedding light on the pivotal role it played in enhancing customer relationships. Join us on this insightful exploration of how strategic forecasting can be a game-changer, propelling telecommunications enterprises toward heightened customer satisfaction and sustainable business growth.
What You'll Find in this Case Study:
Telecom Industry Overview
Challenge For the Client
Benefits for the Telecom Company
Forecasting Solutions Predictive Insights
Telecom Industry Overview
At present, telco companies across the globe are witnessing increasing pressures to spur competence in their business processes and explore new opportunities. Additionally, due to the radical shift toward innovations, notable telco companies have become more concerned about delivering efficient communication services to the customers. To proficiently meet the needs and demands of the data-driven customers, telecommunications industry players are facing the need for robust sales forecast solutions to expand their service portfolios and upgrade their current networking capabilities. Sales forecasting help telco companies to retain potential customers and evaluate the capability of salespersons to acquire new customers. Furthermore, telecom industry players can leverage the use of sales forecast solutions to manually record sales data and increase their focus on marketing efforts.
With years of expertise in offering a plethora of solutions, Quantzig's sales forecast solutions help firms address issues pertaining to fraud and churn reduction. Contact us for personalized solution insights.
Sales Forecasting Challenge For the Client
A notable telco company with business units spread across the globe was facing predicaments in identifying opportunities to optimize costs in the telecommunications industry. The client was also facing challenges in maximizing their revenue potential. As a result, the telco company wanted to leverage the use of Quantzig's sales forecast solutions. Additionally, the telco company wanted to deliver better services to the customers and improve the quality of the service offerings. Furthermore, they also wanted to implement robust predictive models to evaluate customer attrition levels.
The major telecommunication giant approached Quantzig to optimize costs while maximizing their revenue potential.
Want to know how our analytics services helped the telco company? Request more information from our experts.
Sales Forecast Solutions Benefits for the Telco Company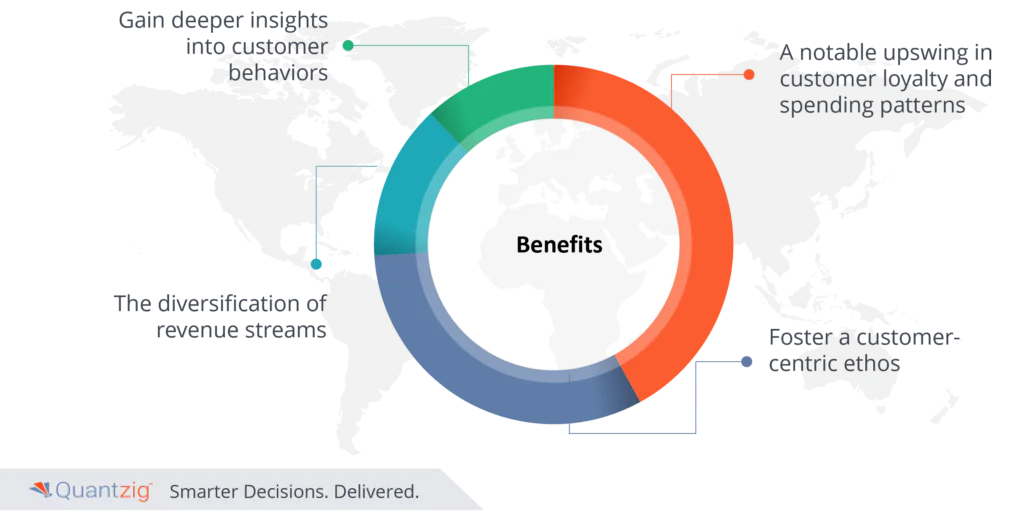 Quantzig's sales forecast solutions delivered a myriad of benefits to the prominent telecom company, marking a paradigm shift in its operational efficiency and customer-centric approach. The foremost achievement was a substantial improvement in customer retention rates, fostering brand loyalty among the telecom giant's customer base. The implementation of advanced sales forecasting methodologies allowed the client to gain deeper insights into customer behaviors and preferences, enabling them to tailor services to individual needs.
Moreover, the Telco company experienced a notable upswing in customer loyalty and spending patterns, a direct result of heightened consumer-centric strategies facilitated by Quantzig's solutions. The enhanced network quality further contributed to customer satisfaction, solidifying the telecom company's position in a fiercely competitive market.
One of the pivotal outcomes of adopting sales forecast solutions was the diversification of revenue streams for the client. By conducting meticulous model refinements and minimizing time-to-market for new services, the telecom company could tap into emerging market trends swiftly and efficiently. This not only ensured a steady influx of revenue but also positioned the client as an industry innovator.
In summary, Quantzig's sales forecast solutions empowered the Telco company to transcend traditional business models, fostering a customer-centric ethos that propelled them toward sustained growth, diversified revenue streams, and an unparalleled competitive edge. The success story of this telecom giant stands as a testament to the transformative impact of advanced sales forecasting in today's rapidly evolving business landscape.
Sales Forecast Solutions Predictive Insights
Quantzig's Sales Forecast Solutions not only provided accurate predictions but also generated valuable predictive insights, revolutionizing the operational landscape for telecom companies. Some of the key insights and outcomes include:
Identified Opportunities and Designed New Service Offerings: By leveraging advanced analytics, the solutions identified untapped opportunities in the market. This empowered telecom operators to design and introduce innovative service offerings that catered specifically to evolving customer needs.
Optimized Service Capabilities for Operators: The solutions enabled operators to optimize their service capabilities by analyzing customer preferences and behaviors. This optimization not only enhanced the quality of services but also improved overall operational efficiency.
Improved Infrastructure Performance and Supported Different Network Standards: Quantzig's Sales Forecast Solutions played a crucial role in improving the performance of existing infrastructure. Moreover, the solutions supported the seamless integration of different network standards, ensuring adaptability to evolving technological landscapes.
Enhanced M2M Connections and Introduced New Value-Added Services: The solutions contributed to a remarkable 20% increase in Machine-to-Machine (M2M) connections. This not only expanded the scope of services but also facilitated the introduction of new value-added services, creating additional revenue streams.
15% Increase in Customer Intimacy and Individual Customer Service: The solutions facilitated a 15% increase in customer intimacy by providing insights into individual customer preferences. This, in turn, enabled telecom companies to deliver personalized customer service, strengthening the bond between the brand and its customers.
Personalized Customer Journeys and Improved Customer Experience: The implementation of sales forecast solutions allowed telecom companies to craft personalized customer journeys. This strategic approach resulted in a significantly improved overall customer experience, fostering loyalty and satisfaction.
Strategic Pricing Optimization: The solutions provided valuable insights into optimal pricing strategies, allowing telecom companies to competitively position their services in the market. This strategic pricing optimization contributed to increased market share and profitability.
Predictive Maintenance for Network Infrastructure: Leveraging predictive analytics, the solutions enabled telecom operators to implement proactive maintenance strategies. This resulted in reduced downtime, improved reliability, and enhanced the overall performance of network infrastructure.
In essence, Quantzig's Sales Forecast Solutions went beyond predictions, offering telecom companies a comprehensive suite of insights and strategies to thrive in the dynamic and competitive telecommunications landscape.