In the realm of skincare, the cosmetic value chain plays a pivotal role in delivering effective and high-quality products to consumers. For a leading skin care products manufacturer, understanding and optimizing the cosmetic value chain has been crucial in enhancing supply chain strategies and overall operational efficiencies.
Global Skin Care Products Industry Overview
The global skin care products value chain consists of raw material suppliers, skincare products manufacturers, end-use industries, and distribution channels. Over the past few years, rising awareness about the different advantages of skin care products has resulted in increased demand. Moreover, natural and organic products have become a major segment in the global cosmetics and wellness market. Additionally, increasing awareness about the harmful effects of synthetic products has led to the rise in the demand for organic products. This rising demand has subsequently led manufacturers in the global skin care products market to focus more on R&D and product innovations. Lastly, the rise of online market platforms, where customers can purchase a wide range of products from any part of the globe, has been one of the principal reasons for the increase in accessibility for skin care products.
Contact our supply chain experts to learn more about our offerings.
Role of Cosmetics in Skin Care:
Cosmetics, especially those dedicated to skincare, contribute significantly to maintaining and enhancing skin health. They encompass a wide range of products designed to cleanse, moisturize, protect, and improve the overall appearance of the skin. As consumer demand for effective and natural skincare solutions rises, the cosmetic value chain becomes integral to meeting these expectations.
What is the Cosmetic Manufacturing Value Chain?
The cosmetic manufacturing value chain represents the end-to-end process of bringing skincare products from concept to the hands of consumers. It includes:
Product Development: Ideation, formulation, and testing of new skincare products.
Raw Material Sourcing: Procurement of high-quality and often natural ingredients for product manufacturing.
Manufacturing and Production: Actual production processes, including mixing, filling, and packaging.
Distribution: Logistics and supply chain management to deliver products to retailers or end-users.
Marketing and Sales: Promotion, advertising, and sales efforts to build brand awareness and attract consumers.
Customer Feedback and Improvement: Continuous improvement based on customer feedback and market trends.
Cosmetic Value Chain Analytics Challenges Faced by Industry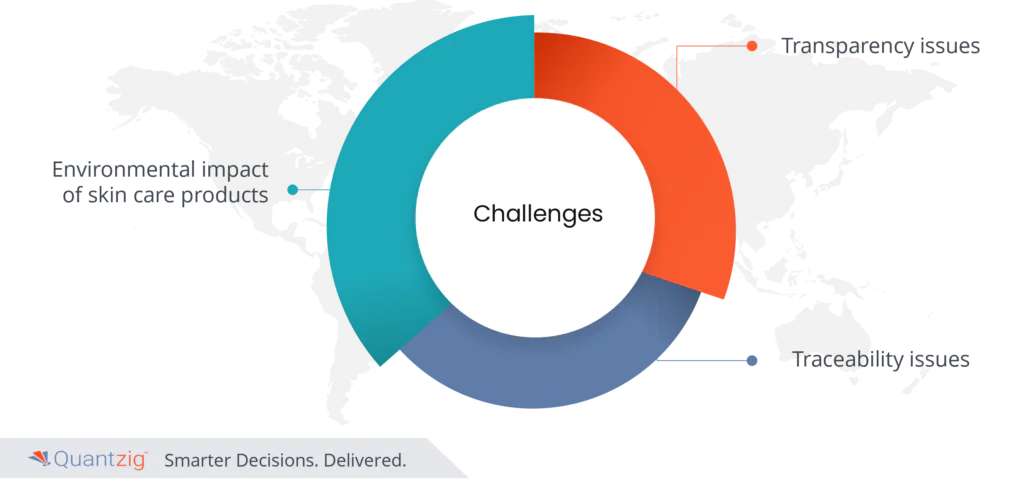 Environmental impact of skin care products: In recent years, sustainability has become a key concern for many businesses in the personal care and cosmetics industry. Also, consumers have become all the more concerned about wellness, health, and issues such as natural resource depletion and environmental degradation. This has promoted the demand for 'greener' alternatives when it comes to these products. Customers are demanding for products that do not harm their skin, nor the environment; as well as products that are free from modified ingredients and natural.
Transparency and traceability issues: Today, supply chains have become global, and it is difficult to trace the origin of products used in the skin care products. Although sustainable skin care products are widely available, there remain issues of traceability and provenance.
By addressing these challenges through innovative analytics solutions, skincare product manufacturers can optimize their cosmetic value chain, improve supply chain strategies, and meet the evolving demands of conscious consumers.
About the Client
The client is an American multinational skin care products manufacturer based out of the United States.
After reading about Quantzig in a leading publication, the client decided to connect with our experts to efficiently implement predictive analytics and machine learning techniques.
To gain in-depth insights into our supply chain analytics solutions can benefit your business, request a proposal.
Supply Chain Analytics Challenge Faced by the Client
The skin care products manufacturer wanted to improve their logistical capabilities while maximizing overall profitability, understand the pricing pressures and develop efficient supply chain strategies to serve the needs of their customers. The company also wanted to analyze the level of uncertainty associated with the supply of products and improve the forecasting capability to remain abreast of the customer demands. Furthermore, the client wanted to gain end-to-end visibility into the supply chain and identify the best suppliers to improve their overall supply efficiency across 160+ countries.
To know more about how our supply chain analytics helped a leading skin care products manufacturer, request more info.
Business Impact of Cosmetic Value Chain
With the help of Quantzig's supply chain analytics solution, the leading skincare products manufacturer leveraged the use of predictive analytics and modeling and machine learning techniques to anticipate the customer demand and consequently adjust their inventory levels. In addition, the client also identified the top-performing suppliers based on the key performance indicators to make accurate shipments, on-time deliveries, and process payments. Furthermore, Quantzig's supply chain analytics engagement also helped the client fine-tune their existing supply chain strategies and improve savings and efficiencies.
Cosmetic Value Chain Analytics Insights
Quantzig's supply chain analytics helps manufacturers across the skin care products industry to gain metrics for comparing the competence of their supply chain when compared to their industry counterparts. Additionally, firms can analyze various datasets for inbound and outbound data and split the factors influencing the delivery attributes.
In conclusion, the cosmetic value chain is a dynamic and intricate process that requires careful analysis and optimization. For a leading skin care products manufacturer, leveraging advanced analytics solutions is the key to enhancing efficiency, ensuring product quality, and staying ahead in a competitive skincare market.